35+ Super Unique Pre Wedding Shoot Ideas!
BY Sakshi | 06 Apr, 2018 | 28637 views | 5 min read
Pre wedding shoots have become pretty much the same- the same old ideas and props and the same old kind of outfits! So how about you do things a little differently? Make your pre wedding shoot stand out with some of these amazing ideas and themes which have just the right hint of cool as well!
With a vintage vibe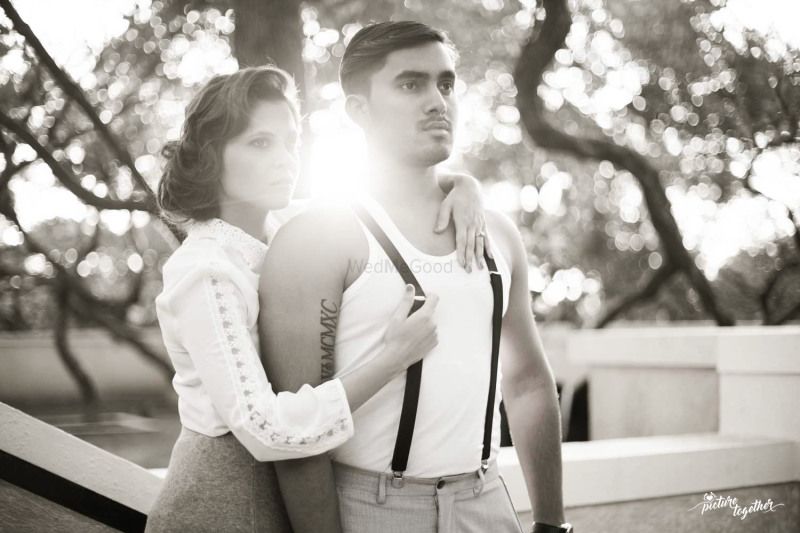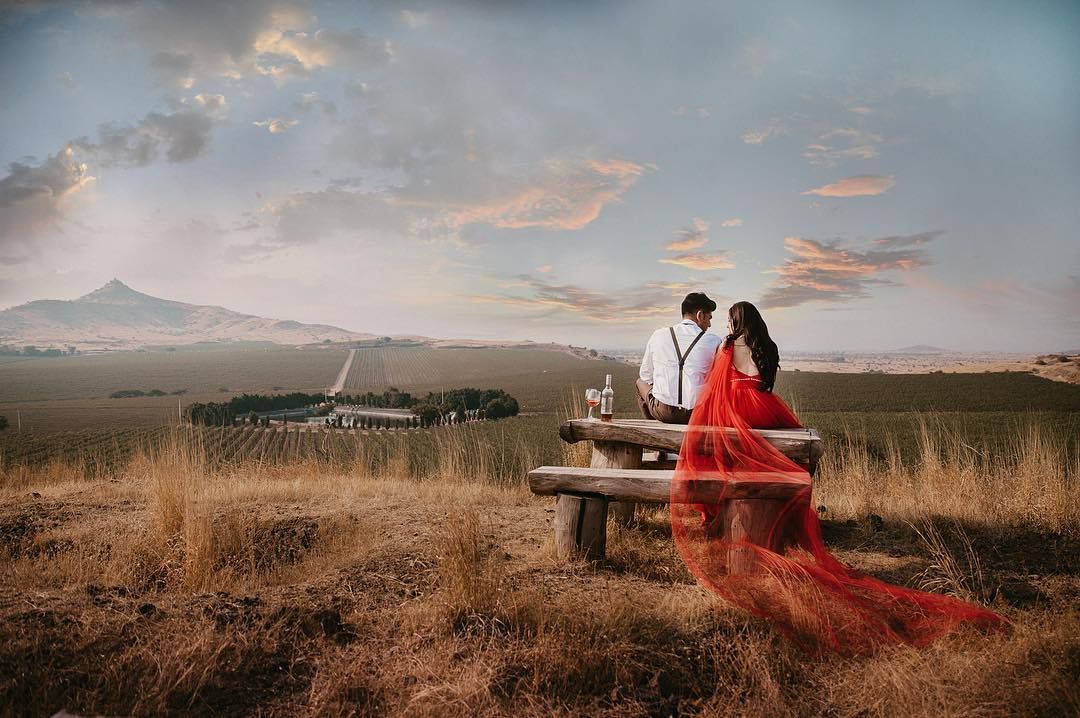 Image via Picture Together and Shades Photography★ 4.3
How timeless and amazing are these shots? Love the vintage tone and elements! Plus, you've gotta dress the part too!
While getting hot and heavy in the boudoir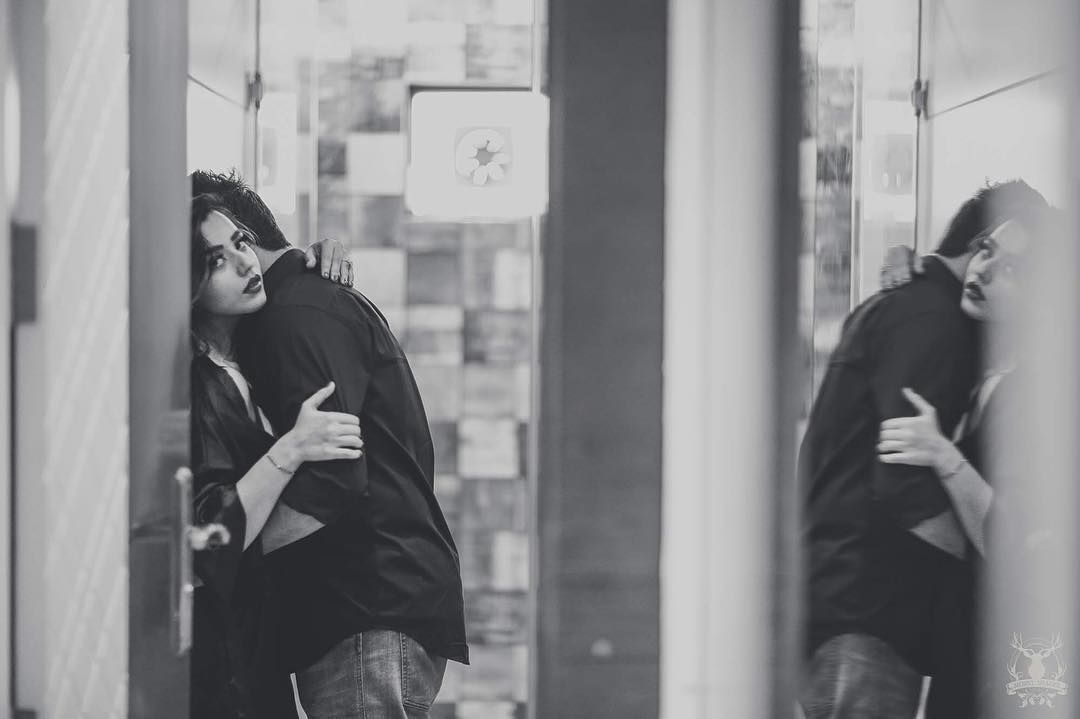 Image via Morvi Images Photography
Getting down and dirty- might not be everyone's cup of tea, but does make for some beautiful shots!
Or all romantic and sexy in the water!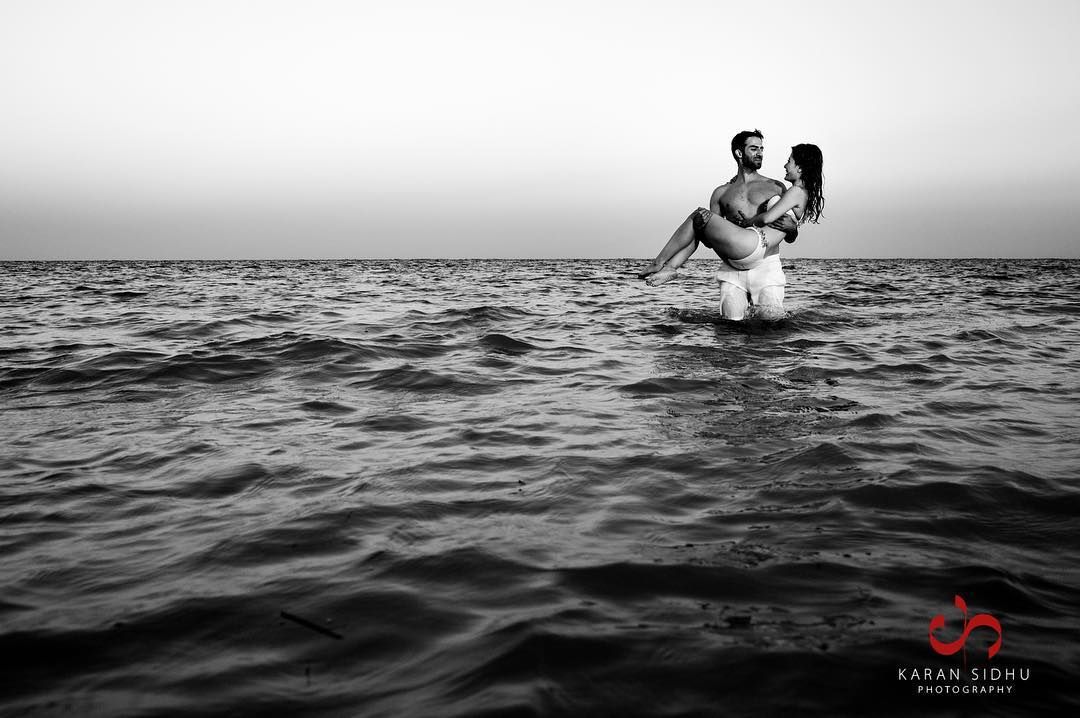 Image via Karan Sidhu Photography★ 5
Just like supermodels! If you have it, flaunt it we say!
Or even all warm and cozy in the snow!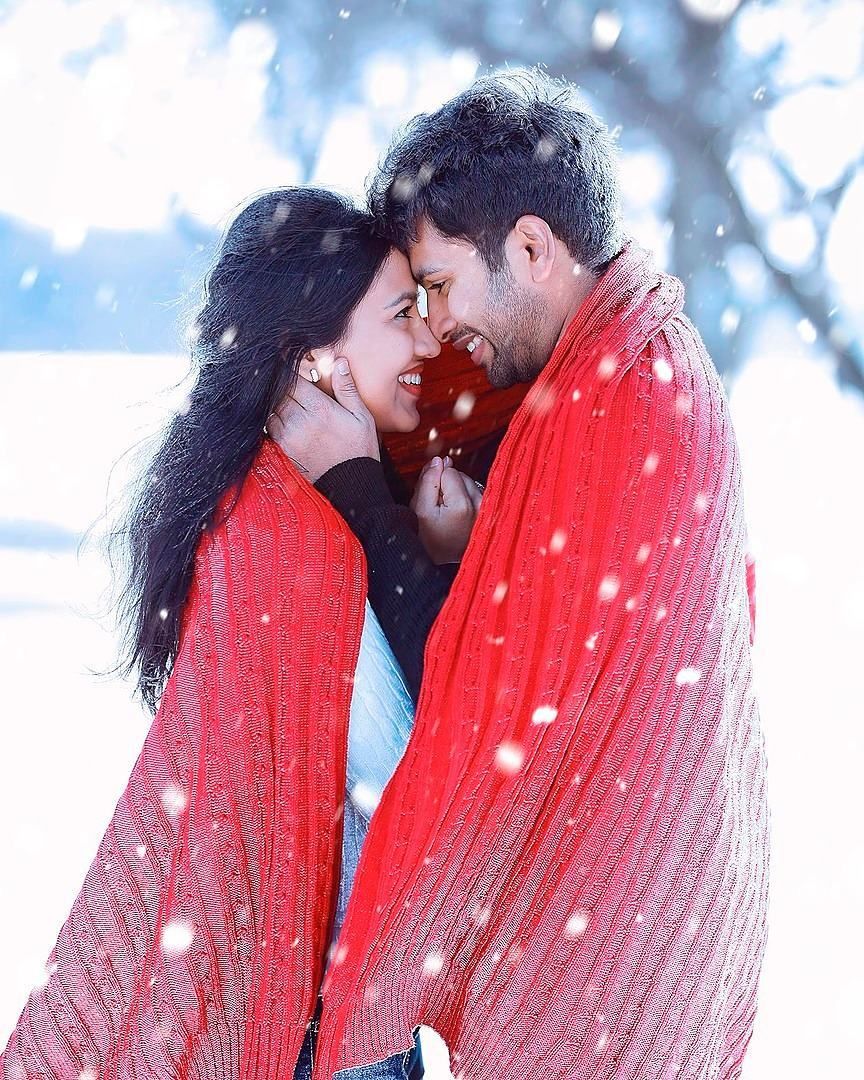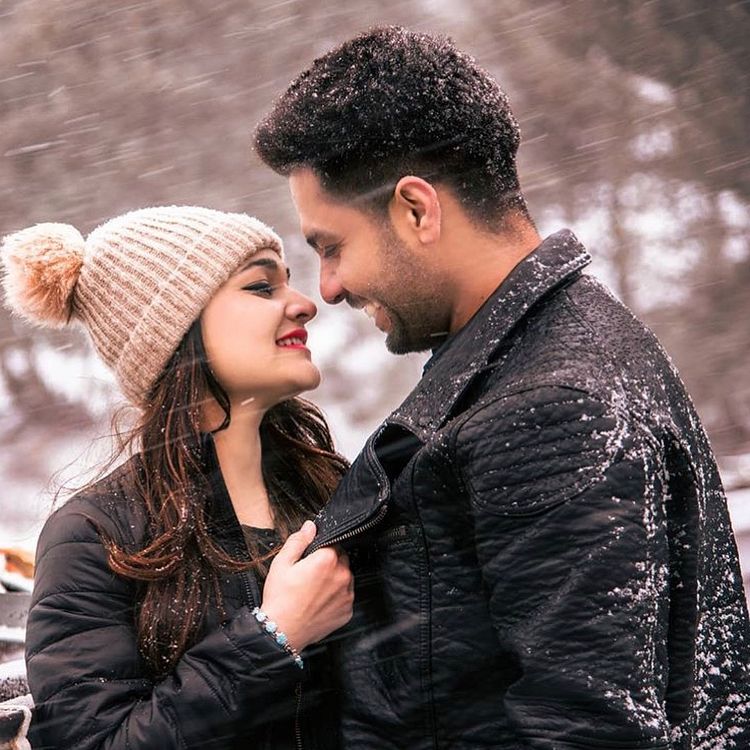 Image via Zero Gravity Photography★ 3.8 and @colorboxphotographybynikpillai
Don't these shots make you feel all warm and fuzzy inside? Such a nice idea!
Or just having a good time!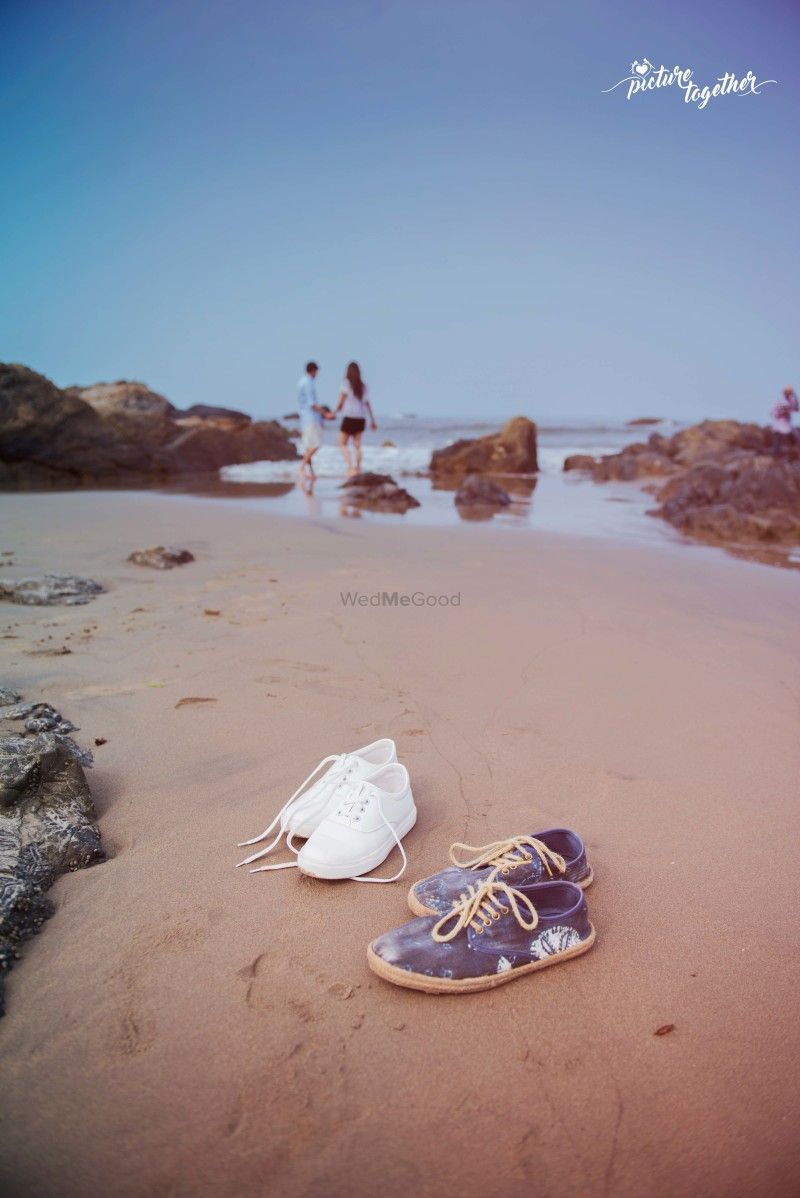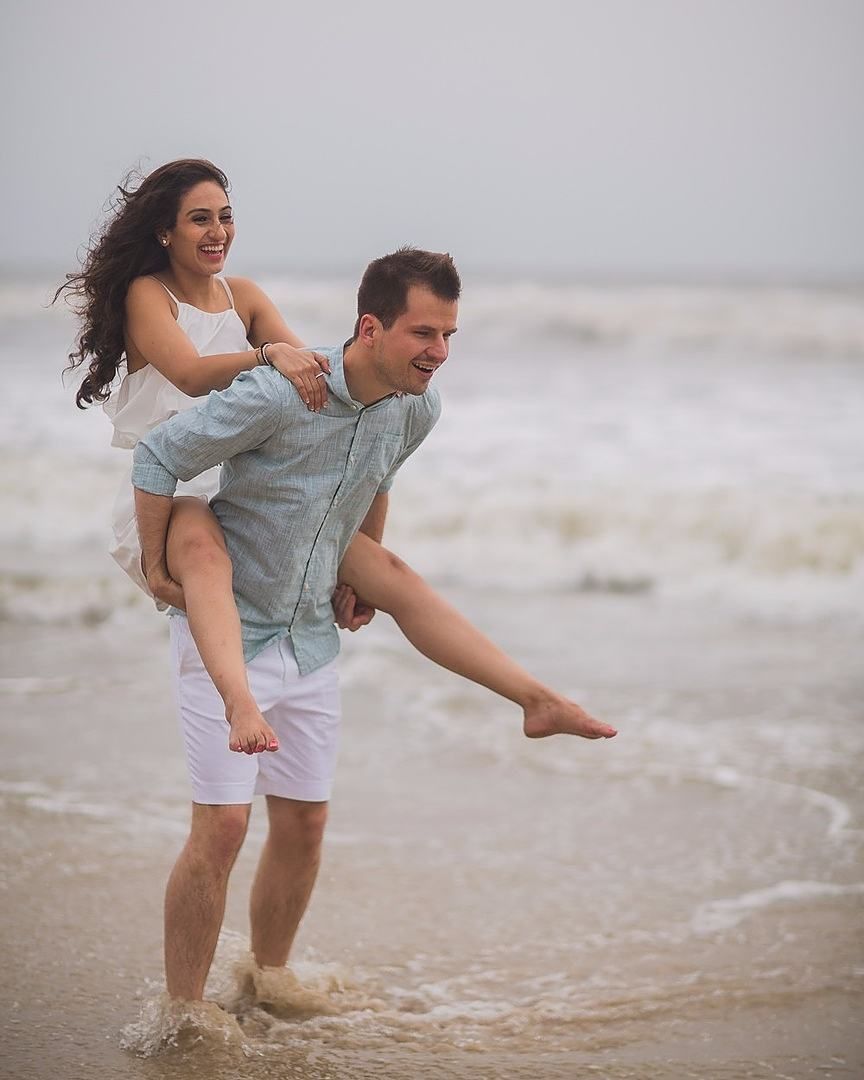 Image via Picture Together and The Lightsmiths★ 5
Just let your hair down and have a good time- the chemistry will be enough to make your photos shine!
Or maybe even underwater!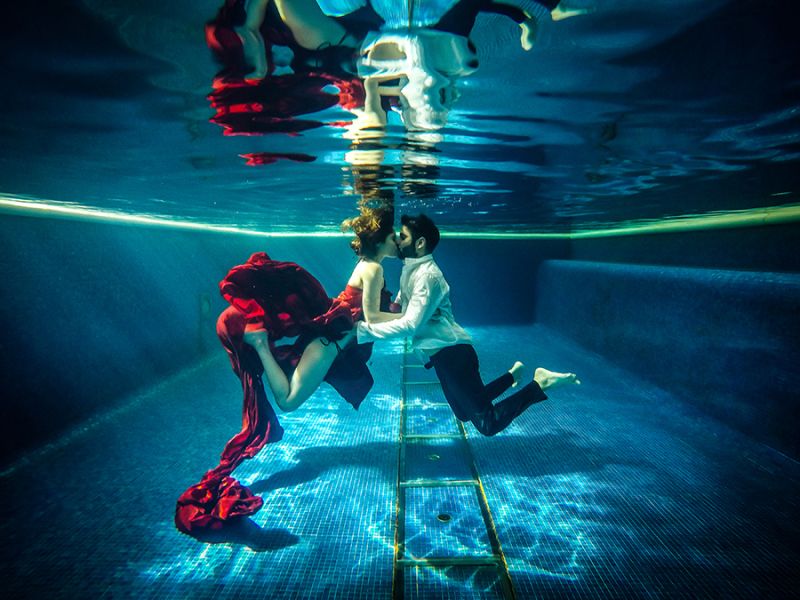 Image via Fairytale Weddings by Angad B Sodhi
Again, not for the faint-hearted! If you're both water babies, then this is another great idea to explore!
Creating the mood with smoke sticks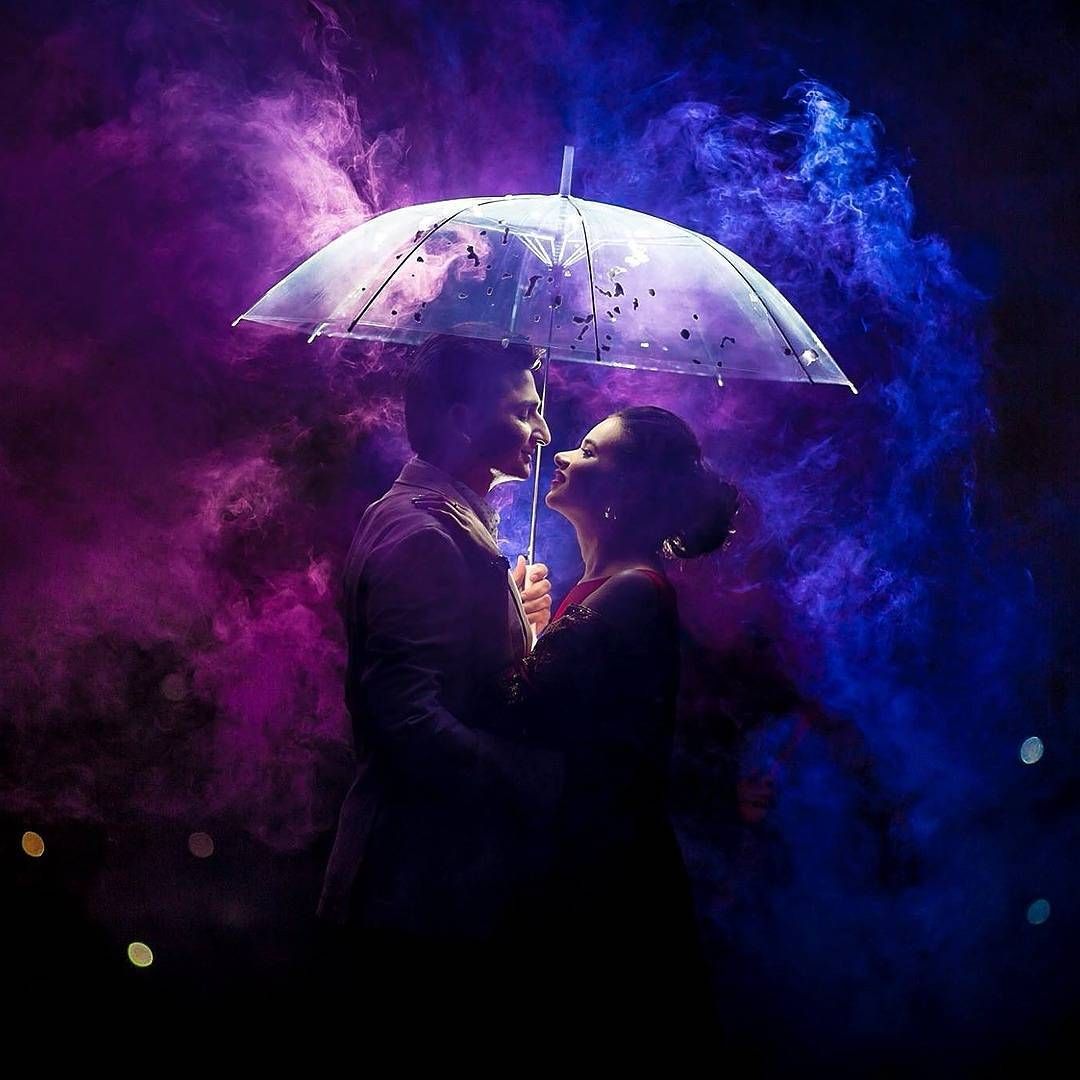 Image via Knotty Affair by Namit & Vipul
Such a fabulous shot that is! Create the right setting and the mood using smoke sticks! 
On a boat in the middle of nowhere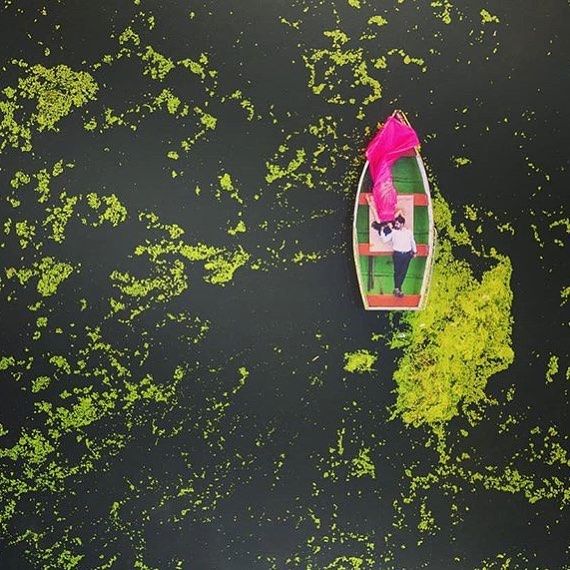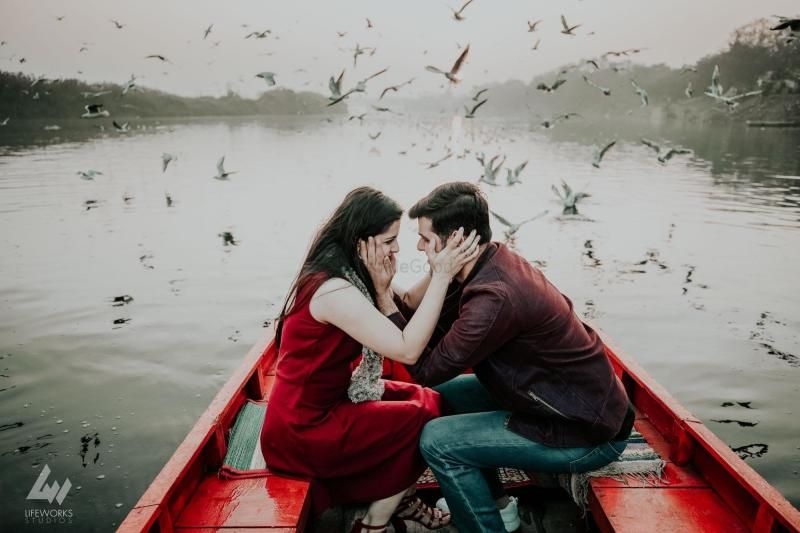 Image via Mithilesh Choubey Fotografia and  Lifeworks Studios
Has such a pretty vibe to it! Find the right setting and go for it!
Or with an enchanted forest feel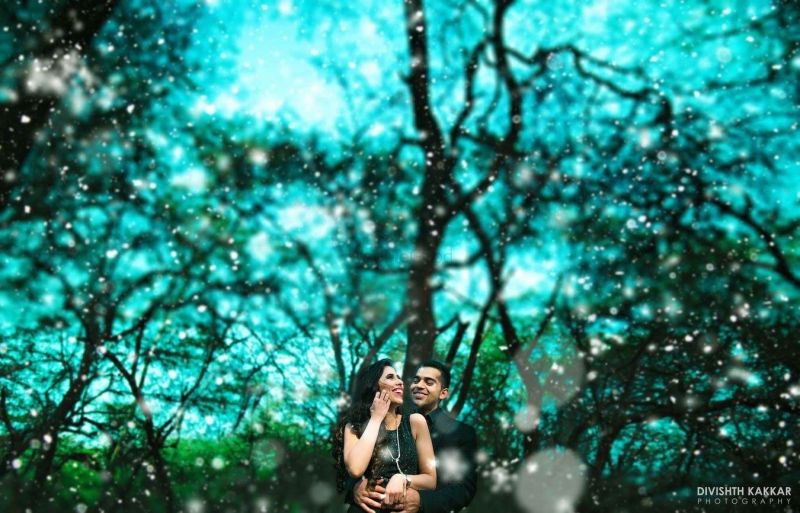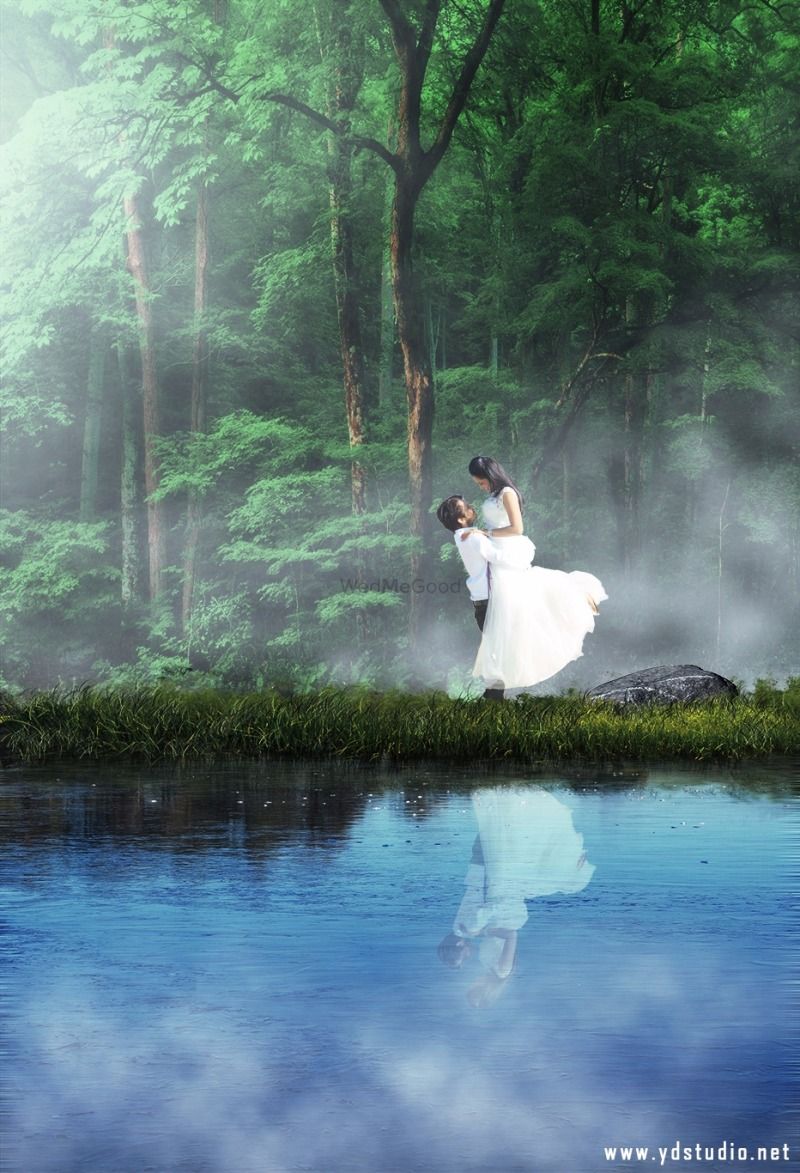 Image via Divishth Kakkar Photography and YD Studio
This is another theme we love- gives such a fairytale vibe to everything!
With dogs or pets!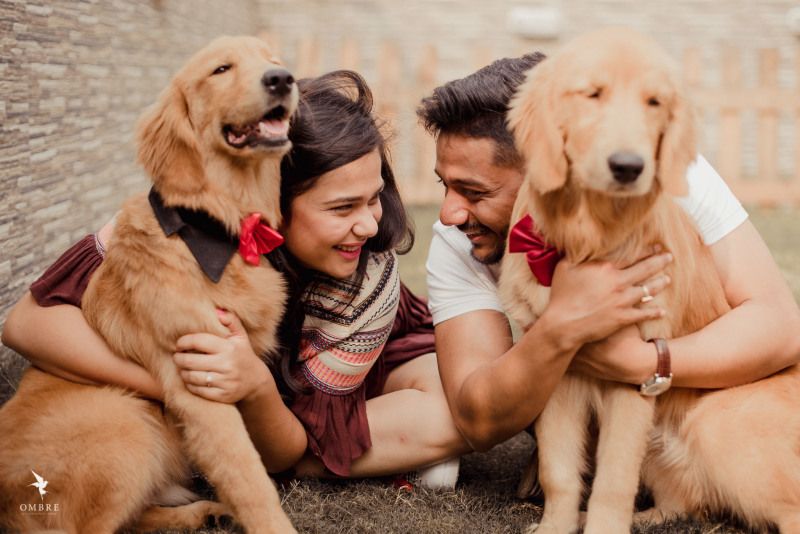 Image via Ombre by Harsheen Jammu
Another one of our favourites, how can anyone go wrong with this one? Either get your own pet to the shoot or go to a shelter! 
An intimate pre wedding shoot at home!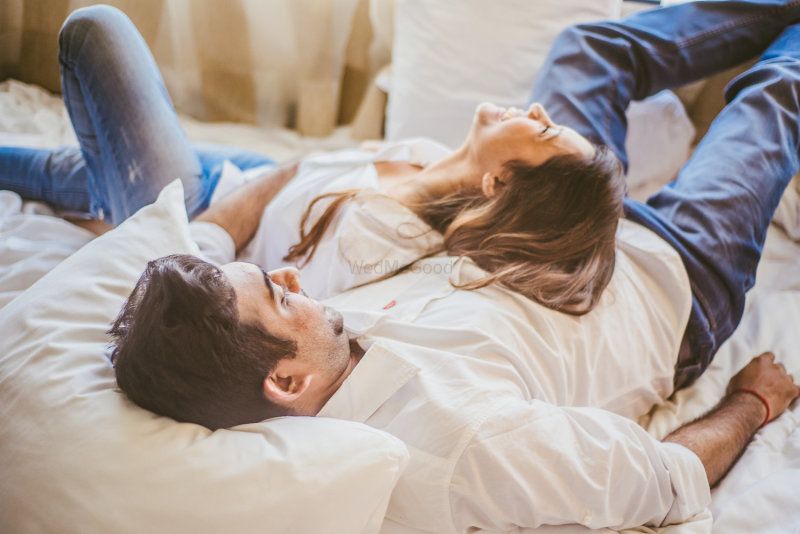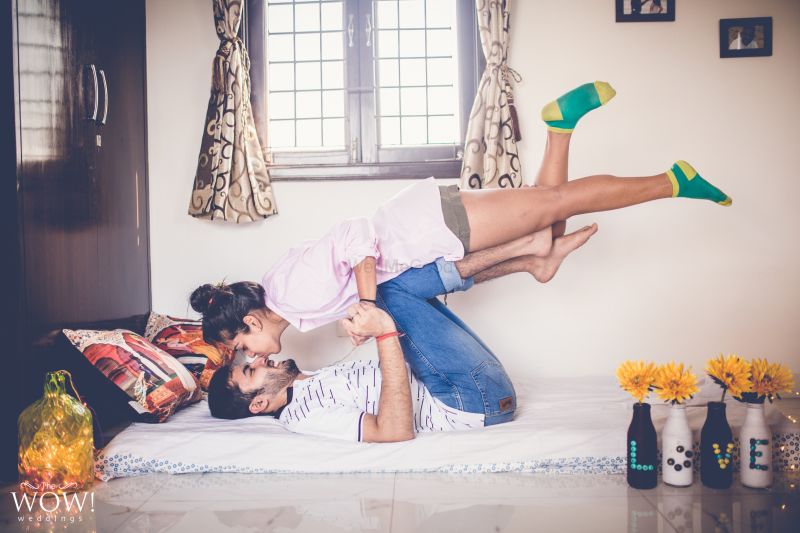 Image via YOU by Poonam Kotecha and The Wow Weddings
Our new fave- using your personal chemistry instead of props to make the photos pop and look so amazing!
At an iconic destination abroad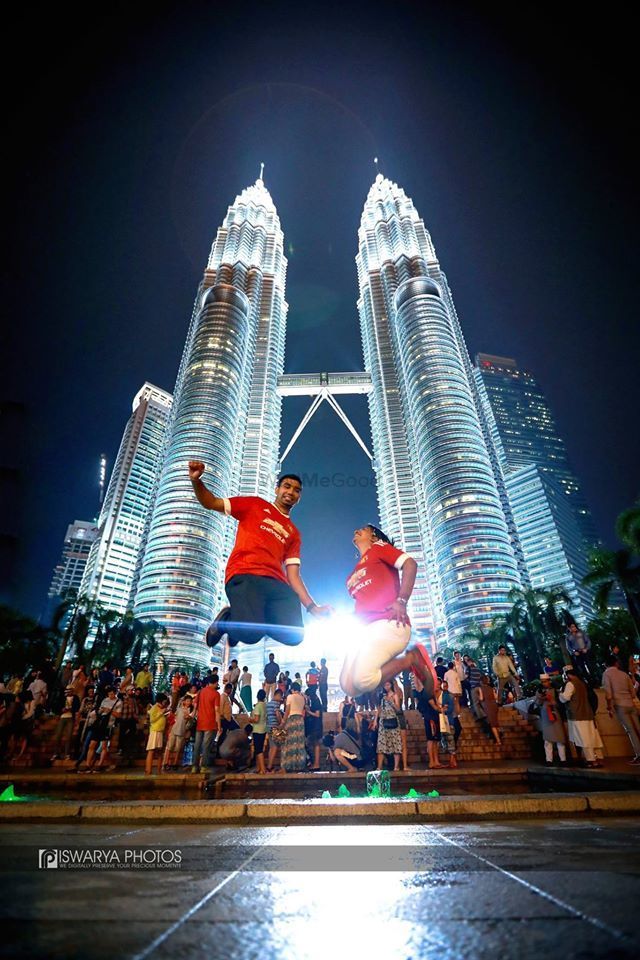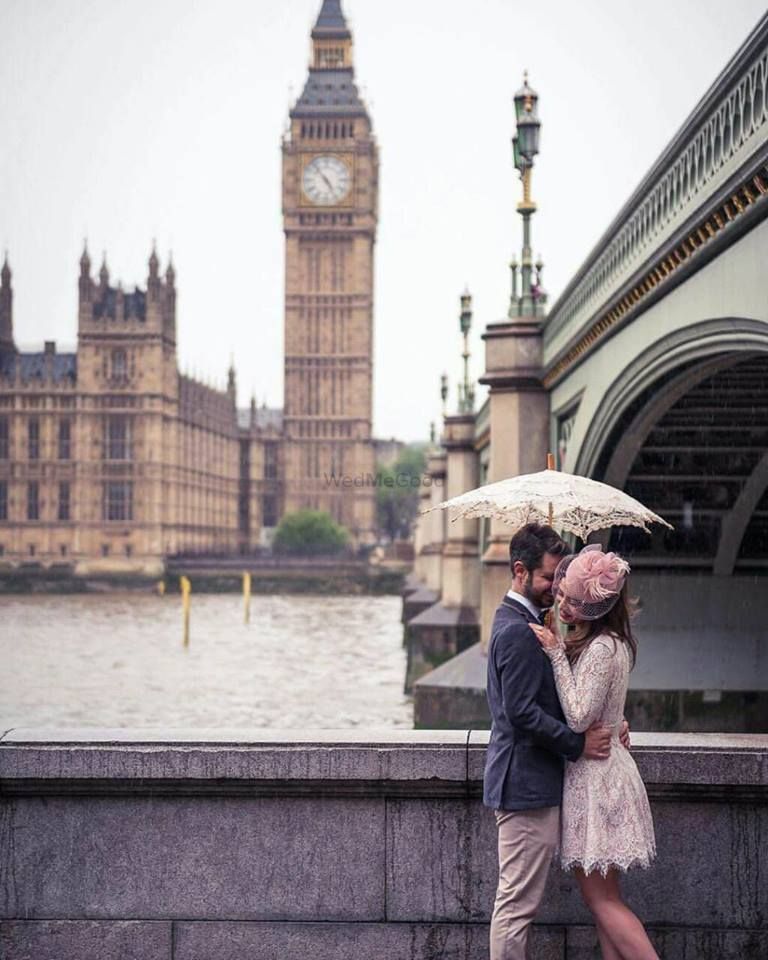 Image via Iswarya and Image Imagination
If you have the budget for it, why not! A shoot that doubles up as a vacation!
Or in India!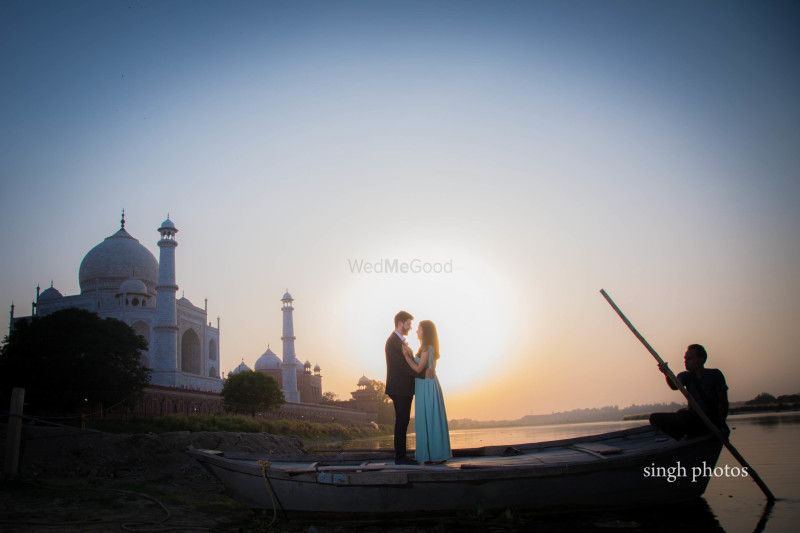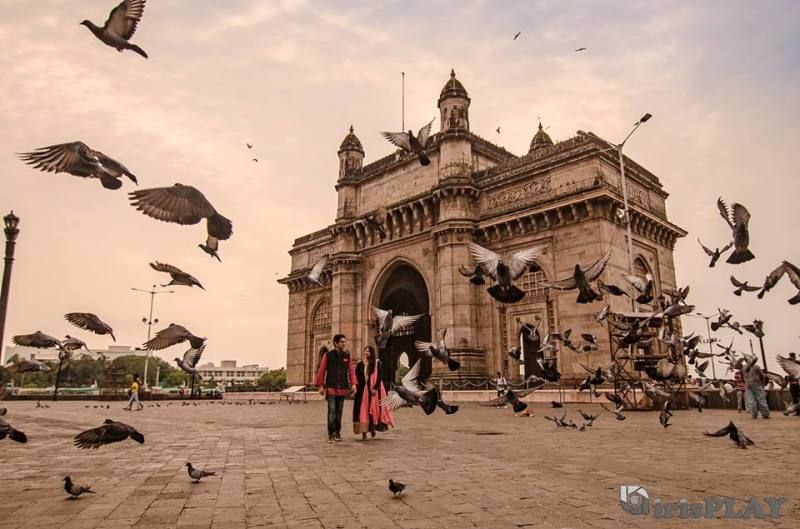 Image via Singh Photos and Irisplay
Whether its about travelling to a place nearby or going to a renowned location in the city, this works too!
At a vineyard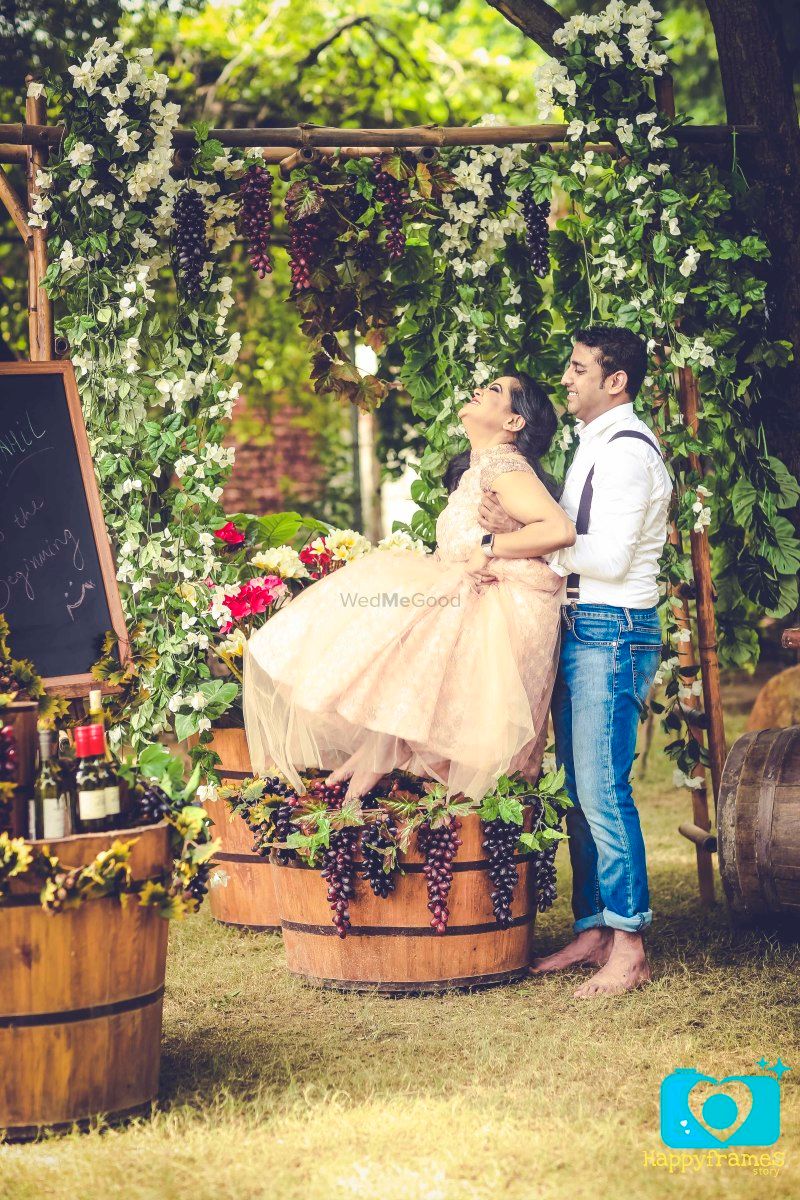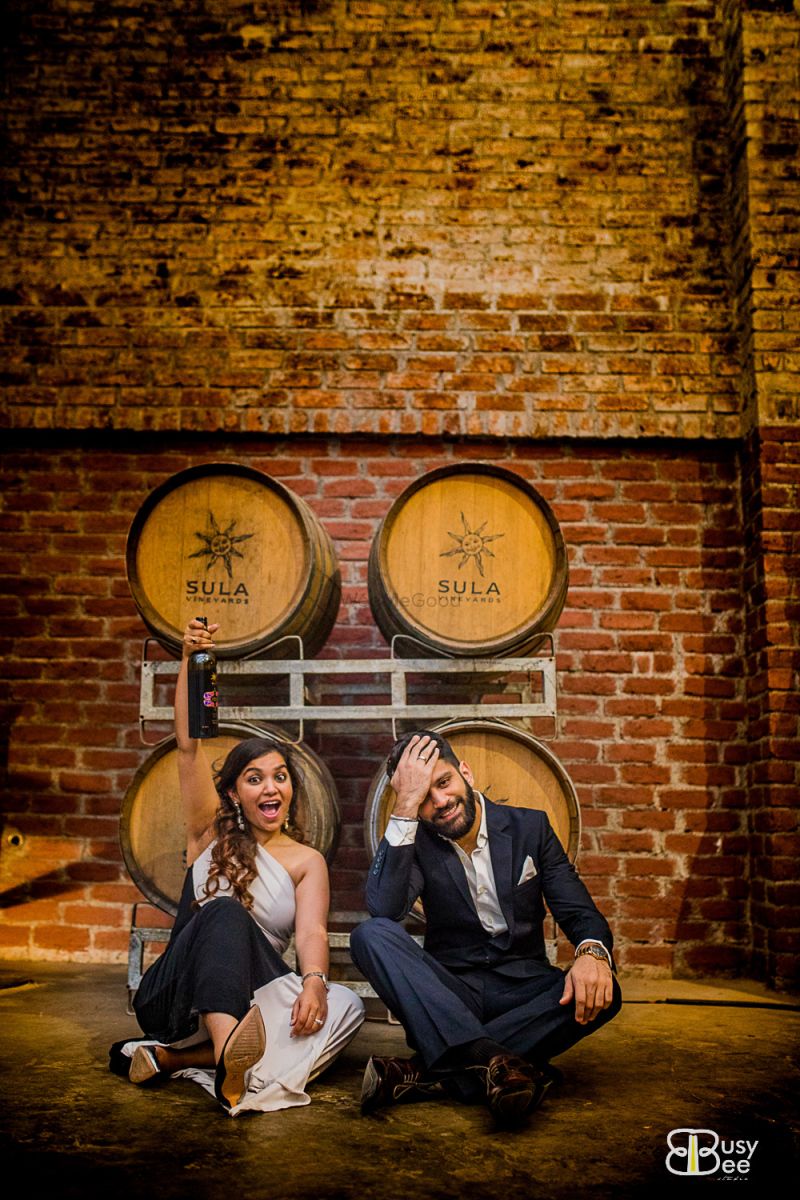 Image via Happyframes and Busy Bee Studio 
A vineyard shoot can be so much fun too- not only is the place pretty, but you can do so much around too!
Up in the hills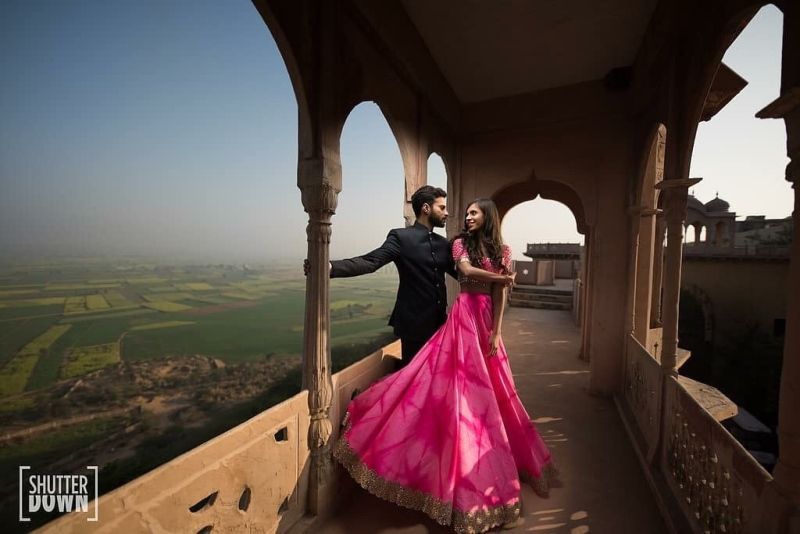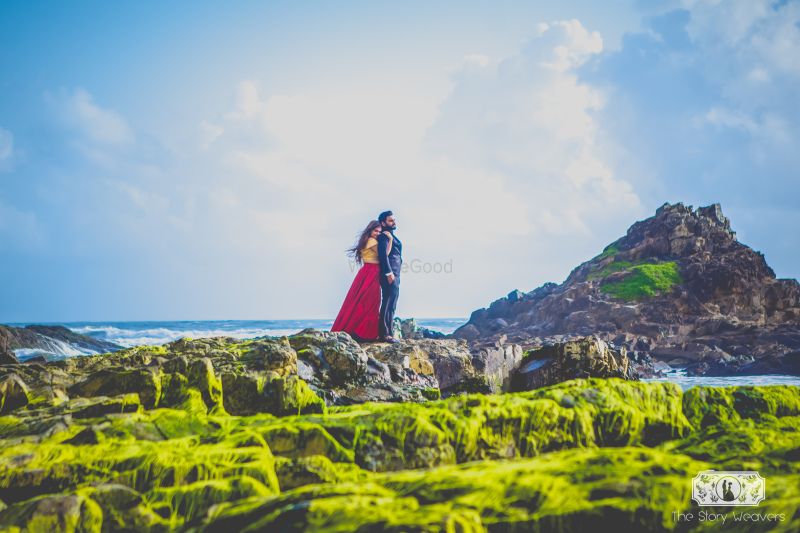 Image via Shutterdown - Lakshya Chawla and The Story Weavers
The hills make for a pretty backdrop, and a romantic one at that too! Dress for the part and get the romantic shoot of your dreams!
With your girls!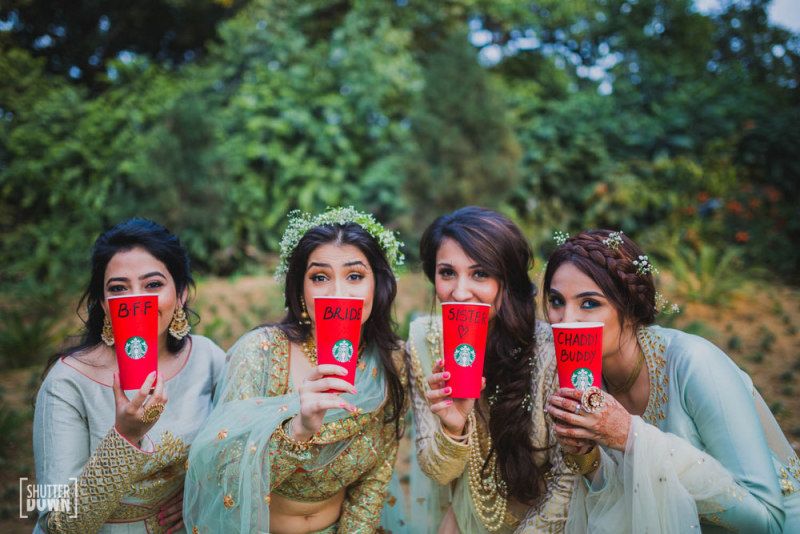 Image via Matsya by Utkarsh Ahuja
I mean, why not? Have a pre wedding shoot with your bridesmaids, and do it well! 
Or with your boys!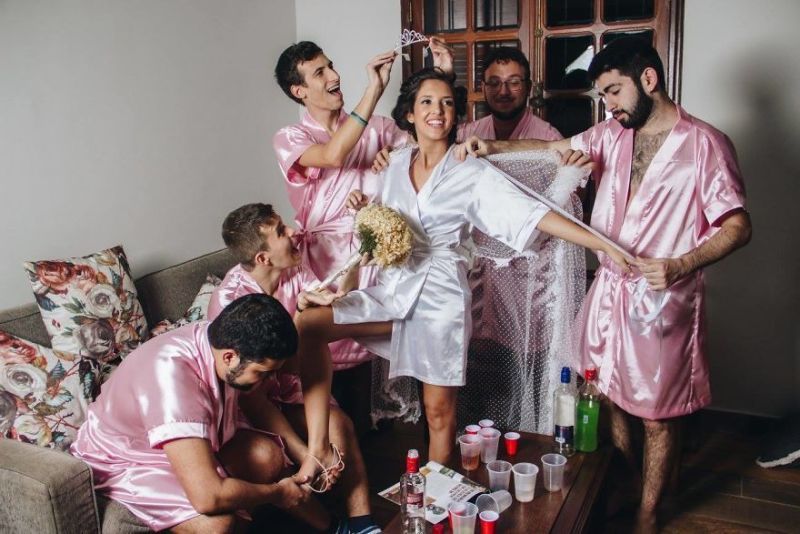 Image via Rebeca's Pre Wedding Shoot
Such a cute idea if you have more guy than girlfriends!
Or while you guys take a road trip!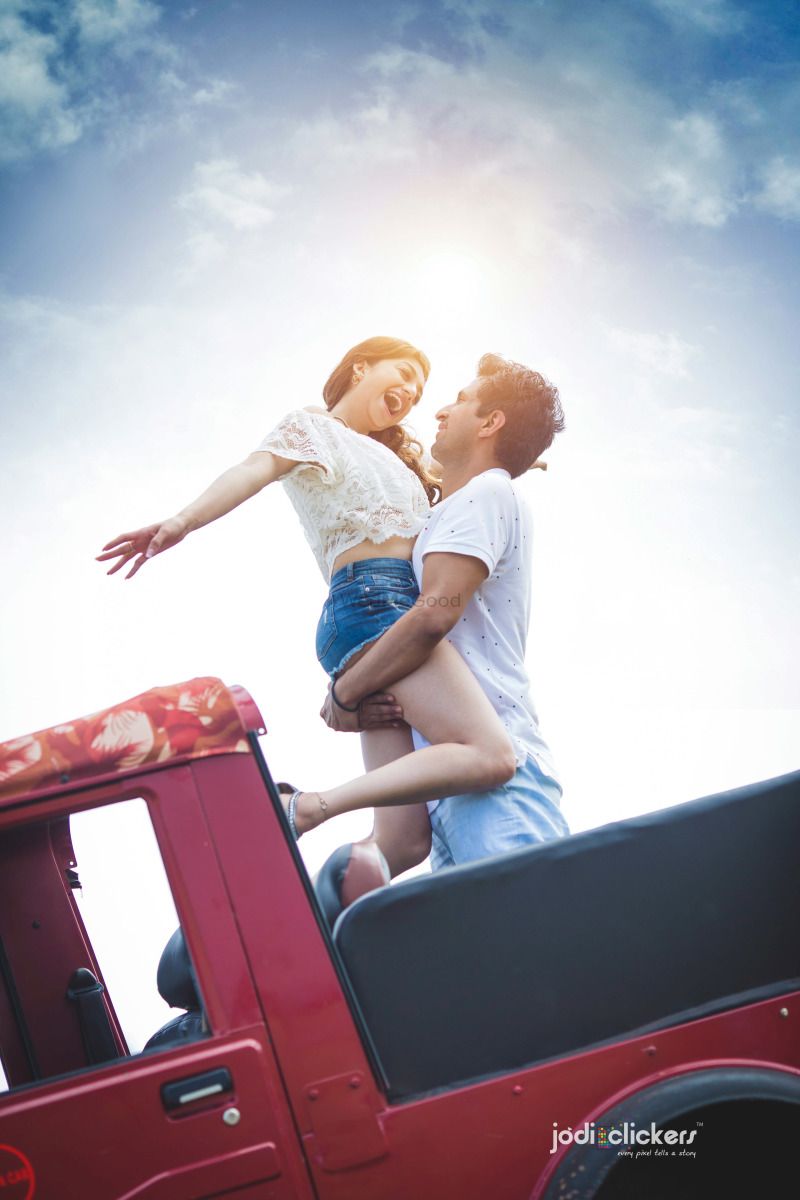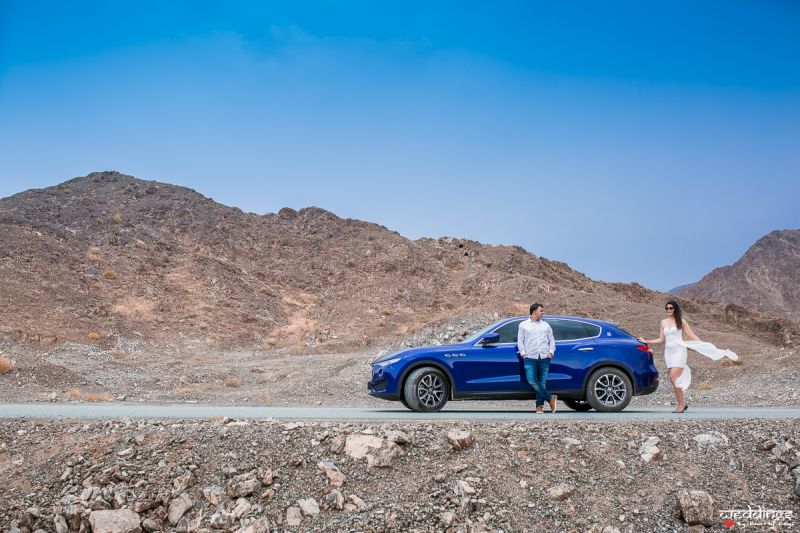 Image via Jodi Clickers and Jodi Clickers
Take a road trip and shoot while you travel- or just fake it!
While you play with colours!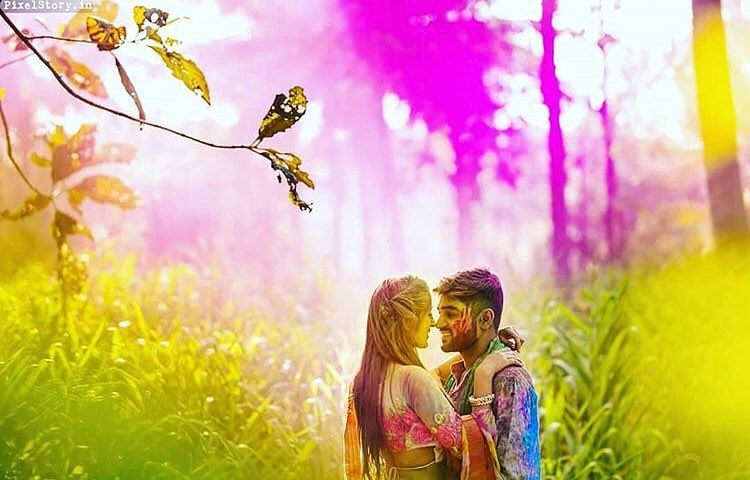 Image via Pixelstory.in
This makes for some super amazing photos too- with all the colour and happiness!
Or try your hand at painting!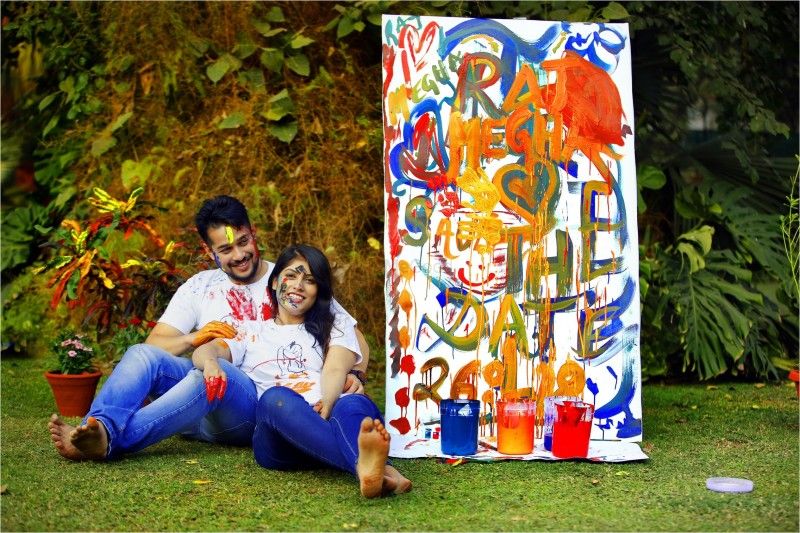 Image via Vogueshaire
Just go crazy with paint and have a good time!
While enjoying a picnic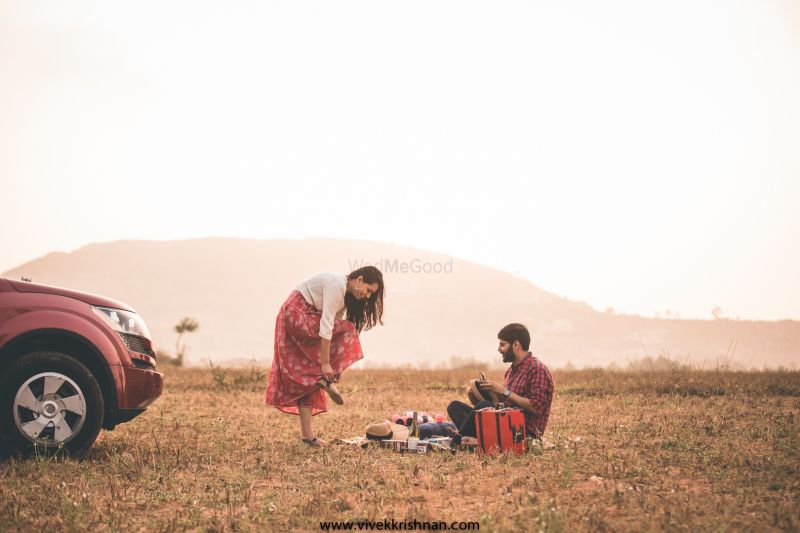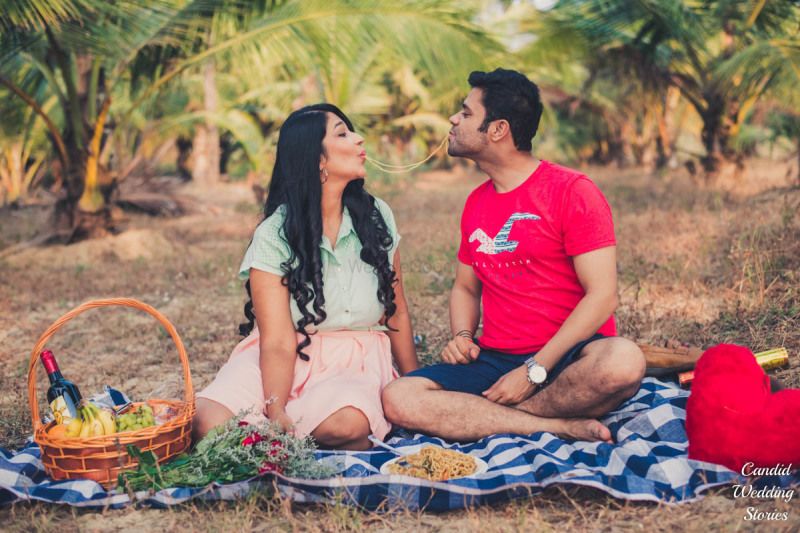 Image via Vivek Krishnan photography and Candid Wedding Stories
Picnic pre wedding shoots can be amazing too! Be as planned or candid with them as you want!
Or taking it a step further with glamping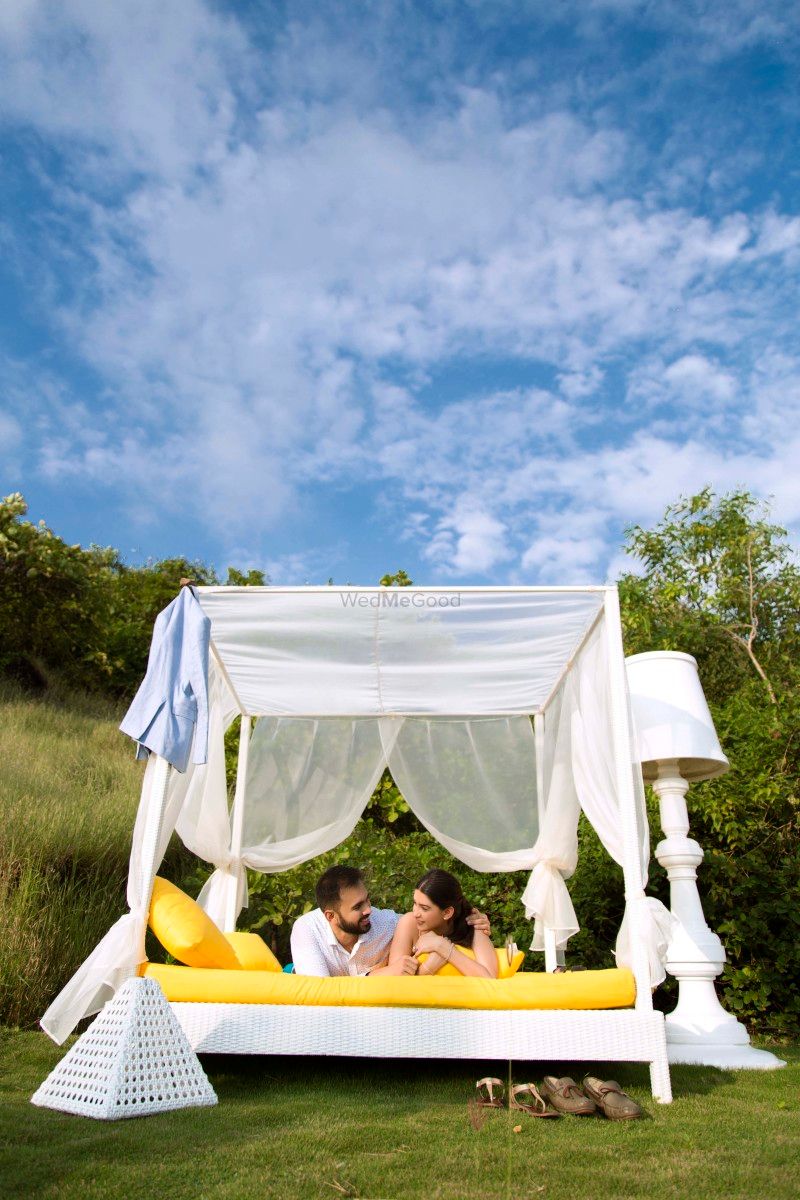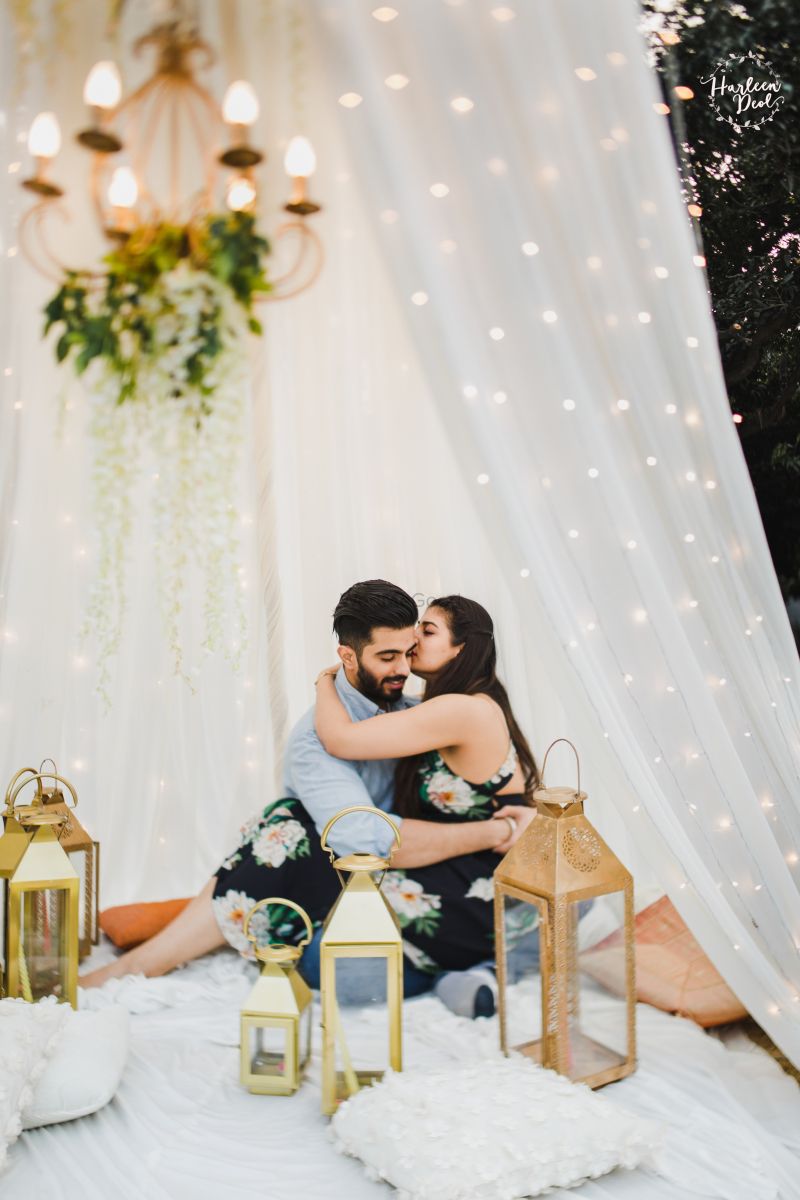 Image via Speaking Frame and Harleen Deol Photography
This one is another fave too- a picnic setup but all glamorous while you guys camp!
Whip something up together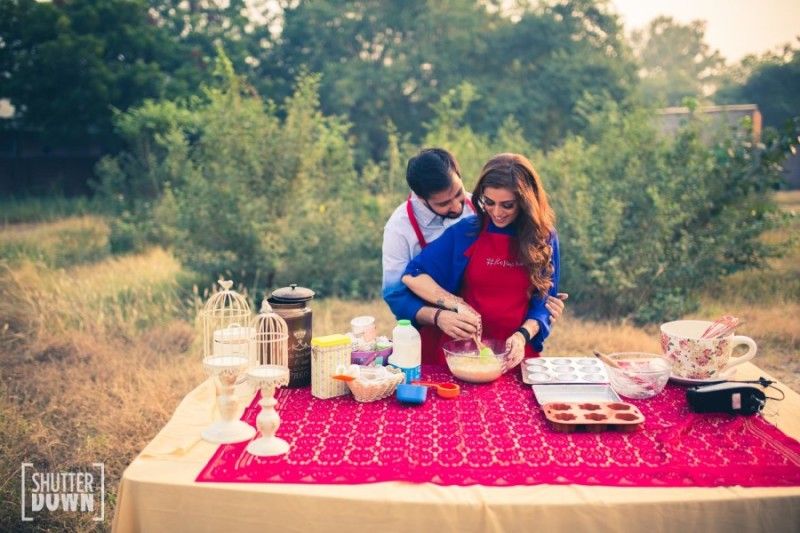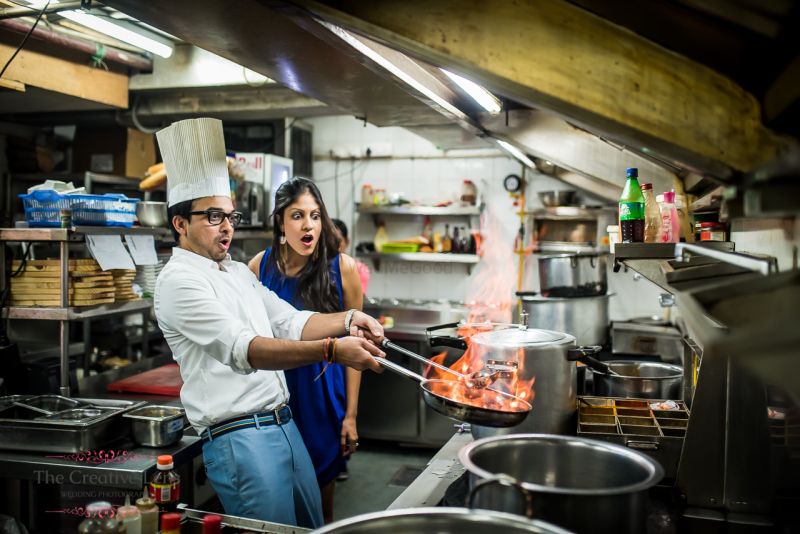 Image via Shutterdown - Lakshya Chawla and The Creative Lens
Doesn't that look like fun! If you're both pros in the kitchen (or not!), then this is another fun theme!
Just being crazy and having fun!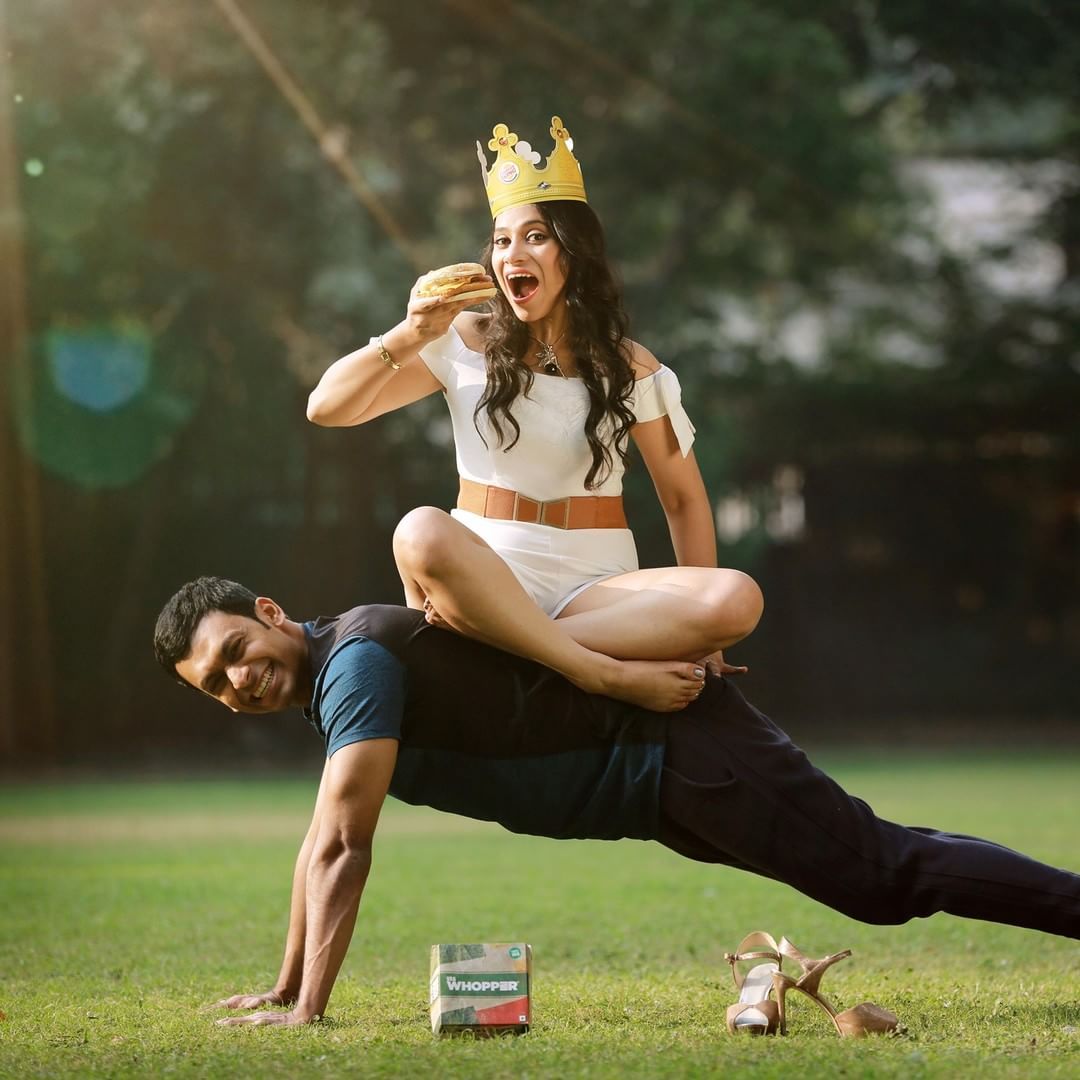 Image via Happy Flashbacks
Don't plan too much, and just go with the flow on this one- be as crazy as you want!
Bollywood style with a flowing saree!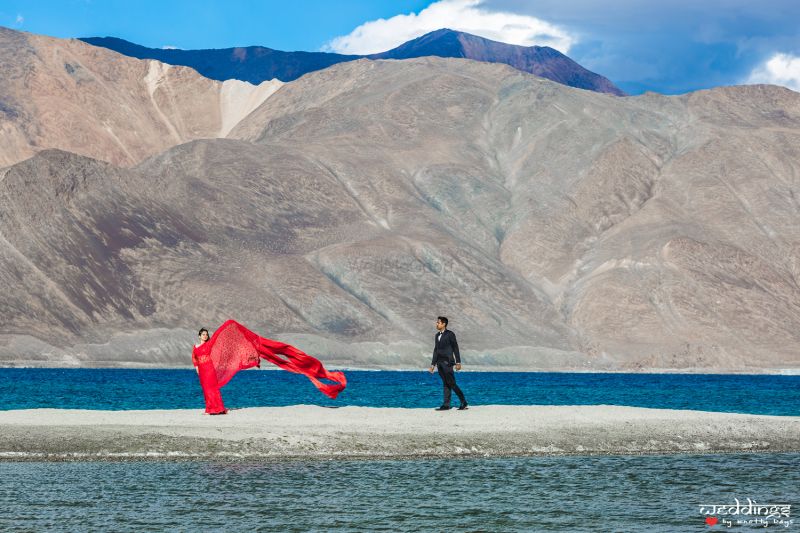 Image via Weddings by Knotty Days
A little OTT for many of us, but still works for some!
Or just recreate a pretty movie poster!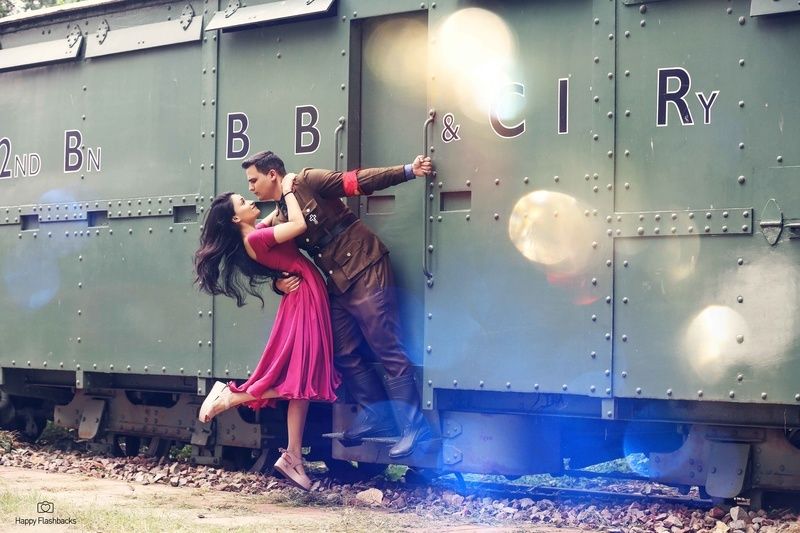 Image via Happy Flashbacks
This romantic train shoot inspired by 'Rangoon' is all mushy-mushy, but with just the right hint of quirk! Just make sure to do it well!
In front of a cool graffiti wall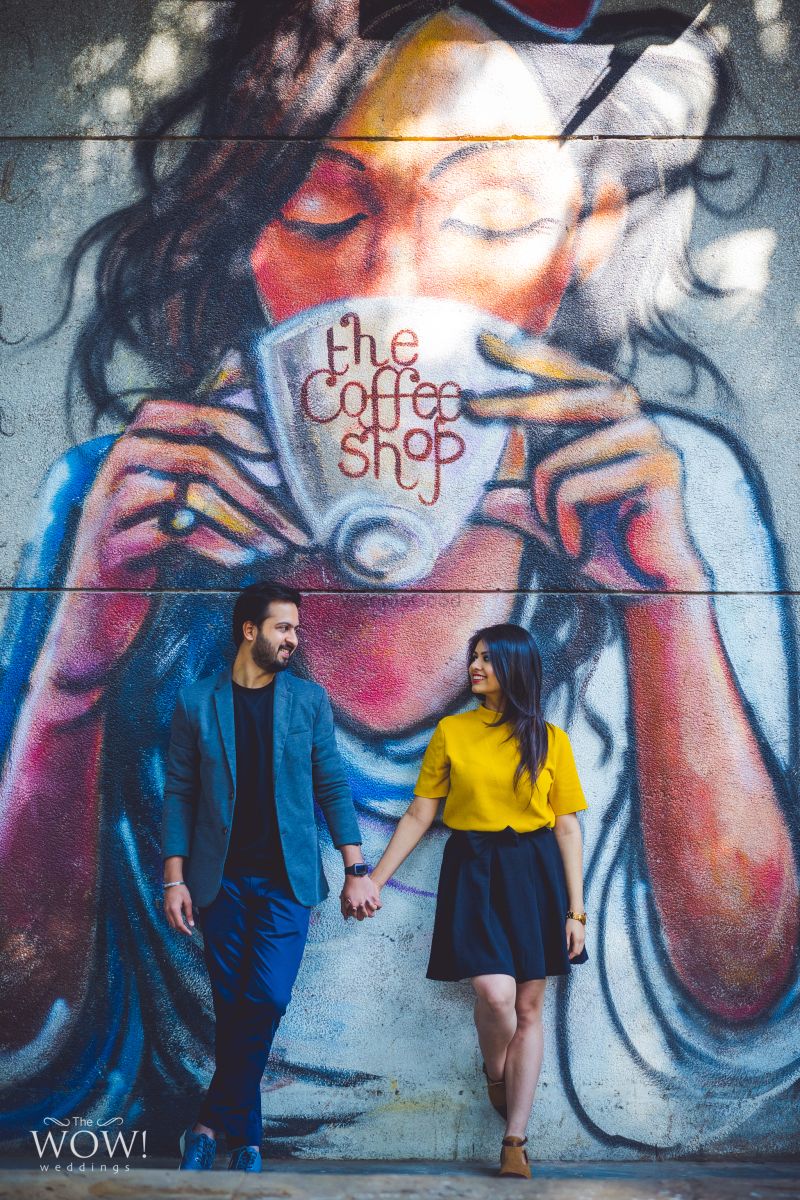 Image via The Wow Weddings
Let a cool wall be the highlight! If you find one, get a shot!
A levitation pre wedding shoot!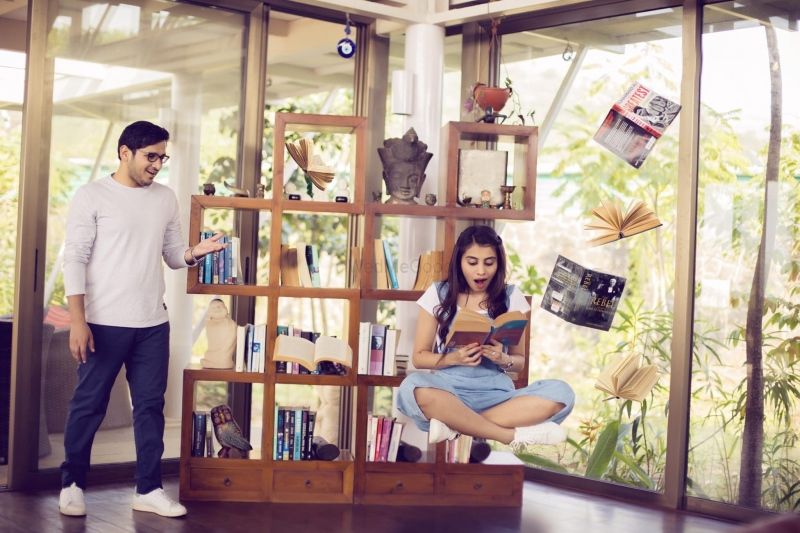 Image via Karan Shah Photography
Special effects that can 'escalate' your pre wedding shoot to make it pop!
At a cafe!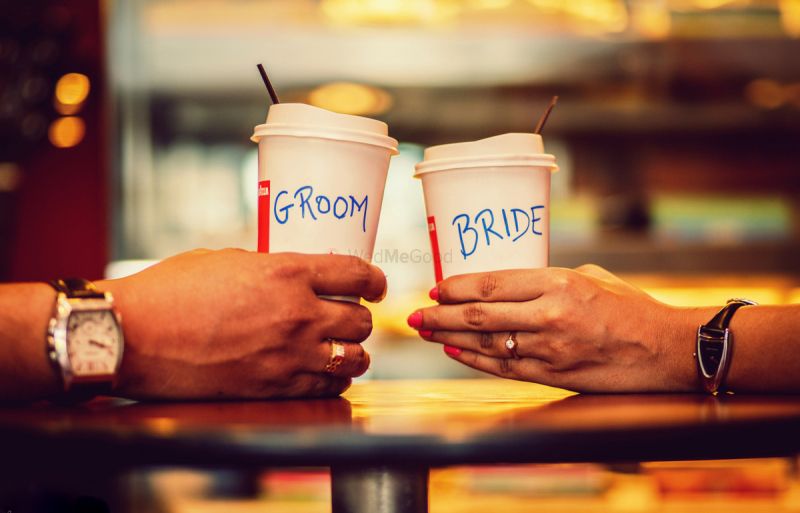 Image via Black and White
Did you guys have your first date at a cafe? Then totally get a few shots there!
In the middle of the desert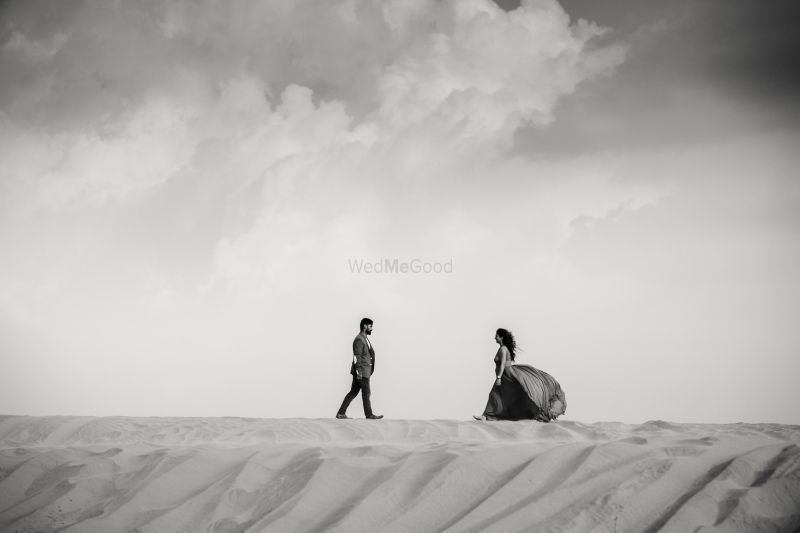 Image via Weddingrams
The desert also makes for an amazing backdrop- so romantic and timeless!
An animated quirky one!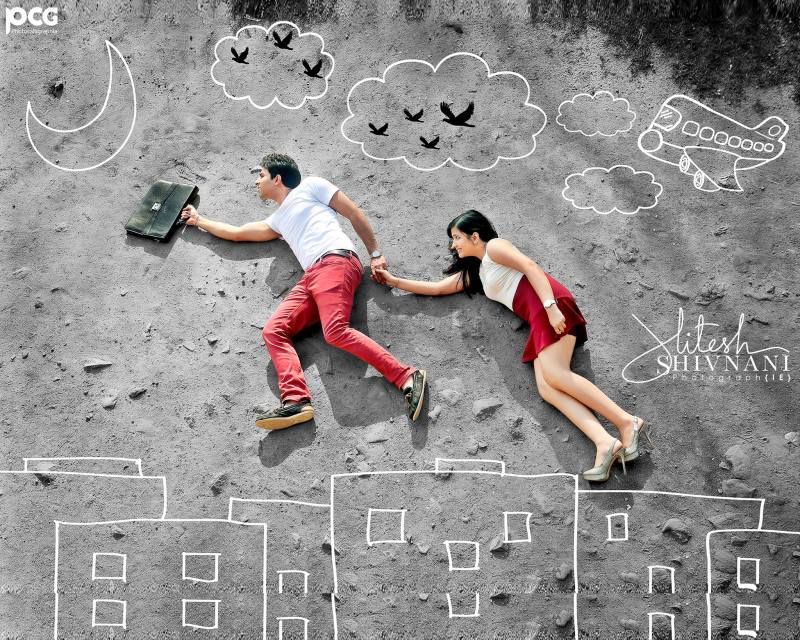 Image via Hitesh Shivnani Photography
A little out there, but if you can pull it off, does look super cute!
Or just all out quirky!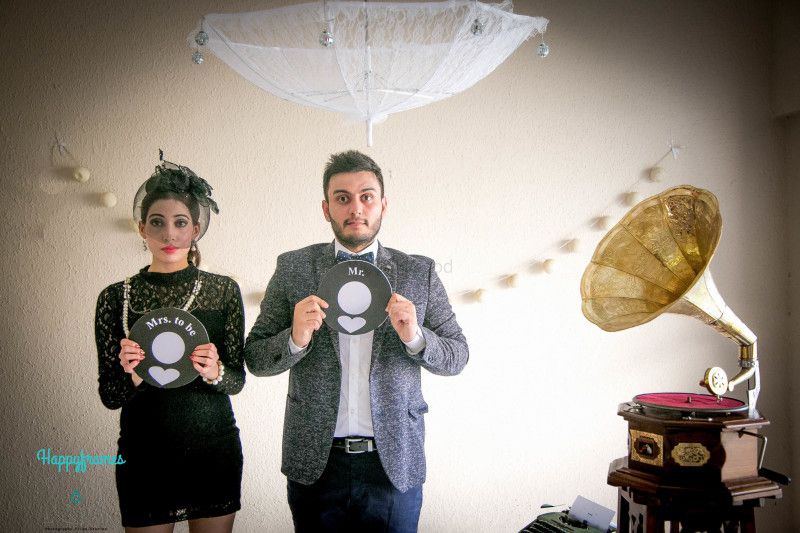 Image via Happyframes
Dress the quirky part with some cute props- so unique and different!
On a hot air balloon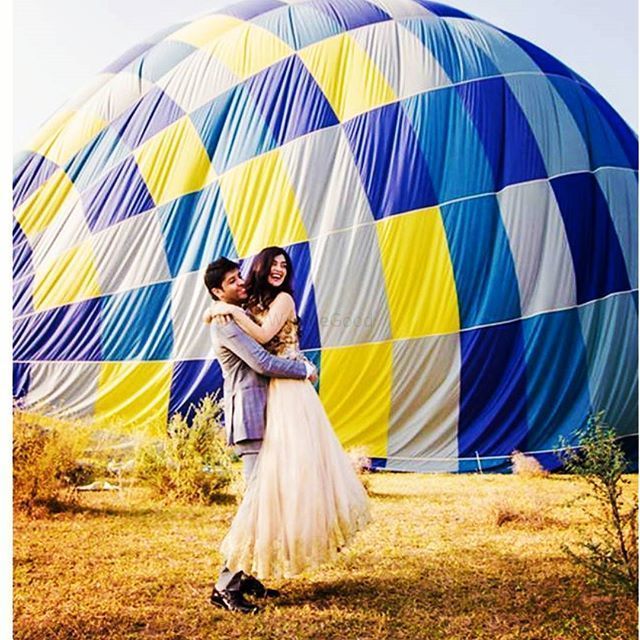 Image via Dilli Wale Weddings
Hot air balloons are not only an adventure, but make for pretty pre wedding shoot backdrops too!
At a ranch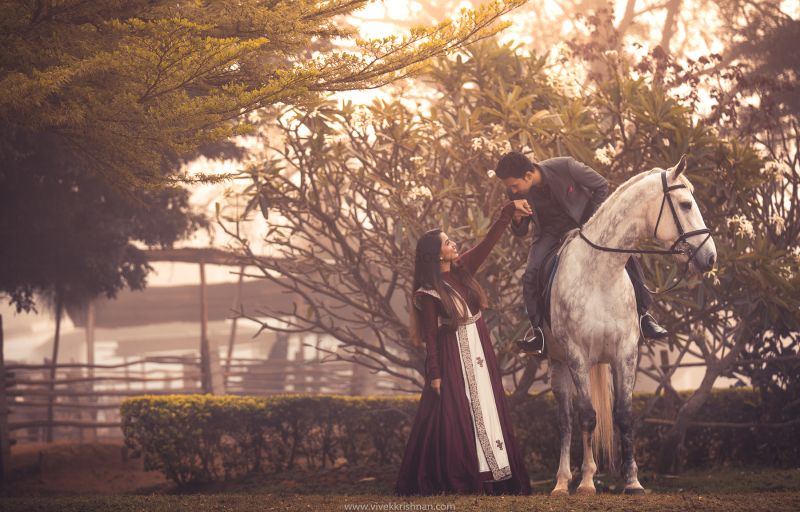 Image via Vivek Krishnan photography
Add the magic to your fairytale shoot with horses- always works!
While you indulge in some sports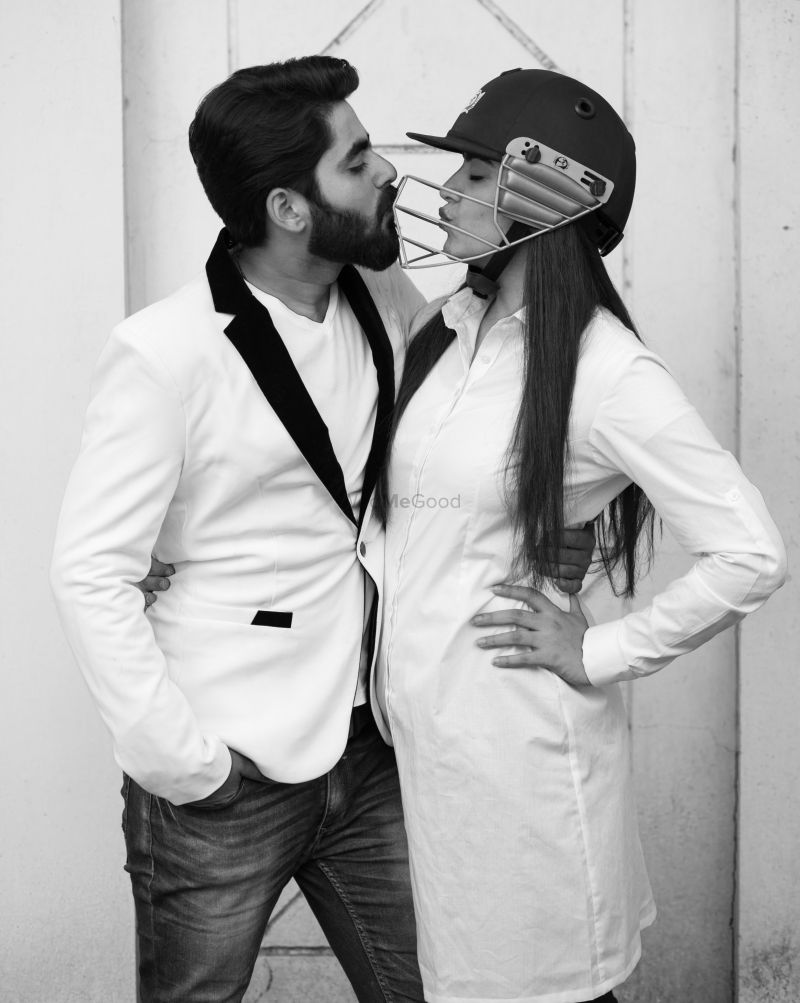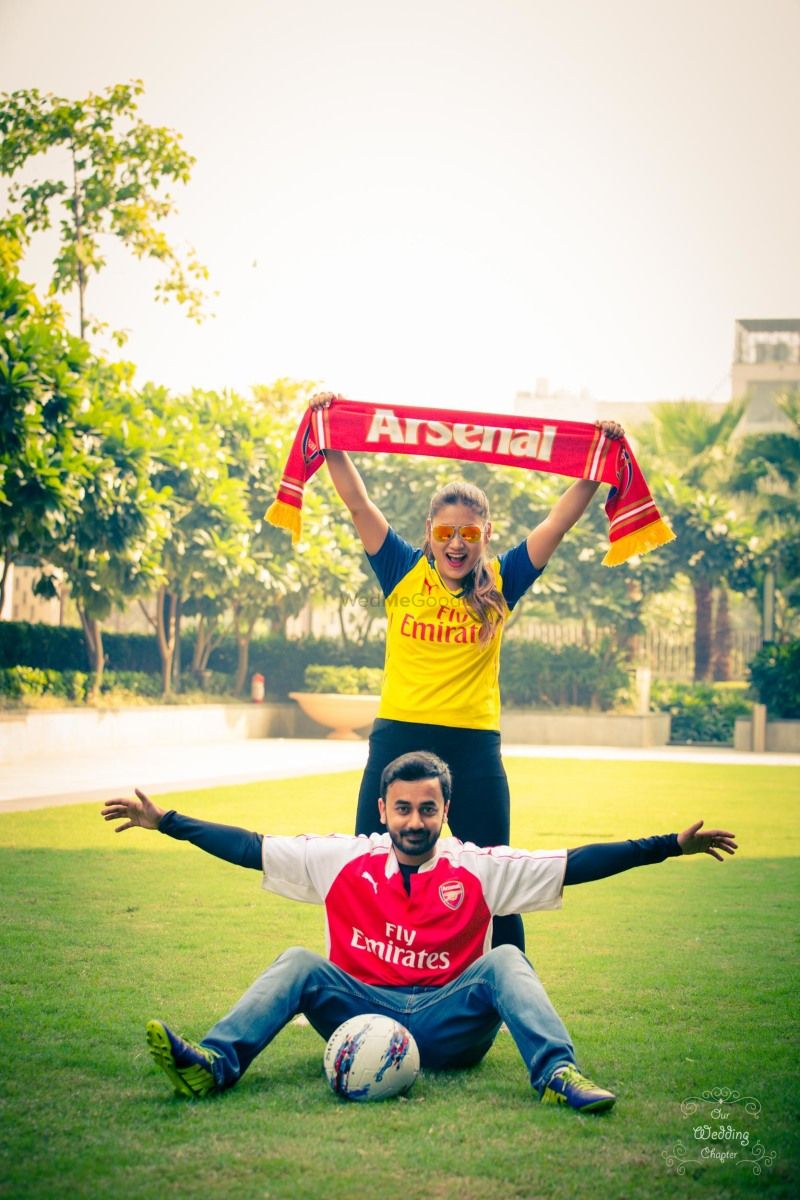 Image via Indori Weddings and Our Wedding Chapter
If you're both into it, why not?
ALSO READ: 8 Offbeat Indian Places For Your 2018 Pre Wedding Shoot!
The Best Pre-Wedding Shoot Ideas Around For Couples Looking At Something Offbeat