Real Brides Reveal – Secret Tips On Buying The Perfect Mehendi Lehenga!
BY Apoorva | 31 May, 2023 | 859 views | 3 min read
Say goodbye to the days when mehendi lehengas played second fiddle to their bridal counterparts. In a world where creativity knows no bounds, these stunning ensembles have carved their own niche, becoming the talk of every mehendi celebration. Now, picture this: You, adorned in a mehendi lehenga that steals the spotlight and reflects your unique style. But, how can you unlock the secrets to finding that picture-perfect masterpiece? Fear not, as our real brides spill the beans and unveil the hidden gems of mehendi lehenga shopping!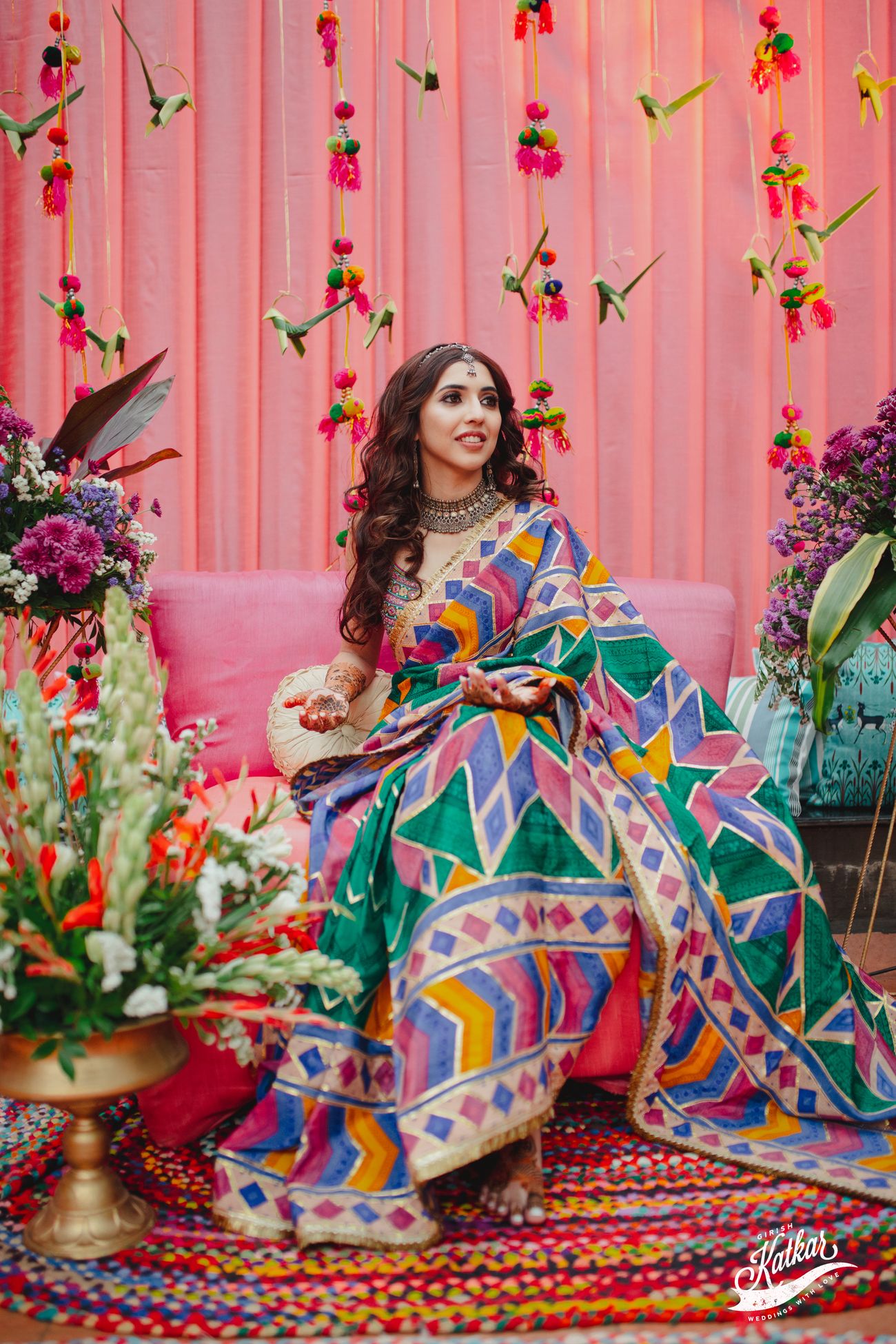 Image via Vedhika and Kamlesh
Kavya says
One hack that I used during my shopping was to get a dupatta made outside and not at the designer store. The designer had a very light plain dupatta as part of the outfit which I did not want and I did not want to spend extra on a new dupatta from the label. So I got one made at a local boutique. Since I had the lehenga, the boutique could source something that perfectly matched!
Meera says
Tell them it's a haldi or sangeet lehenga! Designer stores have got very smart and have marked up the mehendi and bridal lehengas, making it quite steep to buy a mehendi lehenga for less. Tell them that you have an at-home haldi or at-home mehendi and you will be shown pretty lehengas but which are slightly less as they know that brides won't splurge for an at-home event!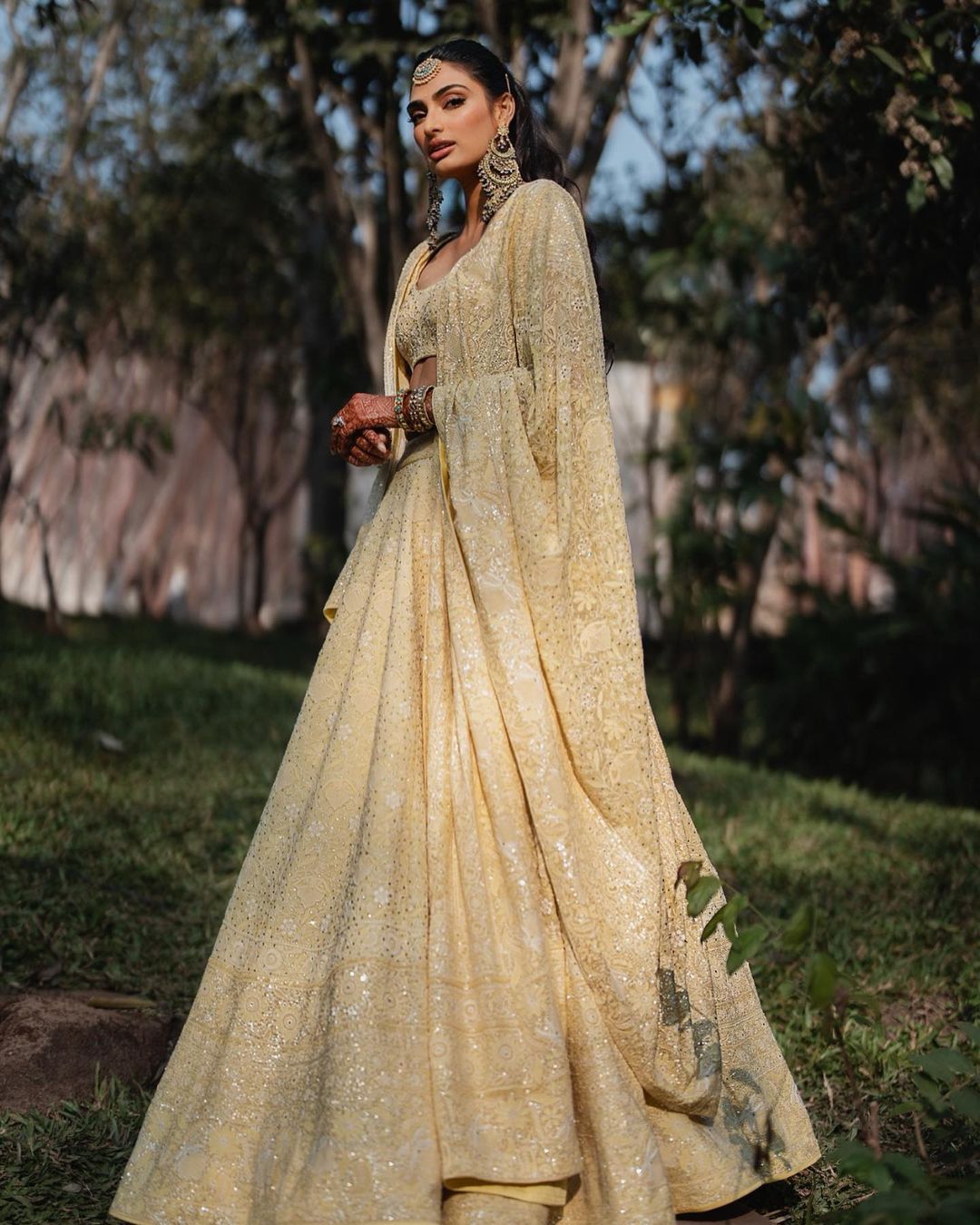 Image via Athiya and Rahul
Saanvi says
Don't go with a trending style if you aren't big on trends. Trending styles, especially the ones celebrities wear are always in demand and usually are priced up. Go for offbeat styles which will look super unique and will be slightly cheaper!
Tara says
My hack to buying a steal deal mehendi lehenga was to opt for a printed lehenga. These look fabulous and in fact, many designers do it too but they are so much cheaper than lehengas with work on them. You can also opt for chikankari and plain silk lehengas that look super chic but don't cost a kidney!
Image via Seven Mantra Films★ 4.1
Leela says
Don't buy a lehenga with a can-can that cannot be removed. Sitting in a can-can is quite annoying, especially for long hours. Ensure you have a removable can-can or opt for a lehenga that doesn't need one for your mehendi. All brides will thank me!
Pariniti says
I went the online way. So much budget friendly and if you go with a trusted platform you don't have to worry about quality. After a lot of research, I found the WMG Online Shop that has lehengas specifically curated for mehendis. How cool is that? The shopping process was quite smooth and I got a super deal too!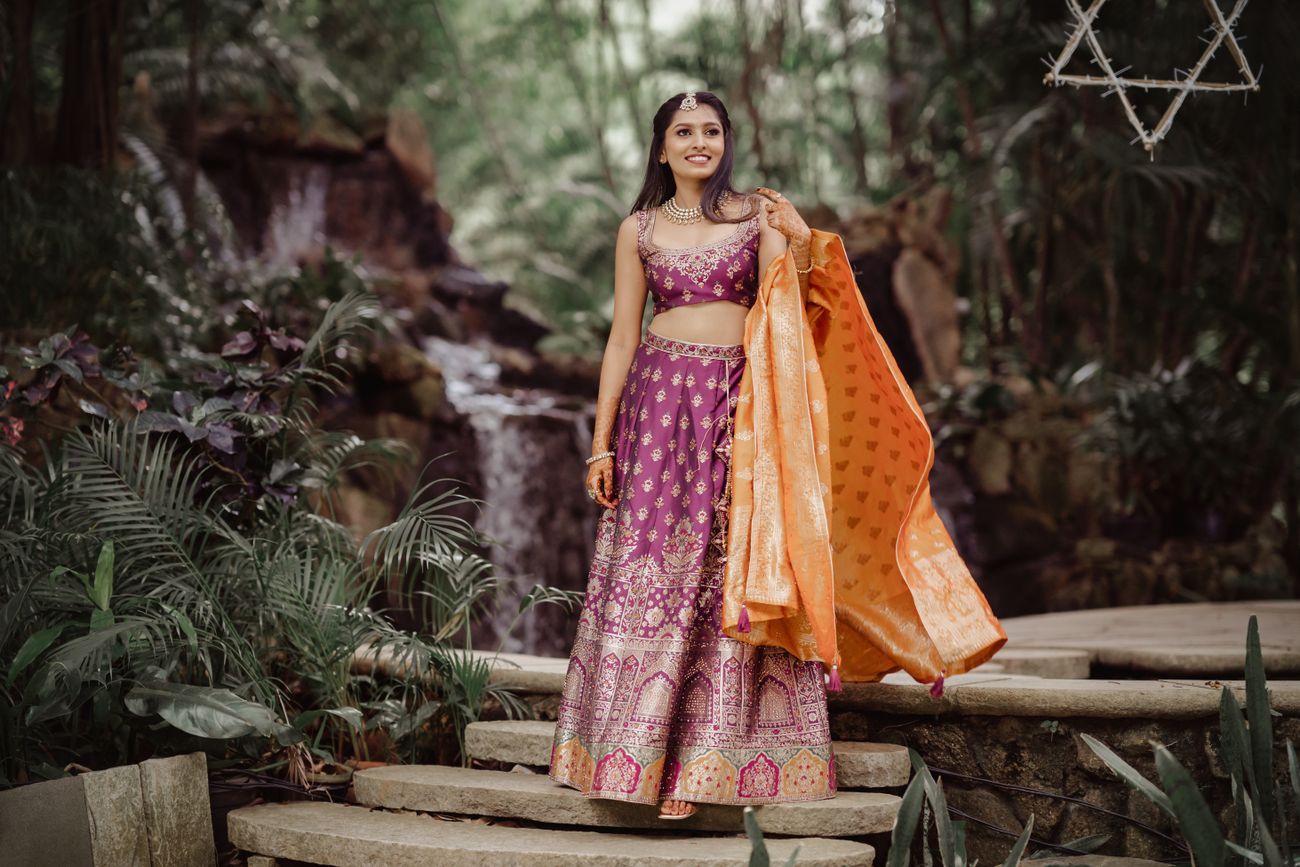 Image via Spandana and Harjas
Ishani says
Check your mehendi lehenga under different lights and even go out in the sun if possible. Not all lights are equal! That is why once you have finalized your lehenga, make sure you check it under different lights and have a friend/sister/mom check it. This is crucial as the colour and shade of the lehenga can look drastically different in natural light vs yellow light so it's always better to be sure before you buy it especially since mehendi events are sundowners where light transitions from day to night!
All images are for representative purposes only! 
Check out Best Mehendi Outfits We Saw In 2022: WMG Roundup
And Unique And Gorgeous Mehendi Designs We Are Giving Our Hearts To!