Pretty as Punch Vineyard Pre-Wedding Shoot!
BY Latha Sunadh | 27 Sep, 2016 | 756 views | 3 min read
What's not to love at a vineyard? There is natural beauty, rustic barrels and of course a whole lot of vino. Hic...
Kanika Agarwal was surprised by her fiance with a proposal and pre -wedding shoot rolled into one. He sure knows how to keep the spark going.

Happyframes

 captured all that love beautifully. 
Meet Kanika & Sahil
"A common friend played cupid and got us talking. Sahil would insist on getting the two of us talking. After 6 months of chase and the amazing convincing skills that this common friend has, we got on to talking. In my mind, it was suppose to be a casual 'yes' go ahead and talk to him. And there it was! I get a msg from Sahil the very next day. We got on a call in no time. The initial few seconds were awkward. But then Sahil made it so comfortable that the call lasted for more than 4 hours. And that is the day I guess, I discovered the talkative side of me. And it continues. I guess love makes you talk!" explains Kanika.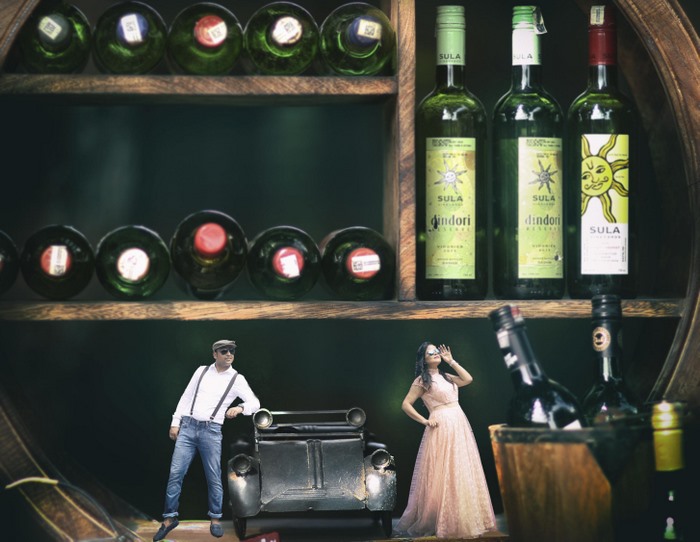 From The Bride-to-be:
"I guess every girl, in her heart, wants to have a special proposal. We want to be told that we are going to be loved all our life, in a different way! Sahil and I use to have these conversations where he would invariably ask me about 'what if I proposed to you, how do you imagine it to look like.' I thought those conversations were just conversations. Little did I know  that he was planning it all with the Happy Frames Team.
 Both Sahil and the team researched to find the possibility of shooting in Delhi at any place with a Vineyard setup. The proposal was set amid the pre-wedding photoshoot. And the way it happened, it felt like I lived my dream in that moment. Like a fairytale! All this was done with perfection, special thanks to D
eepanshi (Team Happyframes) who's ideas are amazing and attention to detail is flawless. S
he does this without you even realising she is there" says Kanika. 
 So taking all the inferences from our 'proposal chats' , Sahil knew he had to do something different. He and I both are romantic, fun loving people and absolute vine lovers. Also, we were sure that some part of our shoot had to have vintage theme and colours. I'm glad I'm going to be with someone who went this far to make the proposal so unique," adds Kanika. 
Photography:
Happyframes
 . Venue:
Perfect Location