New Fun Games to Play at Your Mehendi! (* Keep Your Guests Constantly Amused!)
BY Sakshi | 11 Nov, 2016 | 11370 views | 3 min read
These days games at wedding events are like trending majorly... so we decided to put up an easy list for you to choose from! From easy to complex ones with props- here are games for people of all ages!
Zorbing
Photo Courtesy: House On The Clouds★ 5
We spotted Zorbing at one of the recent weddings we featured, and it's such a cool idea for a fun Mehendi, especially if you're having a poolside one!
Panipuri eating competition
Photo Courtesy: www.reshareit.com
This is one competition everyone would love to try their hand at- from the youngest to the oldest! Get a panipuri counter (with loads of panipuri) and you're all set for fun!
Kite Flying
Photo Courtesy: Anyonya★ 4.6
Kites are our new favourite things at weddings, and kite flying is something a lot of people would want to try out for the first time! An excellent idea for the Mehendi at a destination wedding!
Ring the gift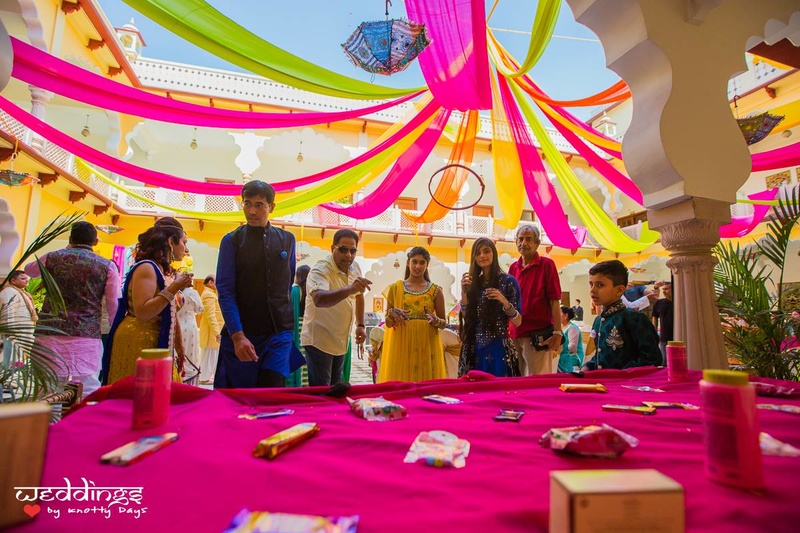 Photo Courtesy: Weddings by Knotty Days★ 4.8
Go all old-school carnival and have a ring the bottle or ring the gift stall, where guests can win some cute gifts!
Carrom Board
Photo Courtesy: The Wedding Salad★ 4.9
Everyone's favourite! Get a carrom board and watch how people around go crazy!
Giant Snakes and Ladders
Photo Courtesy: Anyonya★ 4.6
Imagine snakes and ladder where instead of the 'goti', you have to physically stand and climb up and slide down! Super cute right?
Darts
Photo Courtesy: Anyonya★ 4.6
Darts are easy and entertaining! Have some cute gifts for those who hit bull's eye!
Shoot the balloon
Photo Courtesy: Purple Tree Events Solution★ 4.9
Another carnival favourite! But make sure this is done under supervision!
Antakshari or Charades
Photo Courtesy: Divishth Kakkar Photography
Antakshari or charades are like true Indian games we've all grown up playing.. and it's the perfect game for those filmy souls!
Housie or Tambola
Photo Courtesy: www.craftables.com
This is a game majority of the people like playing... and honestly, who doesn't like to win a few extra bucks!
Jenga
Photo Courtesy: Parag & Shreya (Chicago)
You could have the normal one or the giant jenga we spotted
Tug of war
Photo Courtesy: The Wedding Salad★ 4.9
How fun would this be? This is an awesome idea for a boys vs girls thing at a destination wedding!
Sack race
Photo Courtesy: Vintage Nutters★ 5
Sack races are a lot of fun! You can have individual or team competitions!
Beer Pong
Photo Courtesy: Sam & Ekta – Sonder Frames
Beer pong is a fun idea if you're having a poolside Mehendi... is fun, and gets everyone drunk :P
So, which games are gonna make it to your Mehendi?