How's the Josh? 10 Sangeet Songs for the Groom & His Squad For 2023!
BY Bhakti Parekh | 01 Jun, 2023 | 1407 views | 4 min read
Being the most anticipated and exciting event of Indian weddings, are the fun-filled Sangeets even memorable if the bride and groom don't dance with their A-team or their favorite squad? From letting out your embarrassingly famous anecdotes to set the dance floor on fire with their sizzling energy and performances, aren't they just our loudest cheerleaders? Amping up the gravitas and aplomb amidst a starry night full of mirth, laughter, and craziness, here's to clinking those bubbling glasses to a night full of unforgettable (or hungover, lol) memories!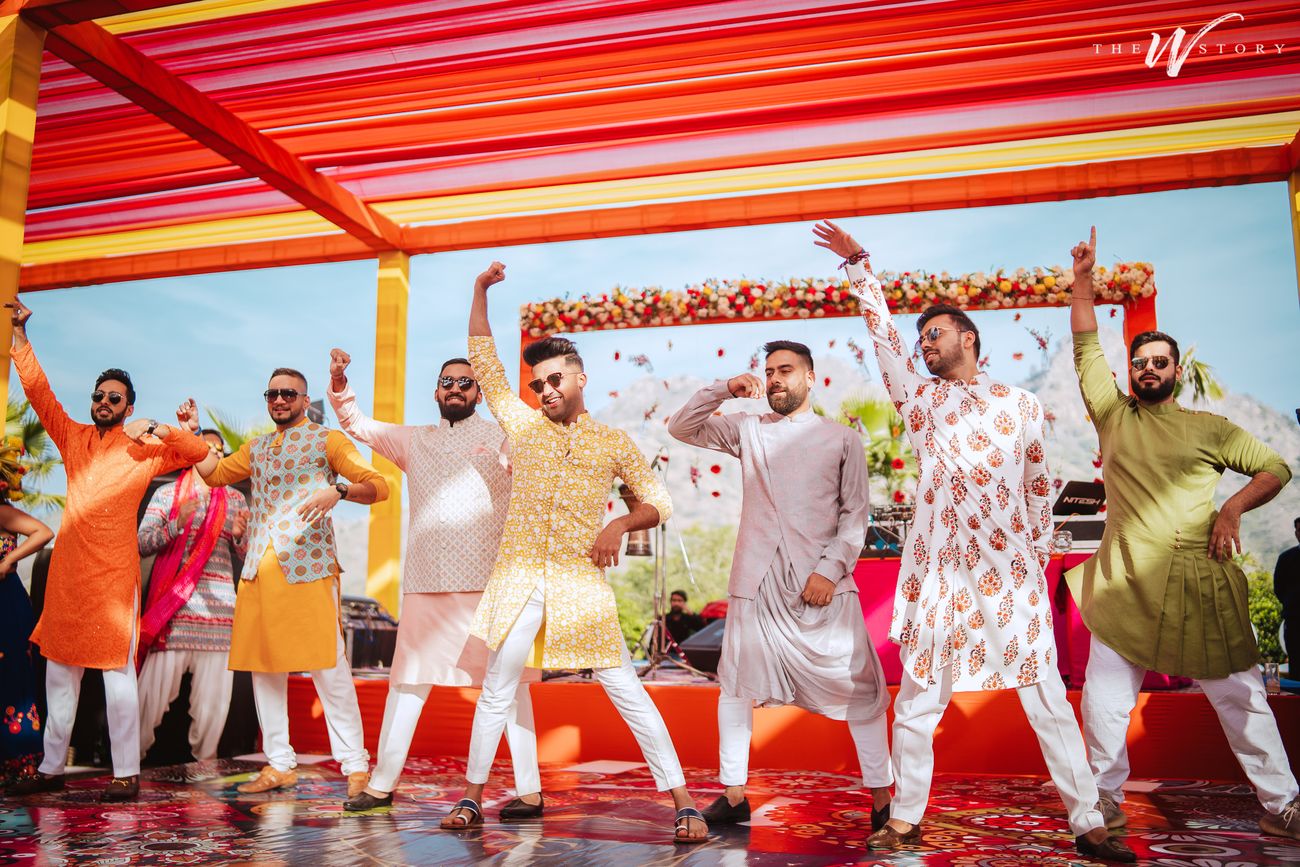 Image via The Wedding Story★ 4.3
10 Songs to Dance on If You Are a Part of the Groom's Inner Circle!
Meant for all you lovely grooms, take note as we spill the ultimate Bro-Team Sangeet playlist for 2023. Setting the tone for the festivities, it's time to live up to the #Ladkewale tag along with your squad and make this a night to remember.
1. Brown Munde
 

 

View this post on Instagram

 
Befitting a celebratory panache, this Punjabi chartbuster will get everyone, old and young, grooving to its trippy beat! 
2. Ae Meri Zohraazabeen
 

 

View this post on Instagram

 
Dedicate this off-beat Himesh Reshammiya number from the cult classic, Phir Hera Pheri to your beautiful beloved! For those wanting to do something out of the blue, get your groomsmen together like this troop who are acing this performance with their perfect coordination and swag!
3. Natu Natu
 

 

View this post on Instagram

 
A party starter this season, this heart-thumping, Southern, Oscar-winning number continues to be a must-play at all our quintessential Indian 'shaadis'. Getting your groom squad together will surely tempt the audience to join you, pronto!
4. Chokra Jawaan
 

 

View this post on Instagram

 
A sweltering item number, aren't the lyrics 'coming of age' (yes, pun intended) when it comes to the dapper groom?
5. Sauda Khara Khara
 

 

View this post on Instagram

 
Continuing this effervescent Punjabi fever, welcome your ladylove with a grand performance on this chartbuster, with your closest gang in tow!
6. Ooh Antaavama
 

 

View this post on Instagram

 
As South-Indian music continues to make its presence felt, showcase your goofy, fun, and energetic side as you elevate the overall vibe of the event with this sultry tune! And who better to live up to this monicker with than you're A-team, groomies?
7. Tenu Leke
 

 

View this post on Instagram

 
For all you Bollywood lovers, is there a better song than this to sweep your soulmate off her feet with? We think no!!
8. Lover
 

 

View this post on Instagram

 
Exuding your lover-boy aura, swivel on this spunky melodic number belted out by the modern-day King of Romantic Songs, aka, Diljit Dosanjh! Moreover, his mellifluous voice will surely give you goosebumps!
9. Calm Down Mix
 

 

View this post on Instagram

 
Amping up the zestful atmosphere around, this electropop/ synth-pop wedding mashup is apt to keep the spirits high! (Well, quite contrary to its name, isn't it?) Setting the mood right, trust your groom squad to kill it with this fiery number!
10. Ce' La Vie X Jalsa
 

 

View this post on Instagram

 
What happens when East meets West or pop meets folk? Dancing to the tune of this frenetic, love-filled amalgamation, showcase a flashmob with all your 'baraatis' as you surprise your true love with a special gesture! Moreover, get her to join you too!
So, are you all ready to dazzle with your tribe as they revel in your glorious love story?
ALSO READ: 30 Best Groom Entry Songs to Download for Baraat Entry