How To Wear Flowers On Your Hair For That Perfect Bridal Look!
BY Apoorva | 26 Aug, 2016 | 5903 views | 4 min read
What is the best hair accessory for a bride? Flowers! Whether you picture yourself at your wedding wearing an updo, a half-up-half-down look, or flowing, wavy locks, a floral accent will transform your wedding hairstyle into something entirely fresh. Some brides choose to coordinate their blooming accessory with their outfit, while others opt for something totally different. Either way, the blossoming addition is an effortless way to personalize your wedding-day look. Here are a few ways you can wear it according to the brides here at WMG.
Bold and Beautiful
Traditional
Gajras
Floral Crowns
Midway Look
Baby Breath Craze
Modern Bride
Floral Jaal
Red Roses #ForTheWin
High-Top Flowers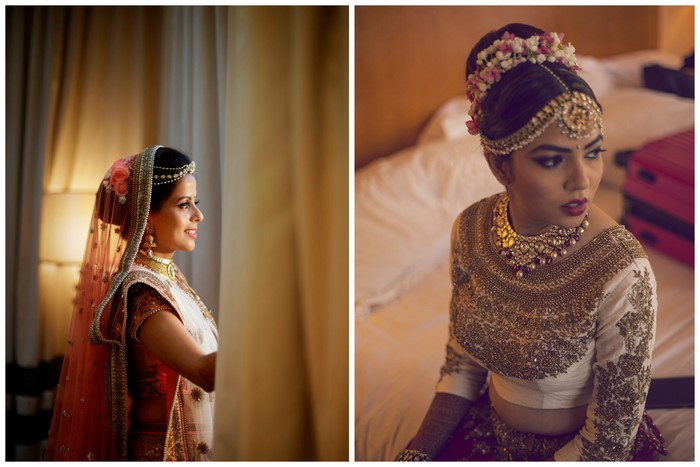 Mix it Up!
Pop of Colour 
Go different, very different! 
Now wearing fresh flowers in your hair on your wedding day can be tricky, but once you follow a few simple tips, you'll have the most heavenly one-of-a-kind tresses.
– If you want your fresh flowers to last into the evening, perhaps consider dryer varieties of flowers. – Chat to your florist about resilient flower choices, along with which flowers have allergens in them (you don't want to be sneezing, with a rash on the back of your neck!) – Be careful not to use any setting products near your flowers – advise your hairstylist not to add the flowers until she's let go of the hairspray can. Likewise, try not to get any perfume near the blooms. – Fresh flowers can look great with your hair up, down or a little bit of both. Whether you create a crown or a slide, or dot some small flowers around your up do, remember to keep the rest of your look quite natural, so it doesn't jar with your mane. – Keep your flowers in water or the refrigerator until the last possible moment before adding them to your hair. And have your photographer take a few hair shots before the ceremony, when your blooms are looking the freshest.