Elegant Wedding With A Bride Who Wore Two Unusually Pretty Lehengas
BY Swagata Dam | 03 Oct, 2022 | 177 views | 6 min read
Mehendi, Cocktail, Sangeet and Wedding - real bride Mansha served some stunning looks at all her nuptial functions and we're mighty impressed! While we love how she was on point with her sartorial choices for all the events, it's her pick of lehengas that has left us swooning. Ditching the usual red ones, she opted for an offbeat never-before-seen Sabya number for the pheras with heavy gold borders that exuded a vintage charm. For the Sangeet, Mansha chose a signature Abhinav Mishra outfit with an intricate sequined chevron-styled embroidery and a lighter net dupatta. We love! Not just the bridal outfits, we thoroughly cherished going through every other detail of this super adorable fusion shaadi - the décor, the feels and the overall vibes! Take a look. 
Meet Mansha & Aaron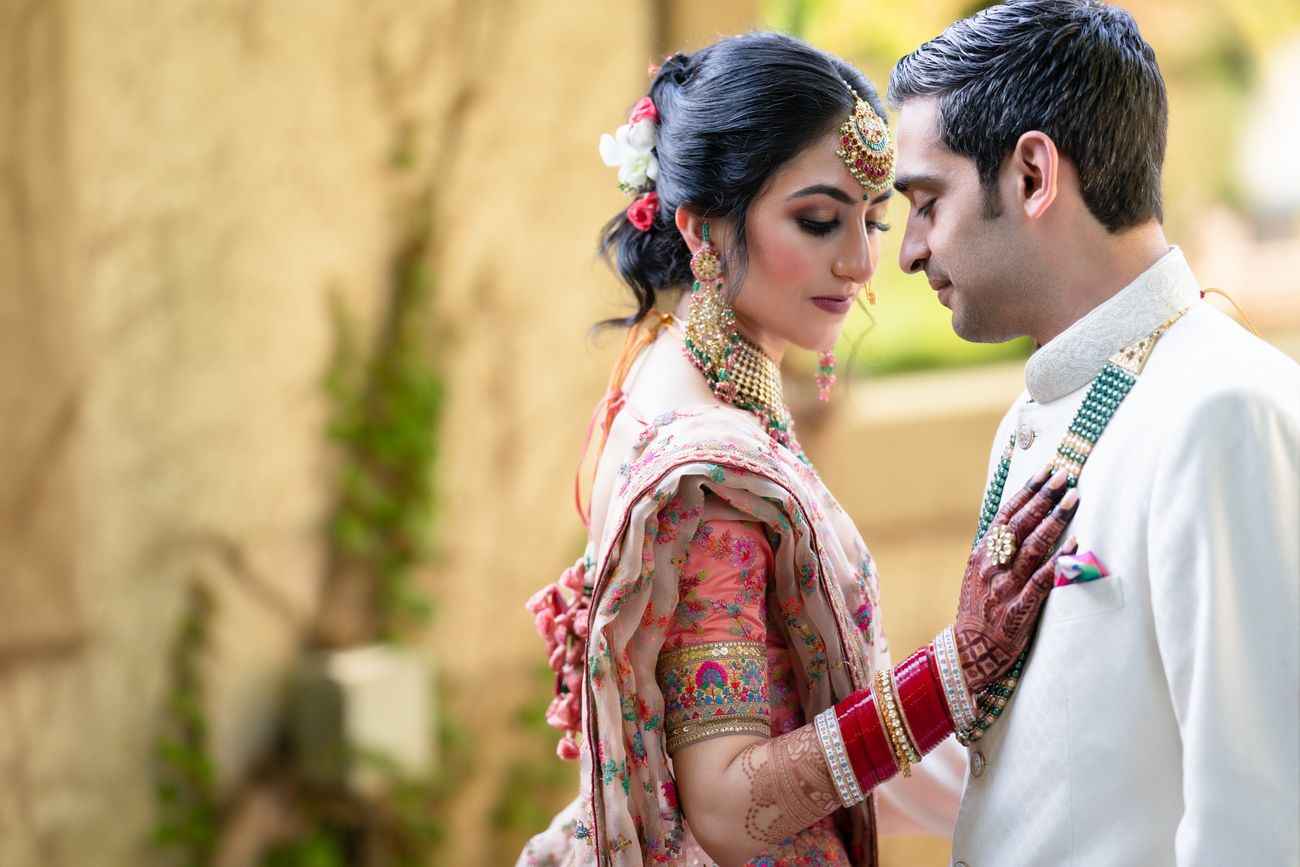 We met 5 years ago while working at the same consulting company. We talked briefly, but did not think much of it. A few months later, we found ourselves sitting next to each other at yet another work event. We hit it off and spent the majority of the evening talking to each other as opposed to paying attention to the event. Over the next few years, our friendship evolved into a relationship. Together, we navigated learning about each other's cultures, switching jobs, and moving to new cities. One Saturday afternoon in February 2021, my parents and I were walking to the Ferry Building in San Francisco to meet a family friend when I felt a tap on the back of my shoulder. I turned around and was met with a huge bouquet of two dozen red roses. Aaron peaked his head out from behind the roses and handed me the bouquet. As that was happening, my parents stepped away and secretly turned on their cameras to start recording. In front of the magnificent Bay Bridge and beautiful San Francisco Bay, Aaron got down on one knee and asked me to marry him. I answered: Yes, of course! After the proposal, the two of us got dinner at an Italian restaurant in North Beach, San Francisco. We still enjoy going to that restaurant to relive those special moments.
Mehendi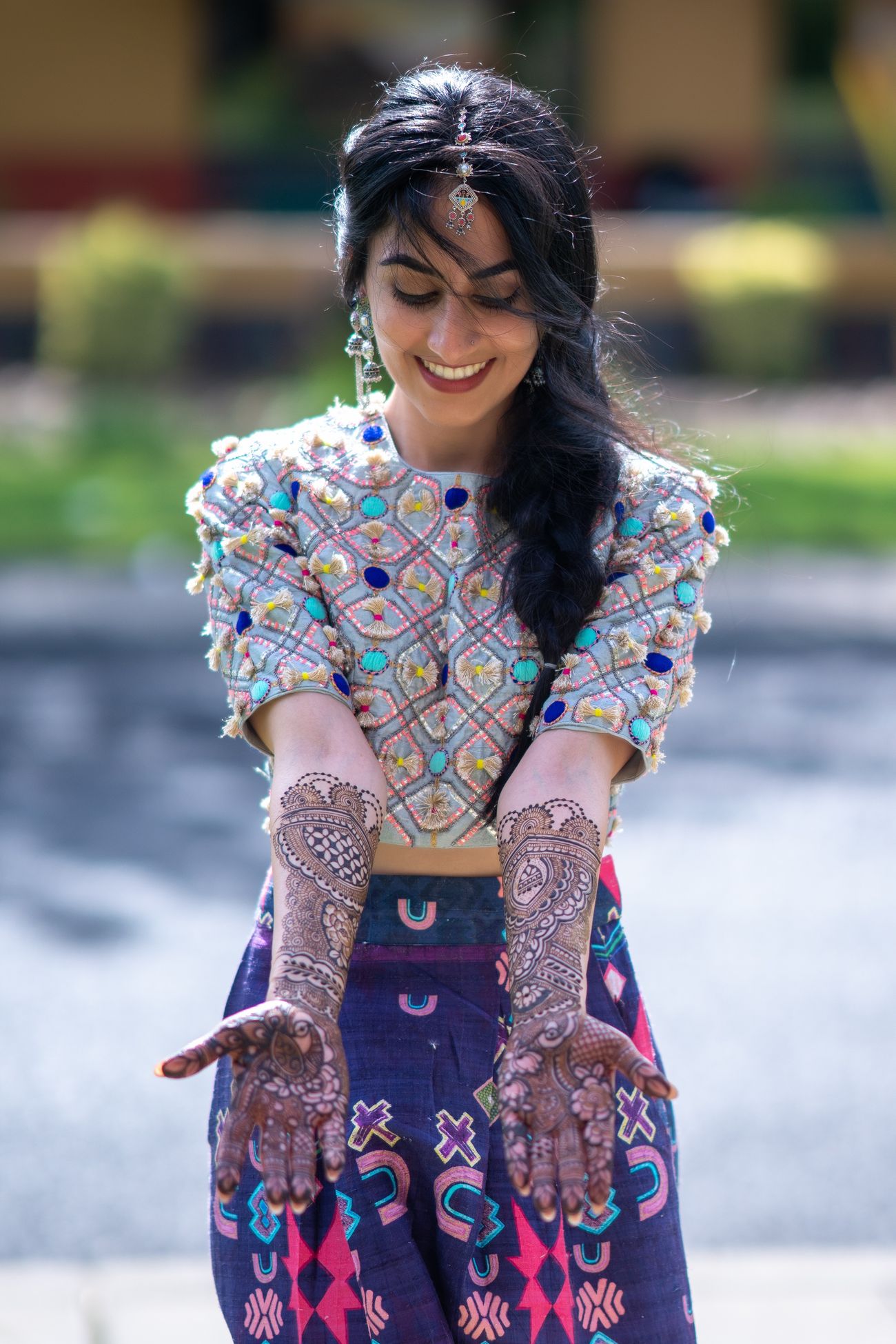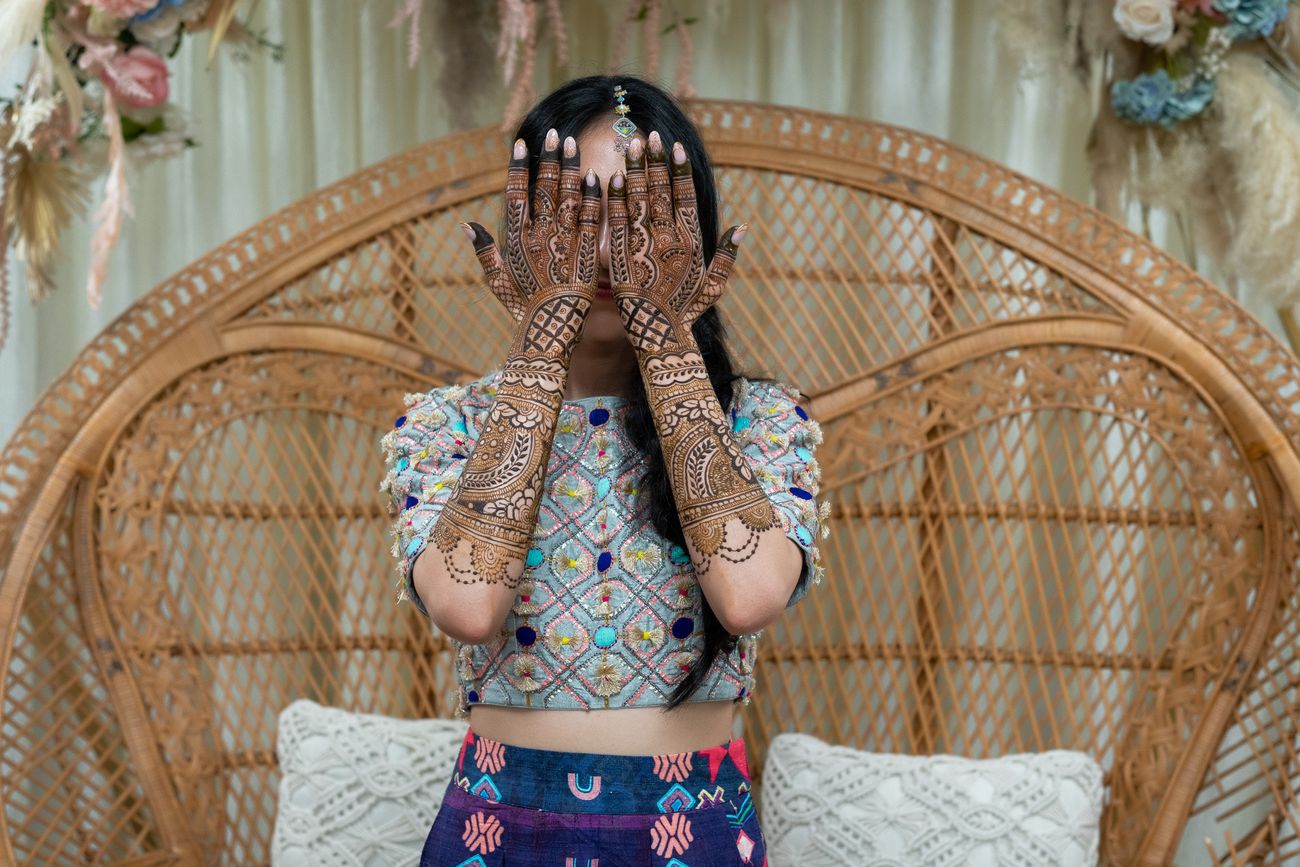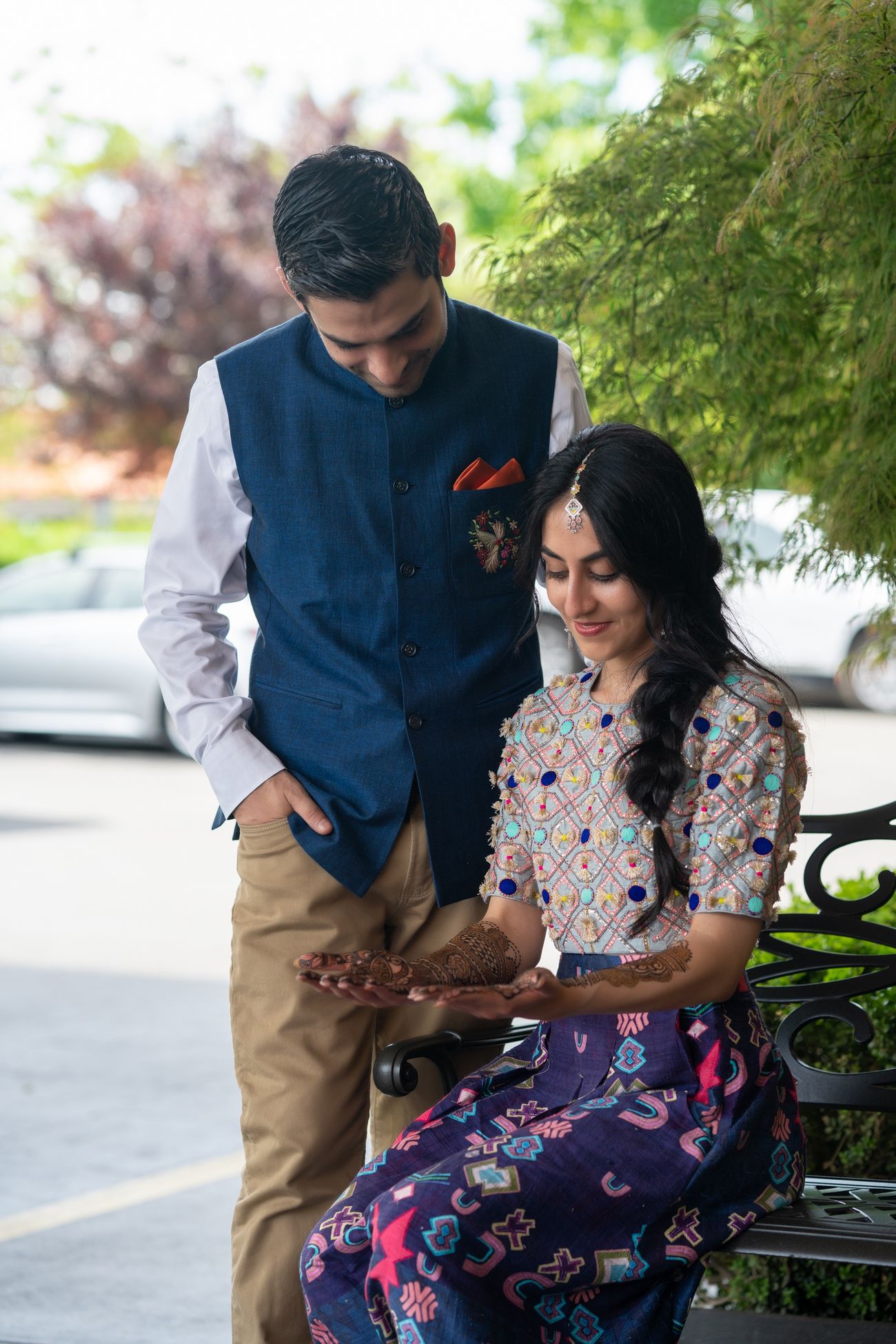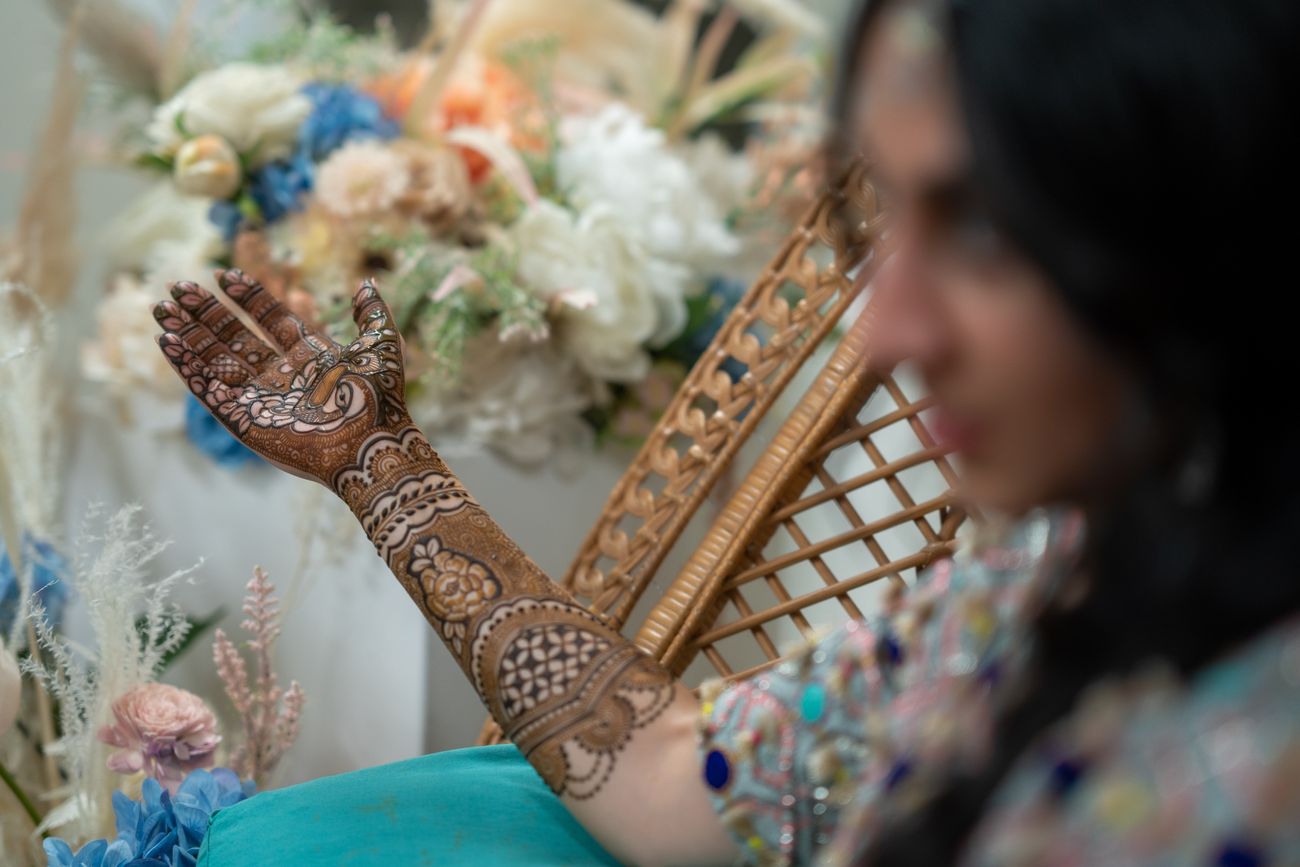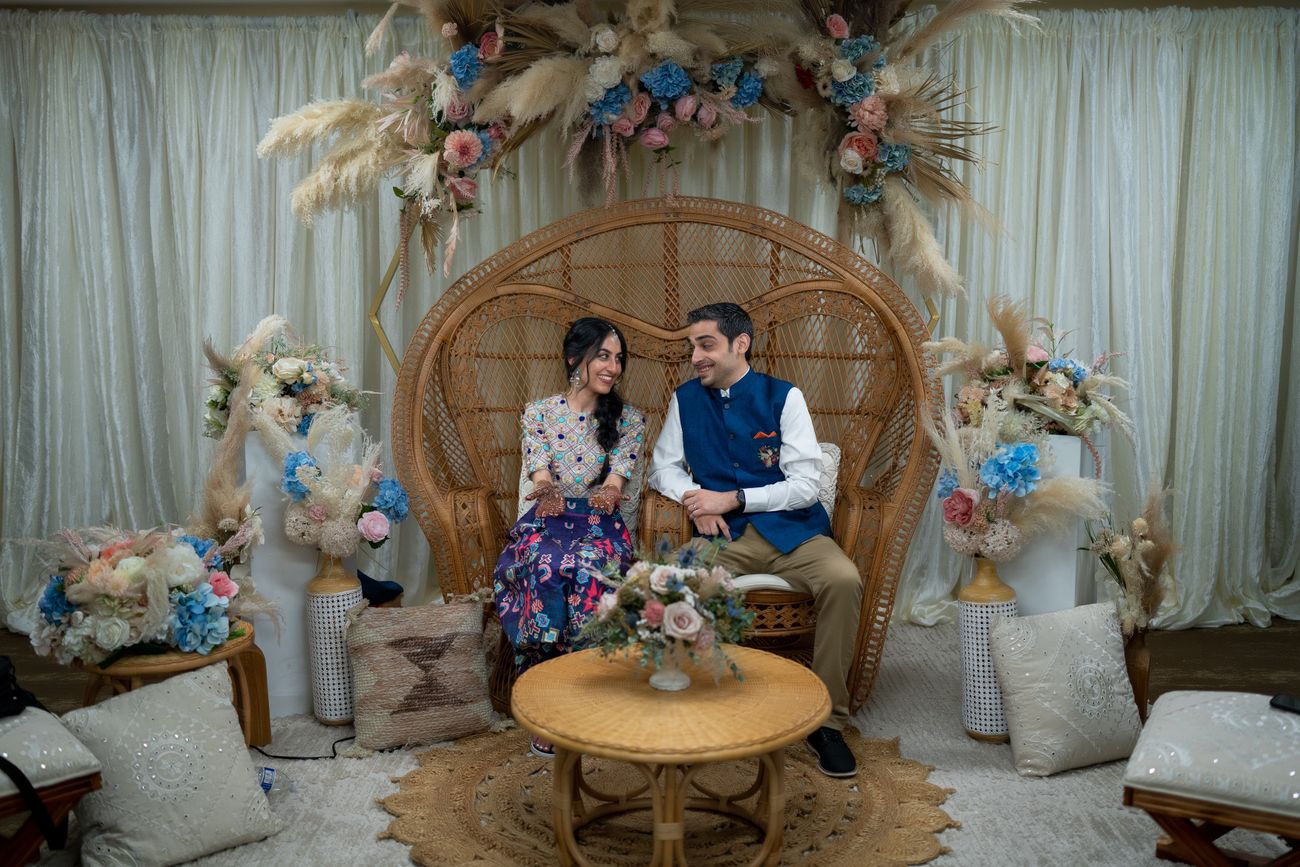 Cocktail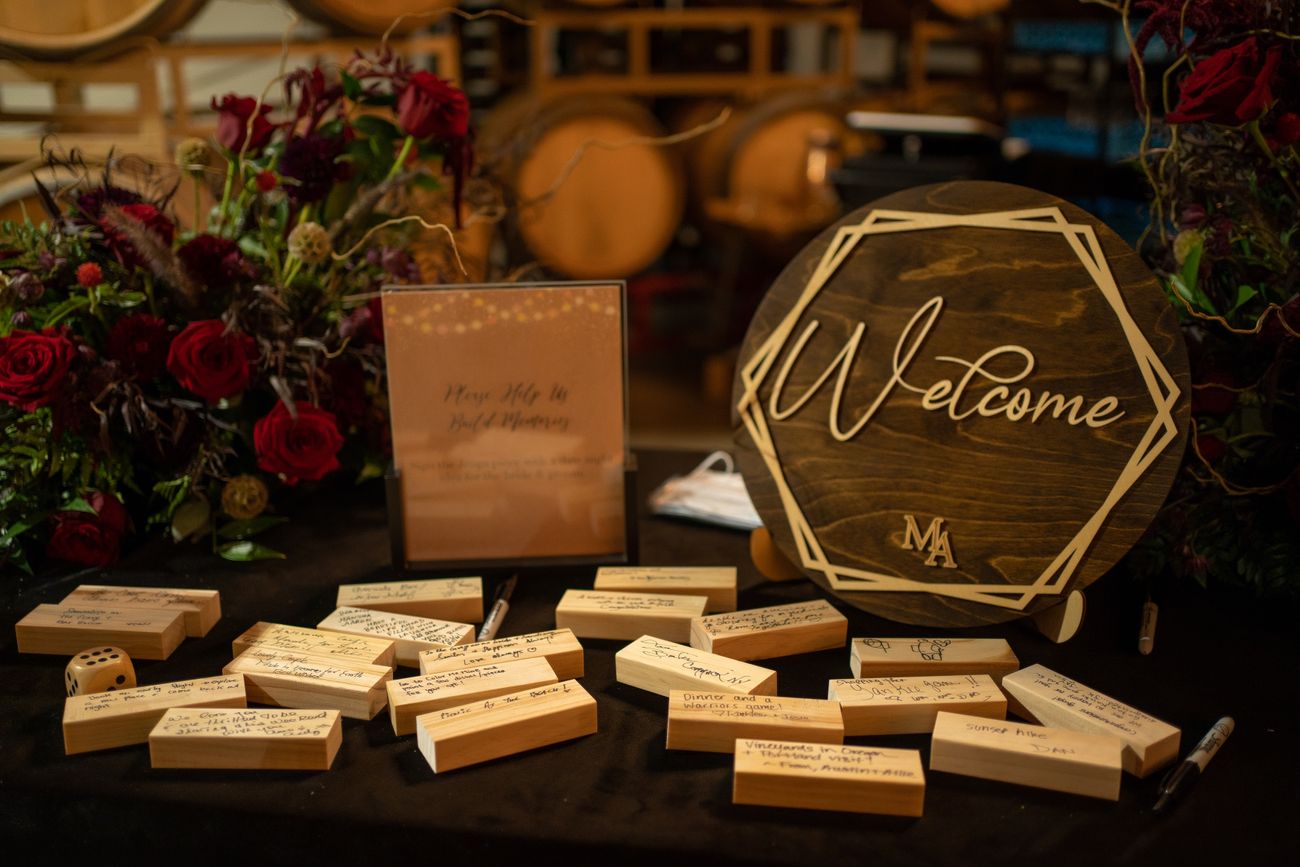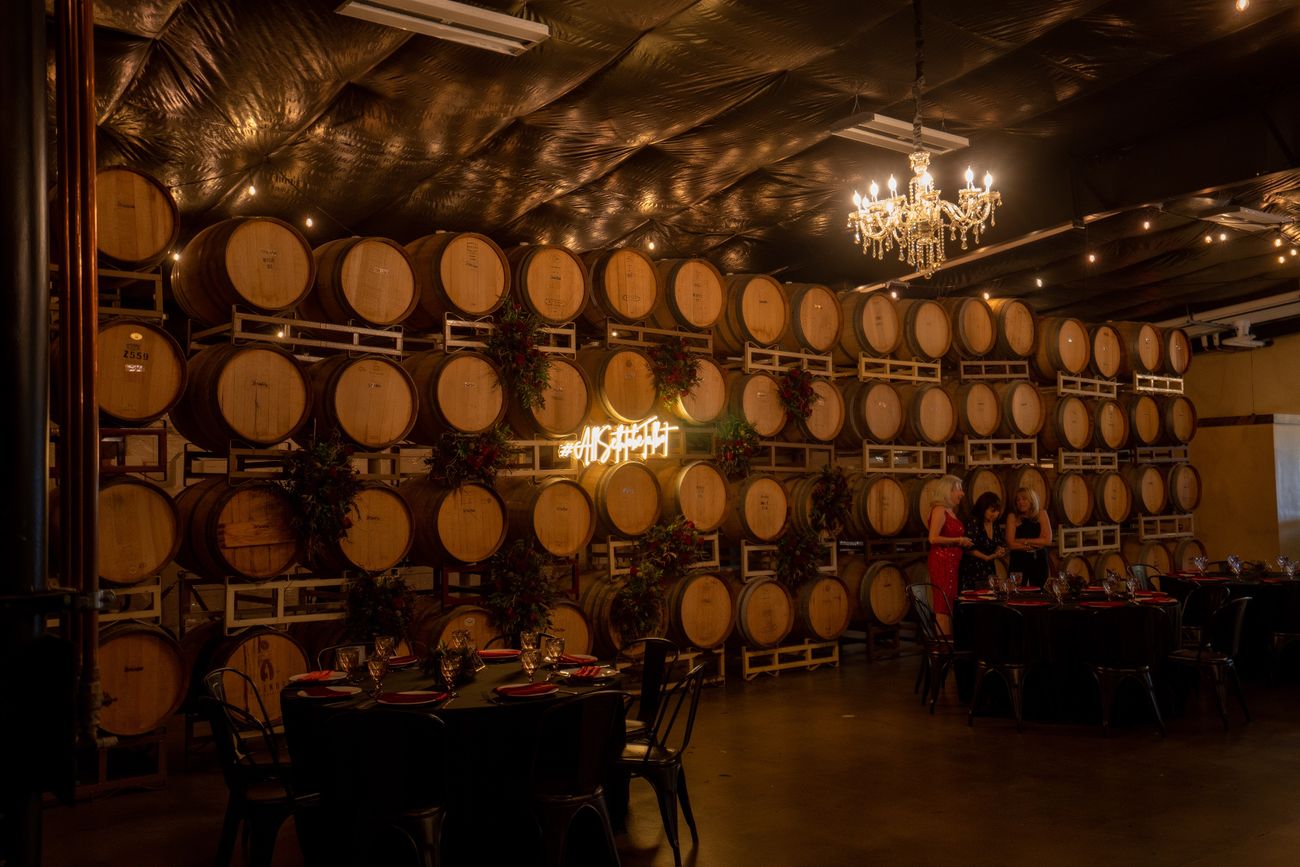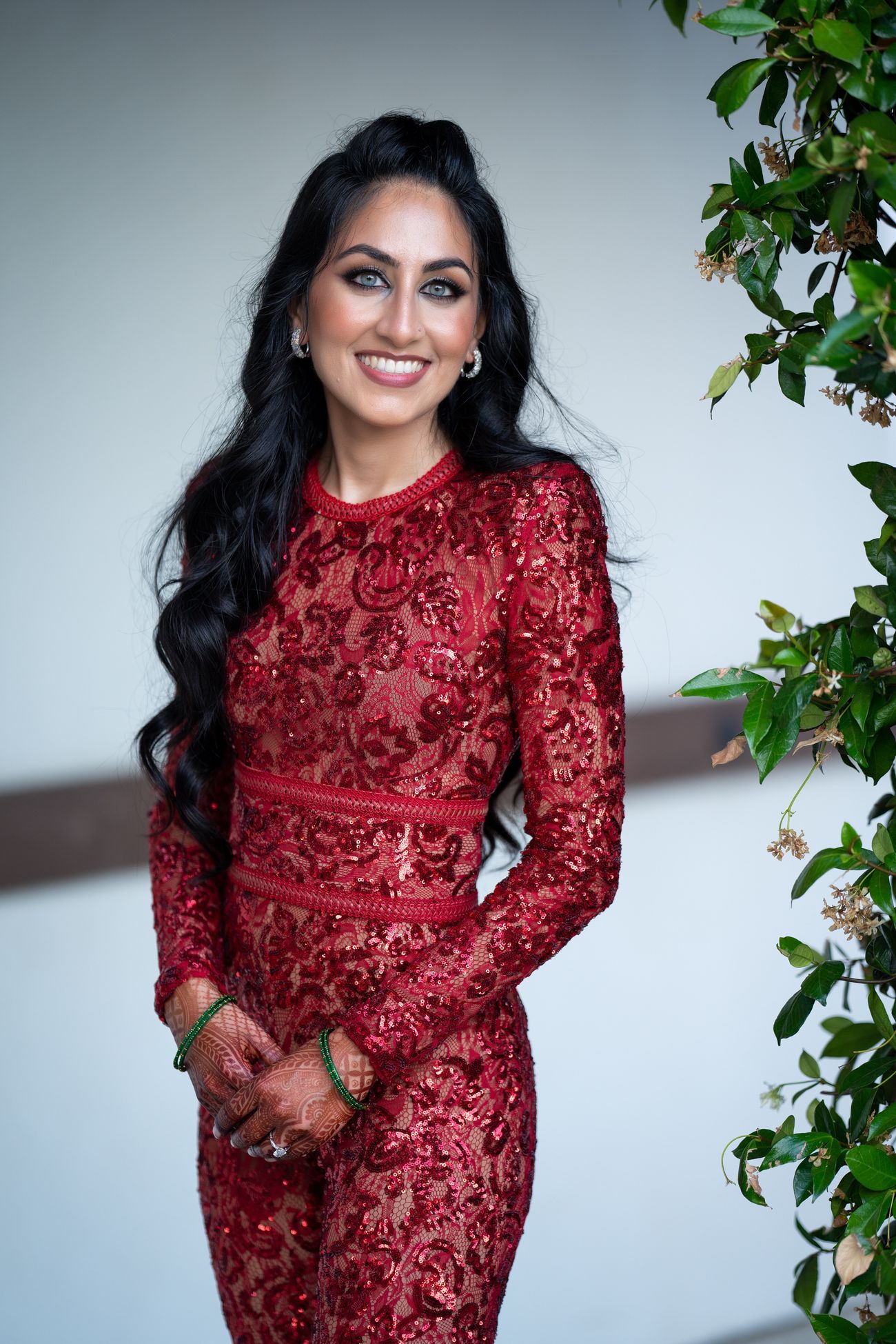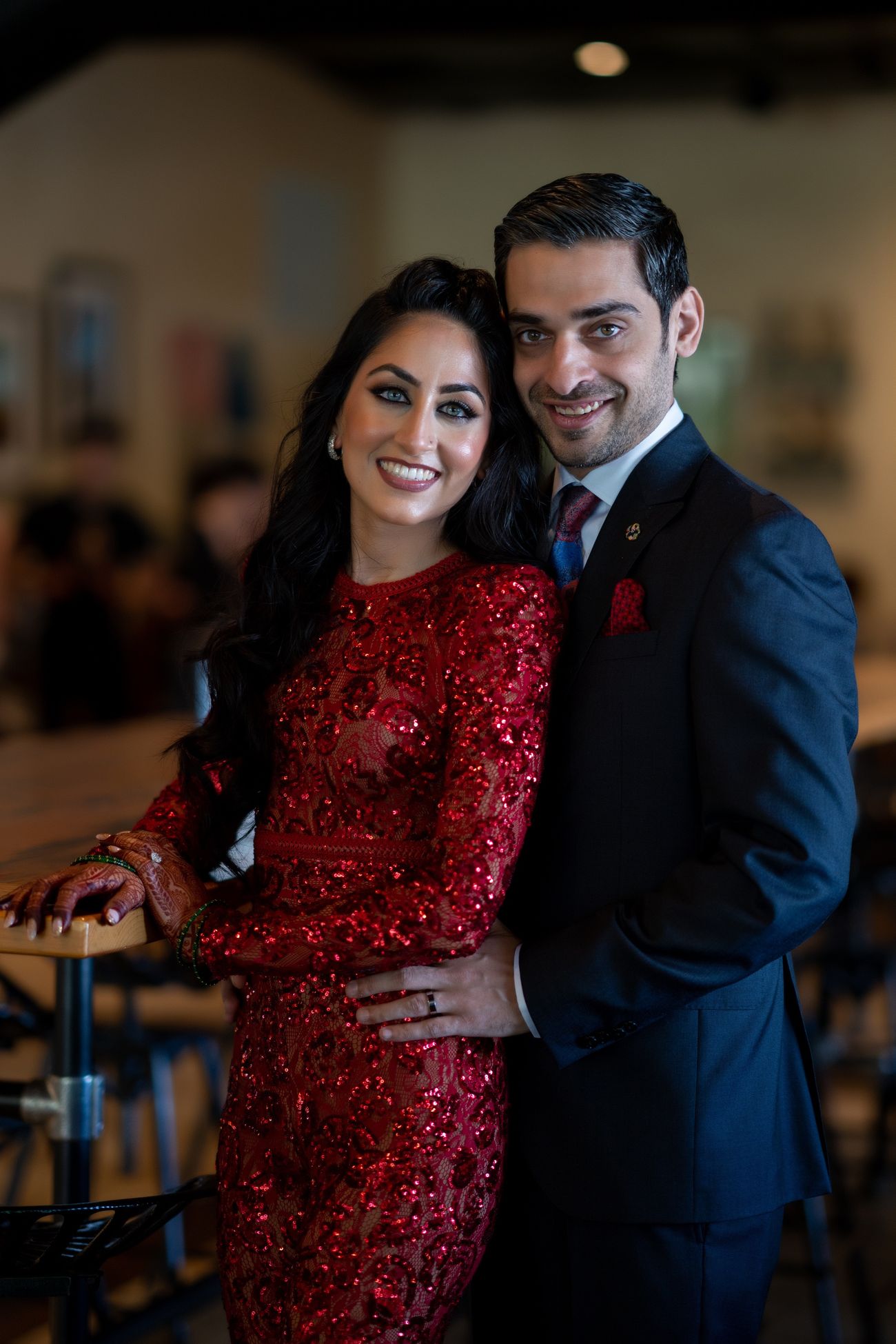 Sangeet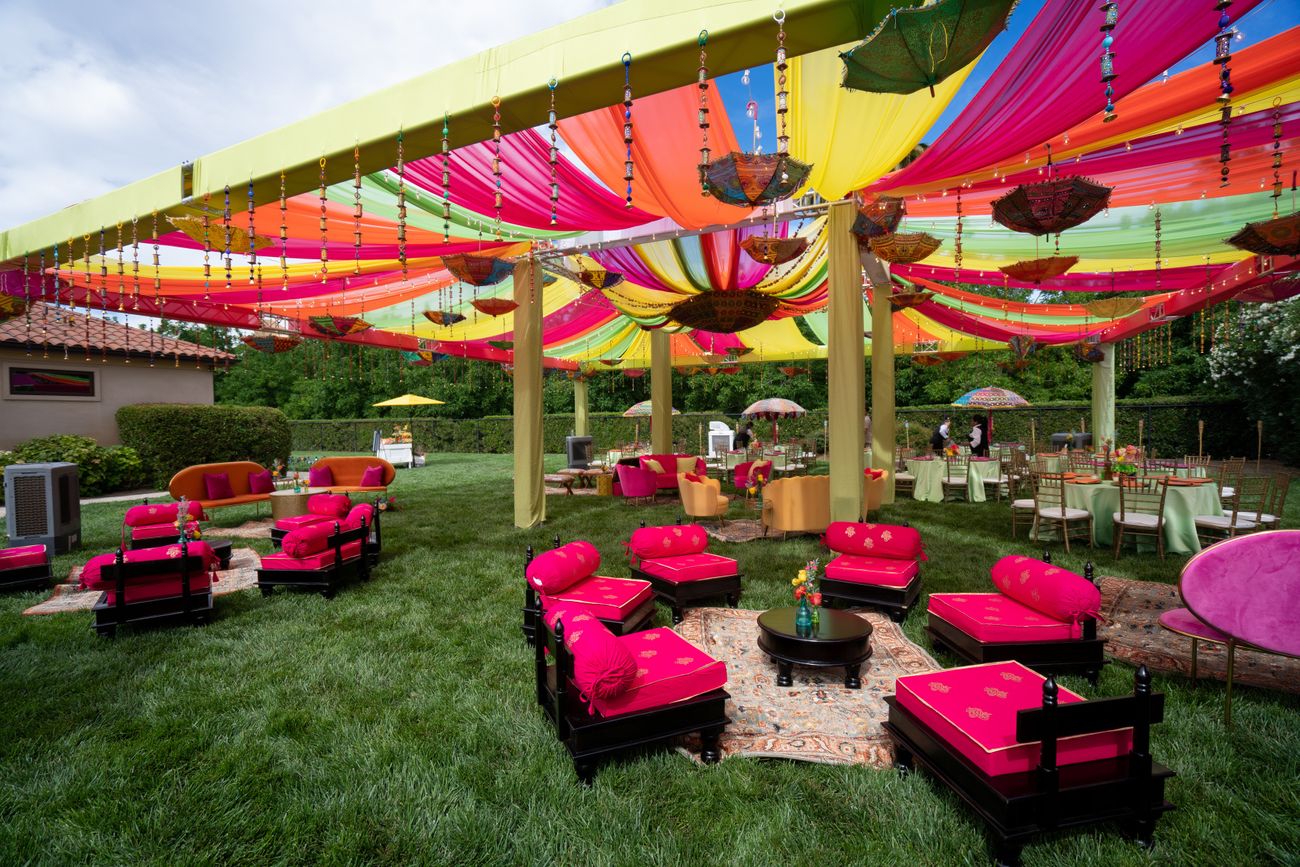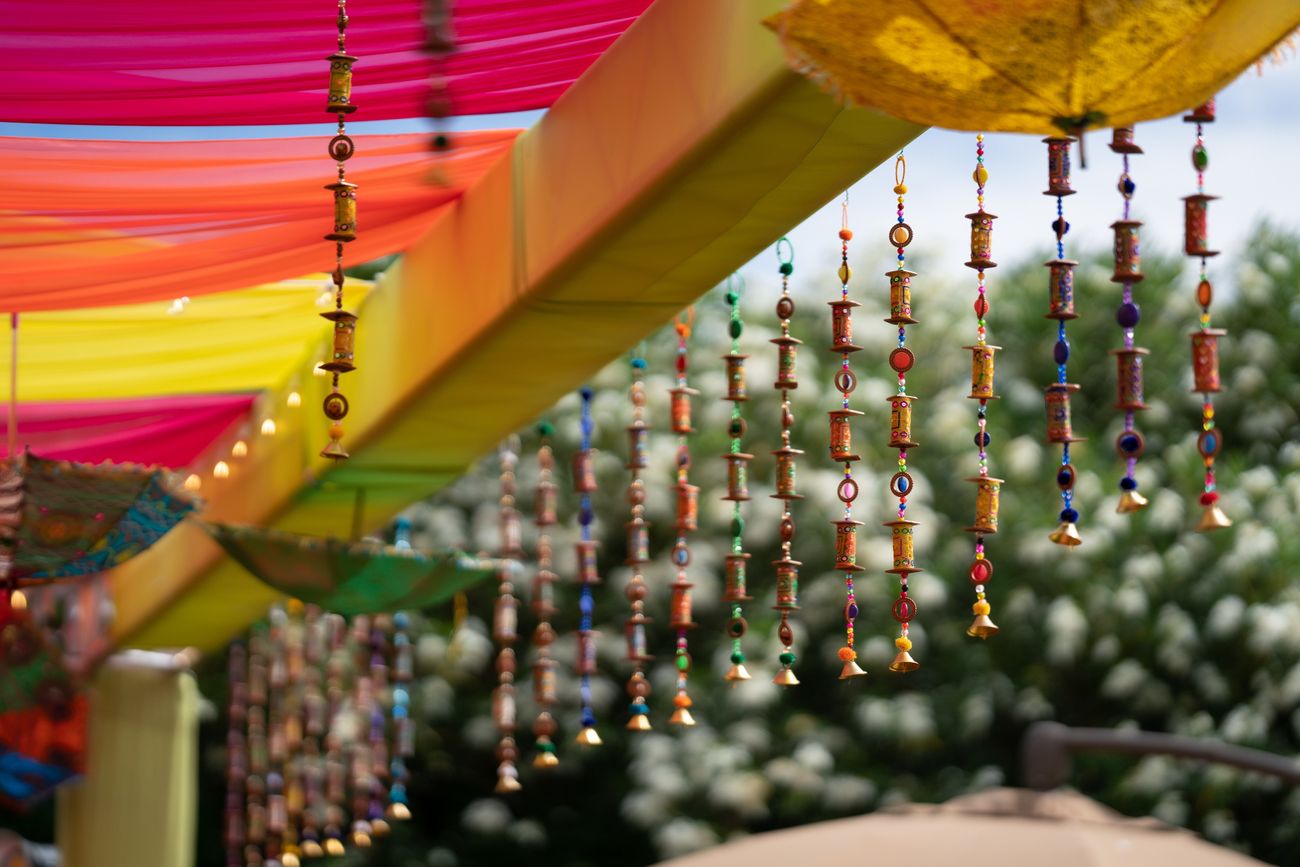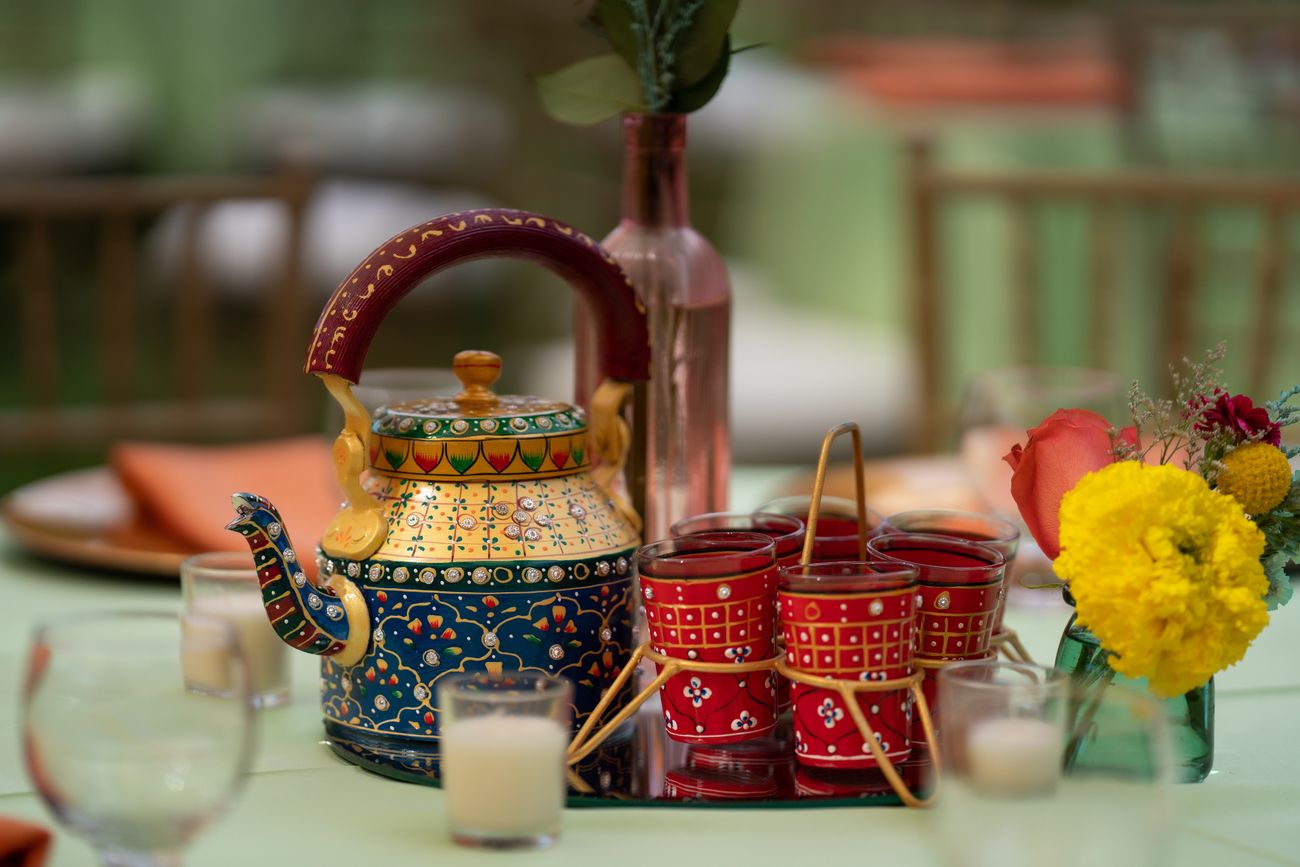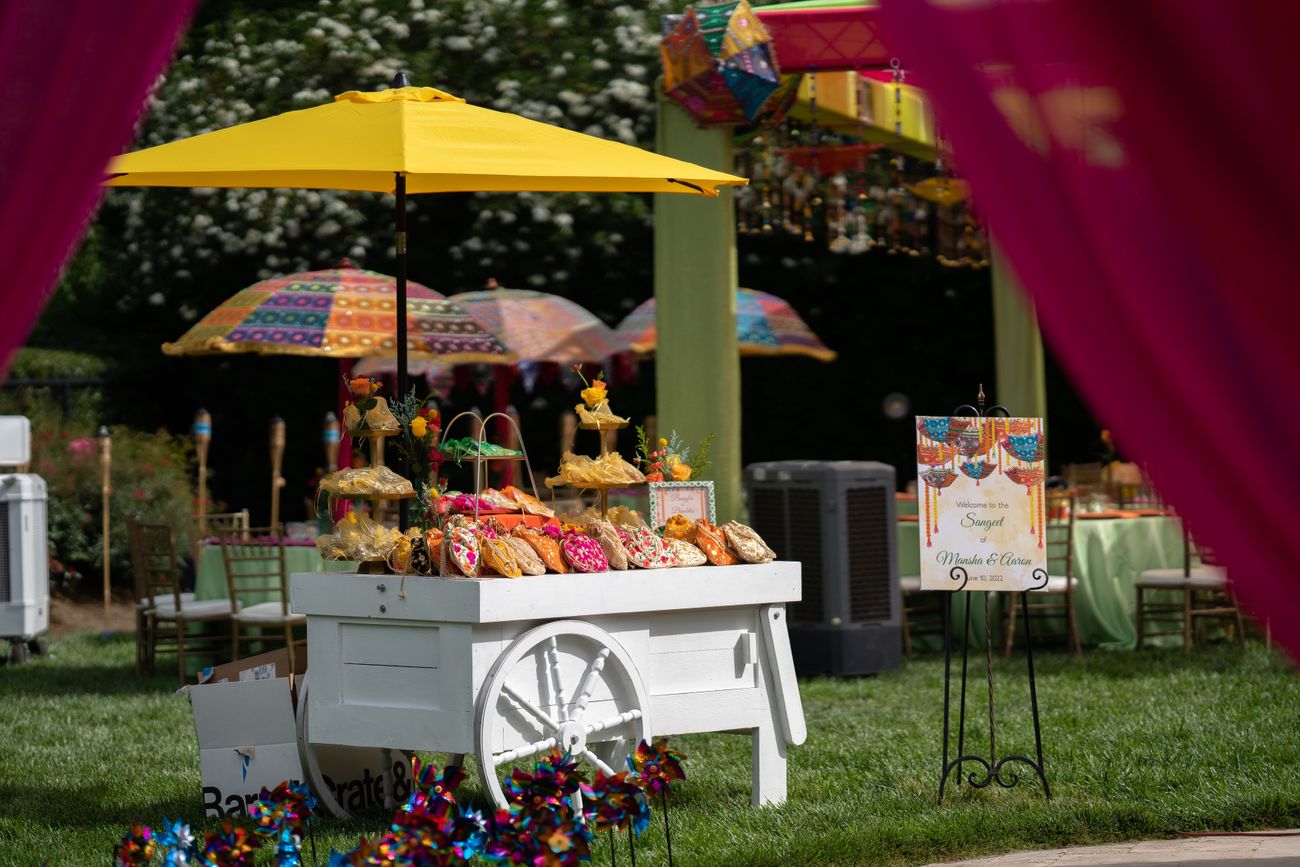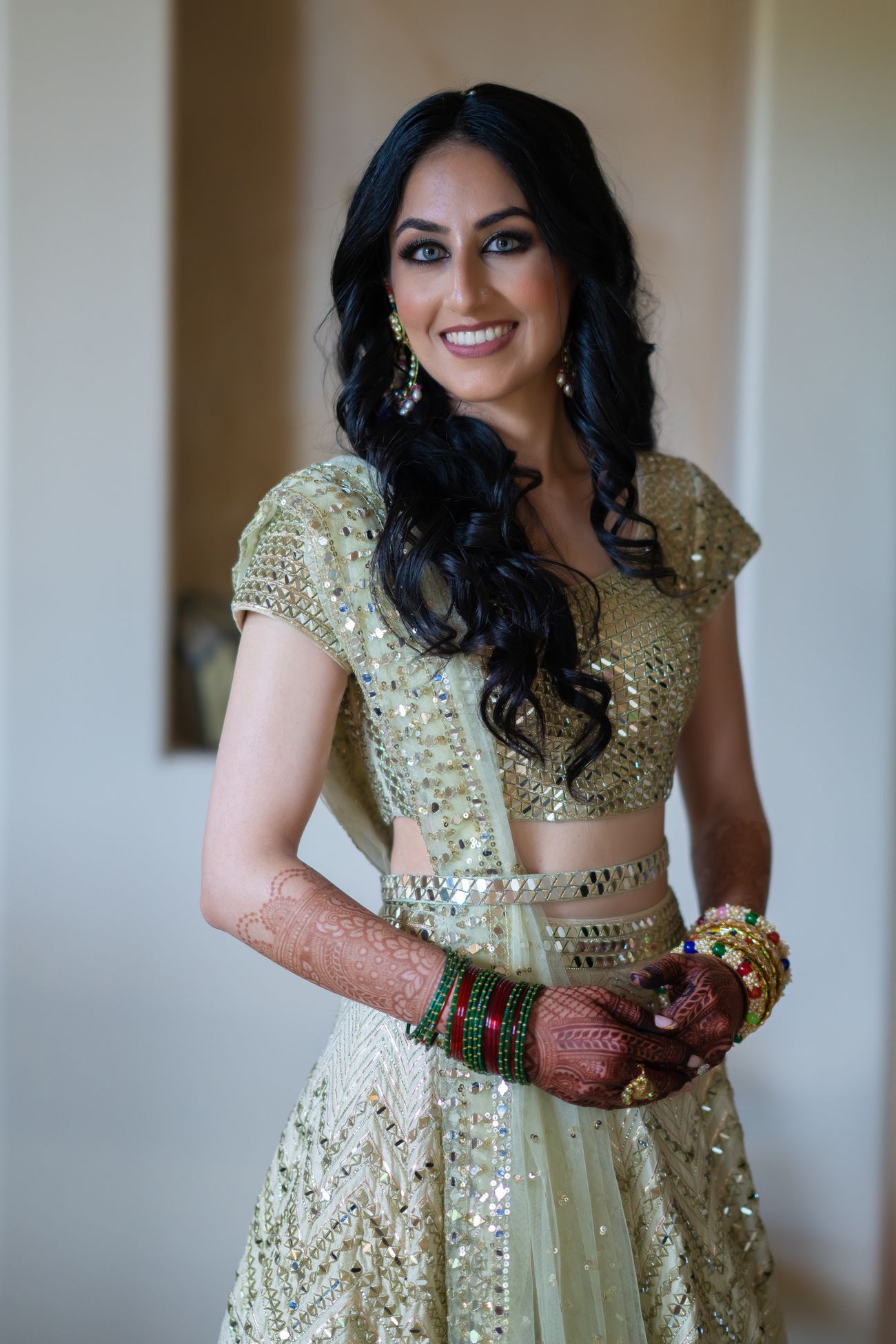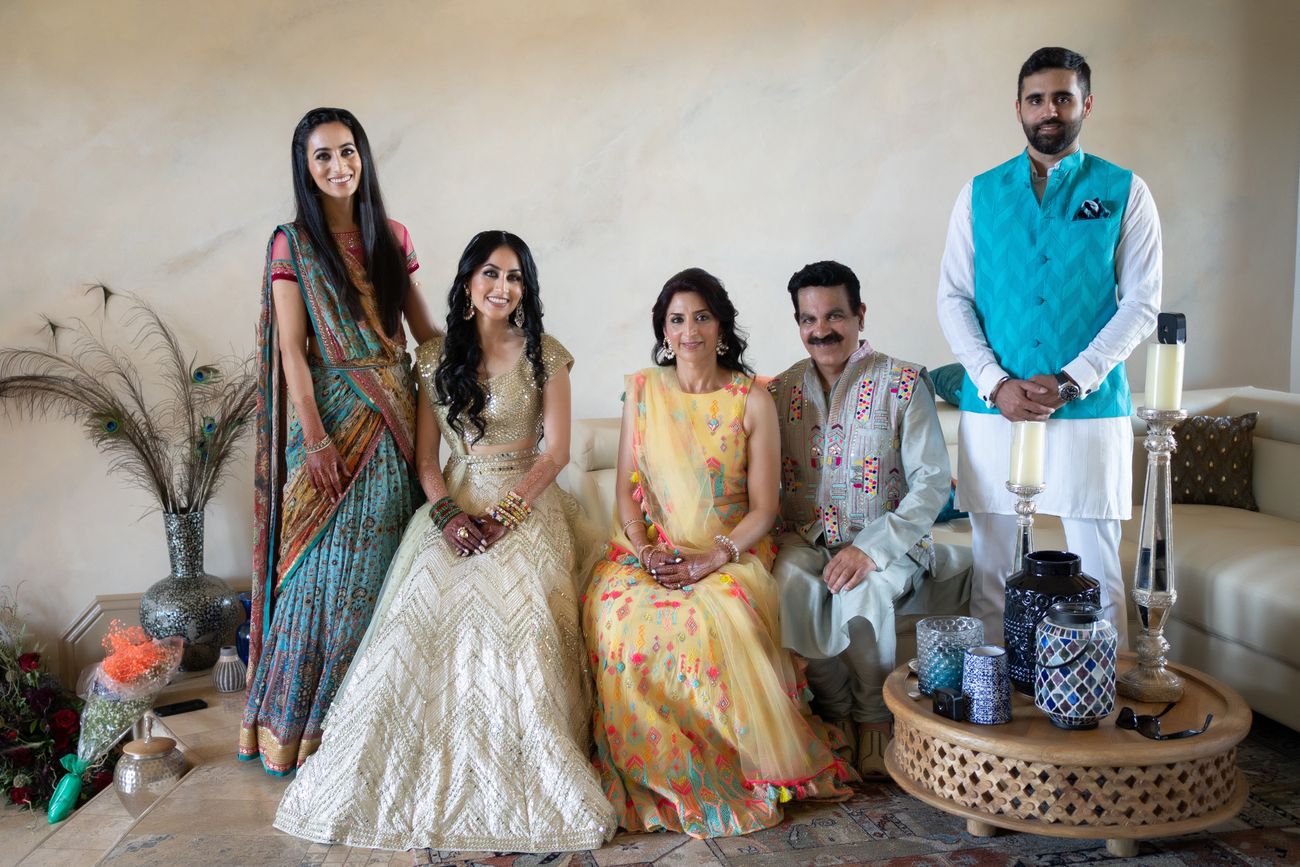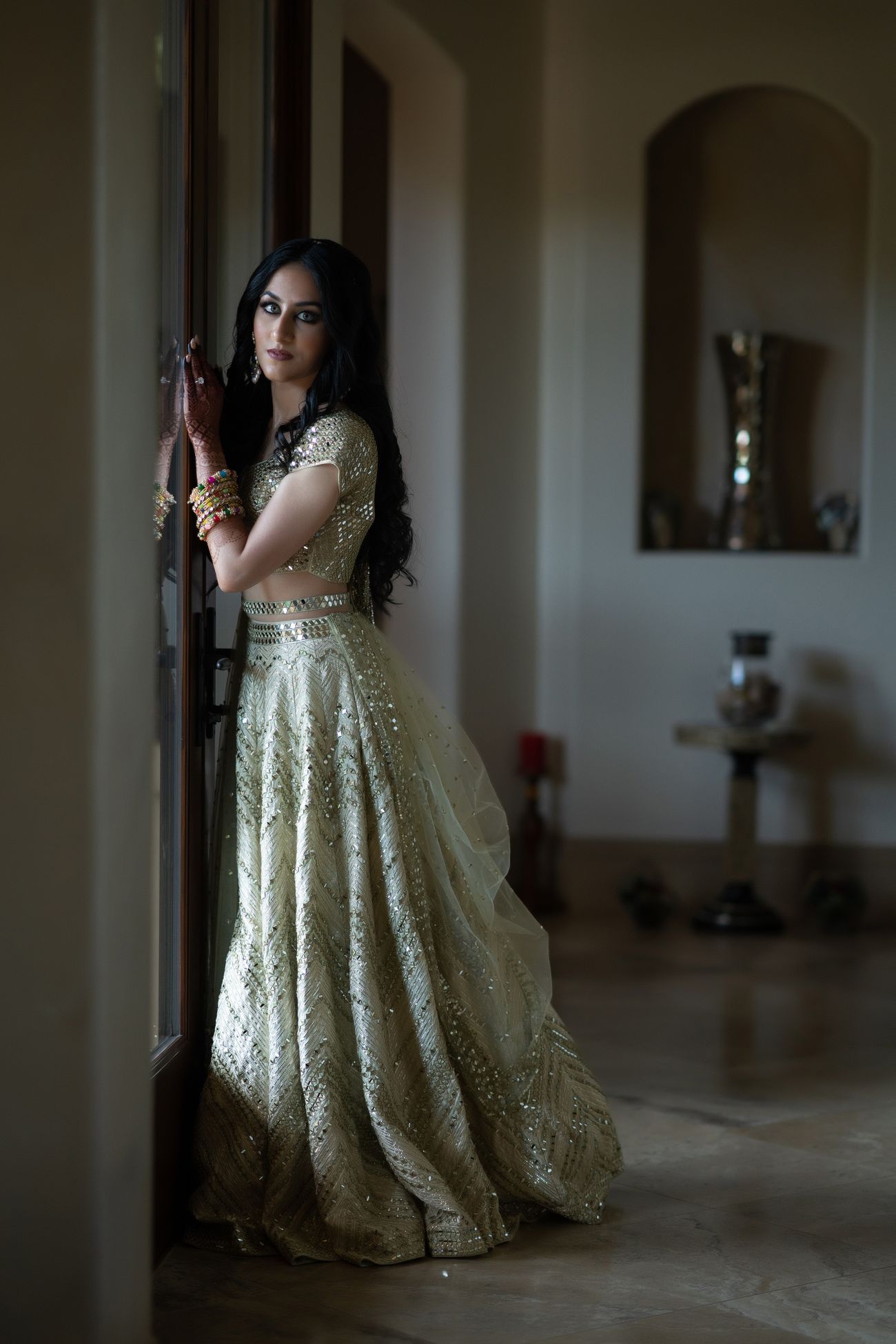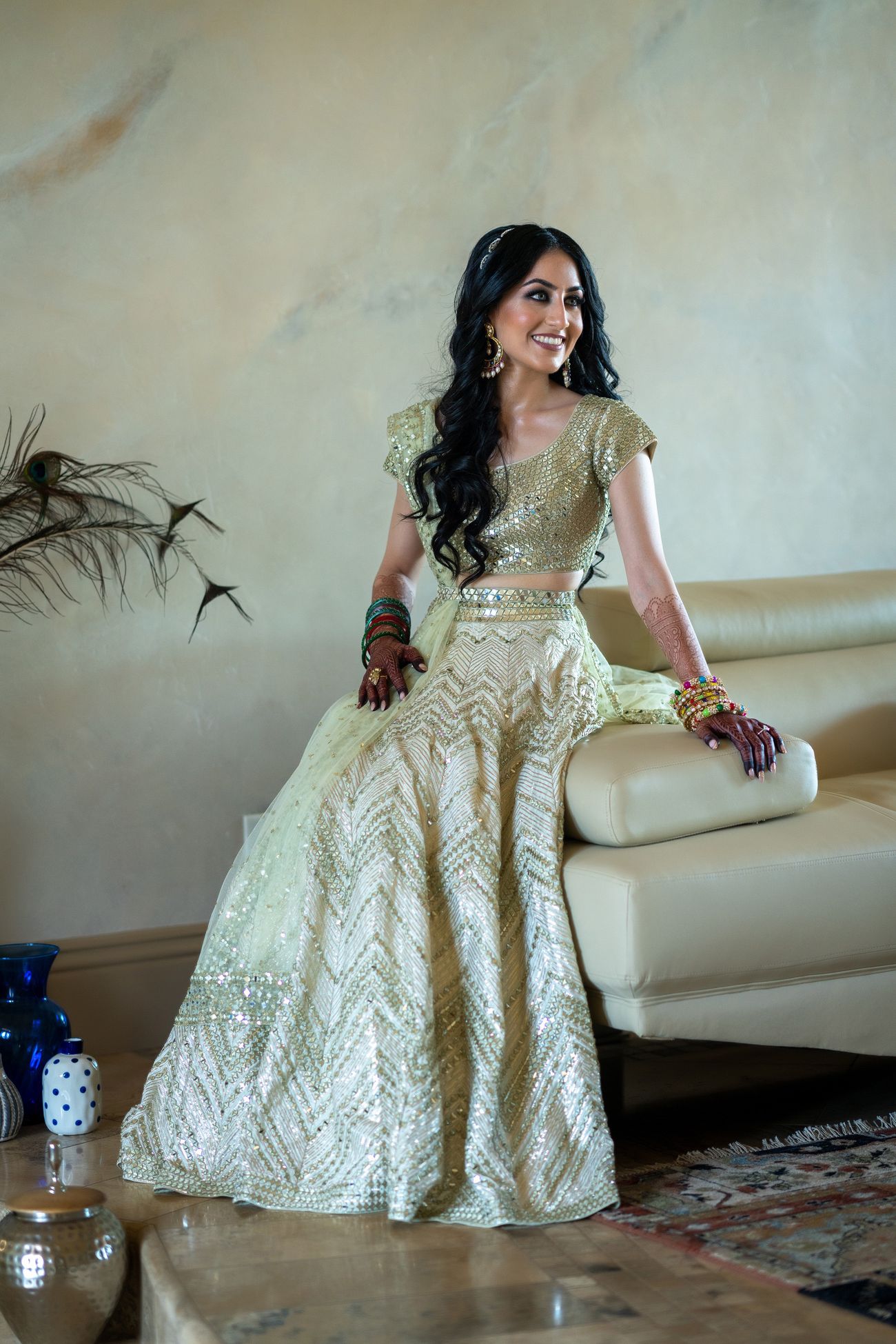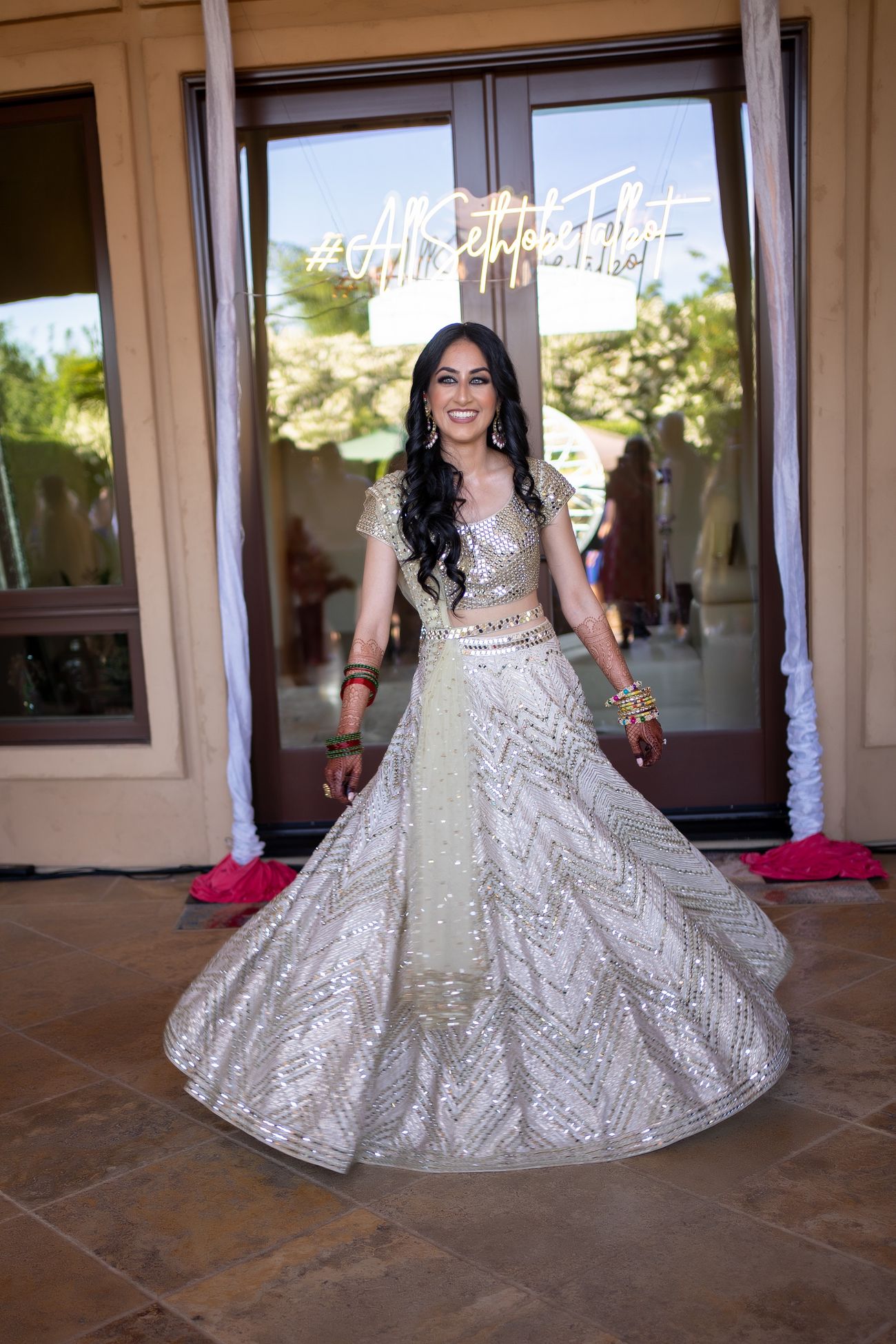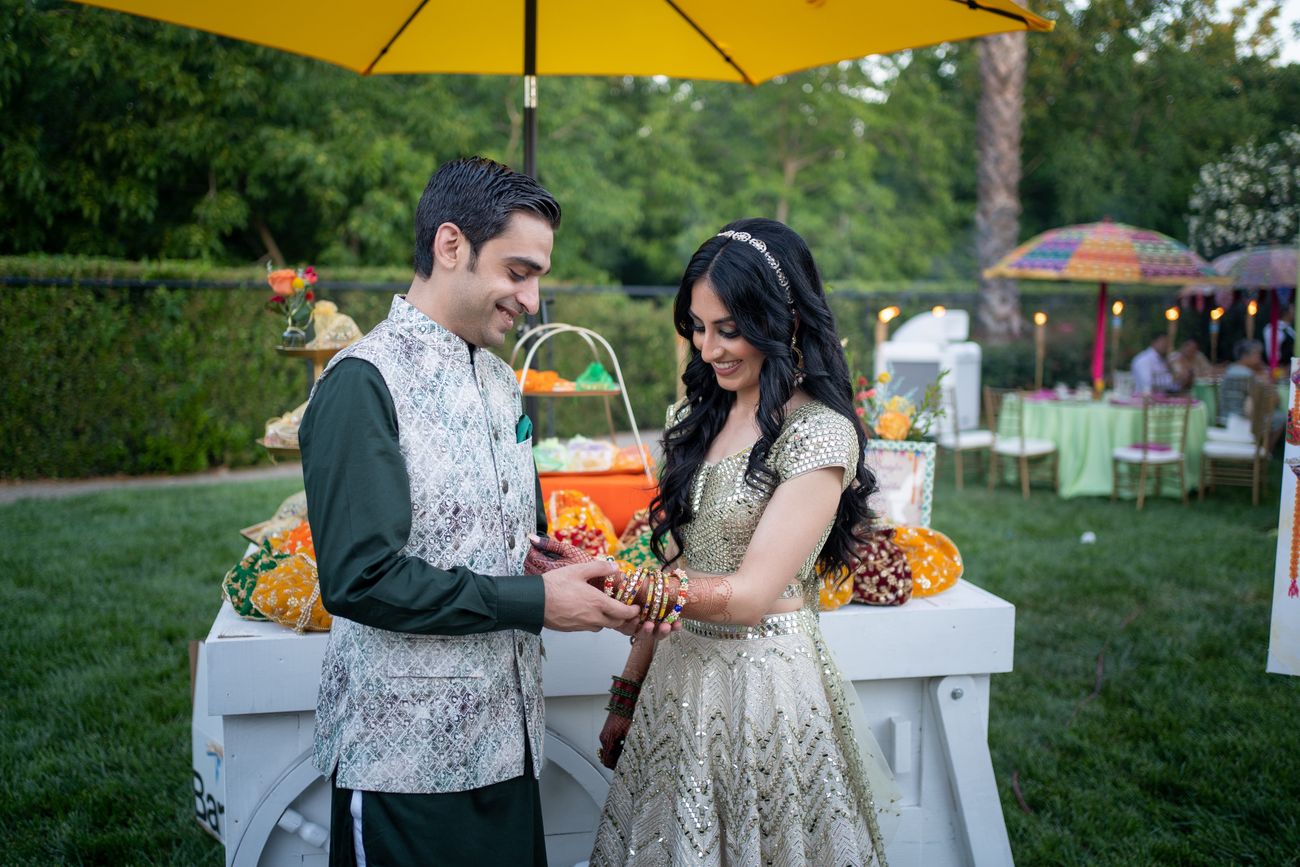 Wedding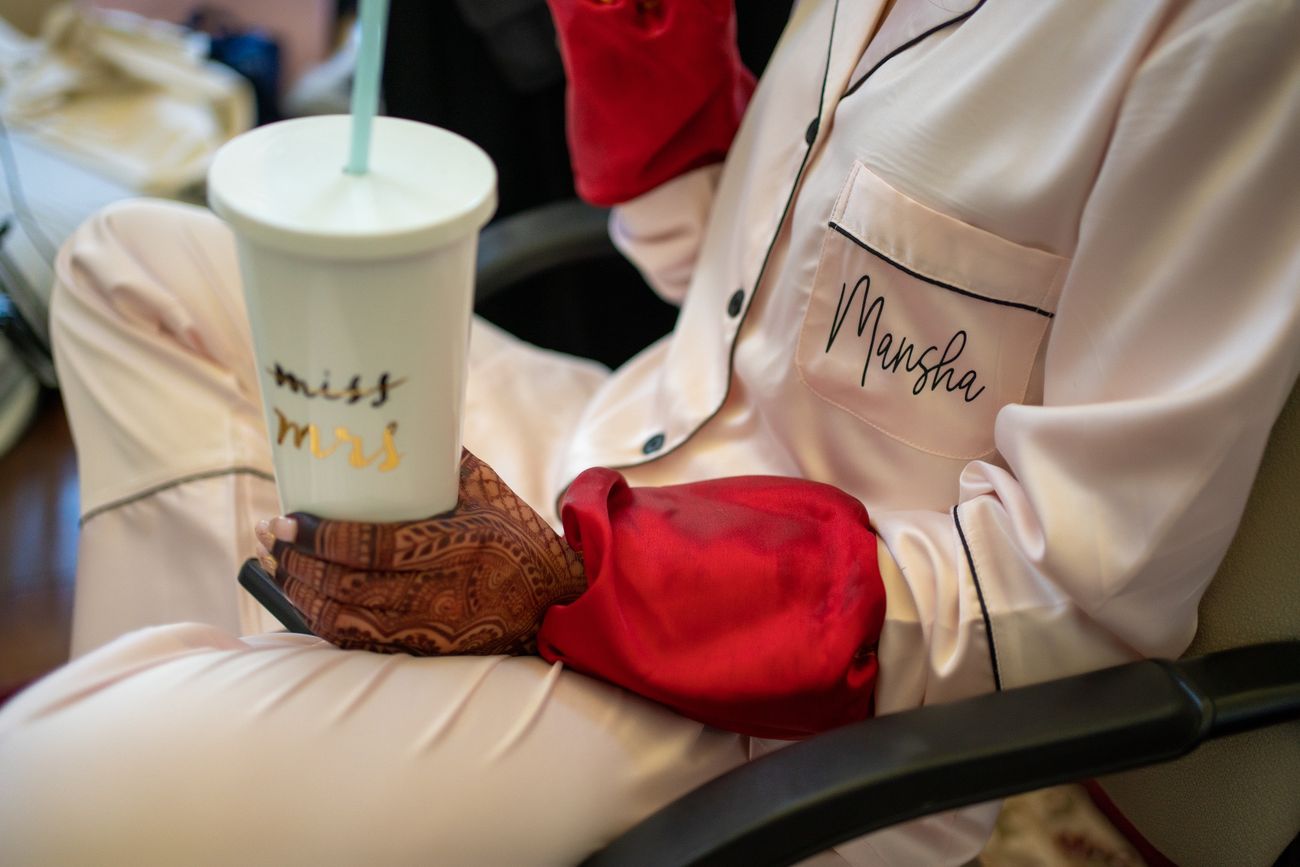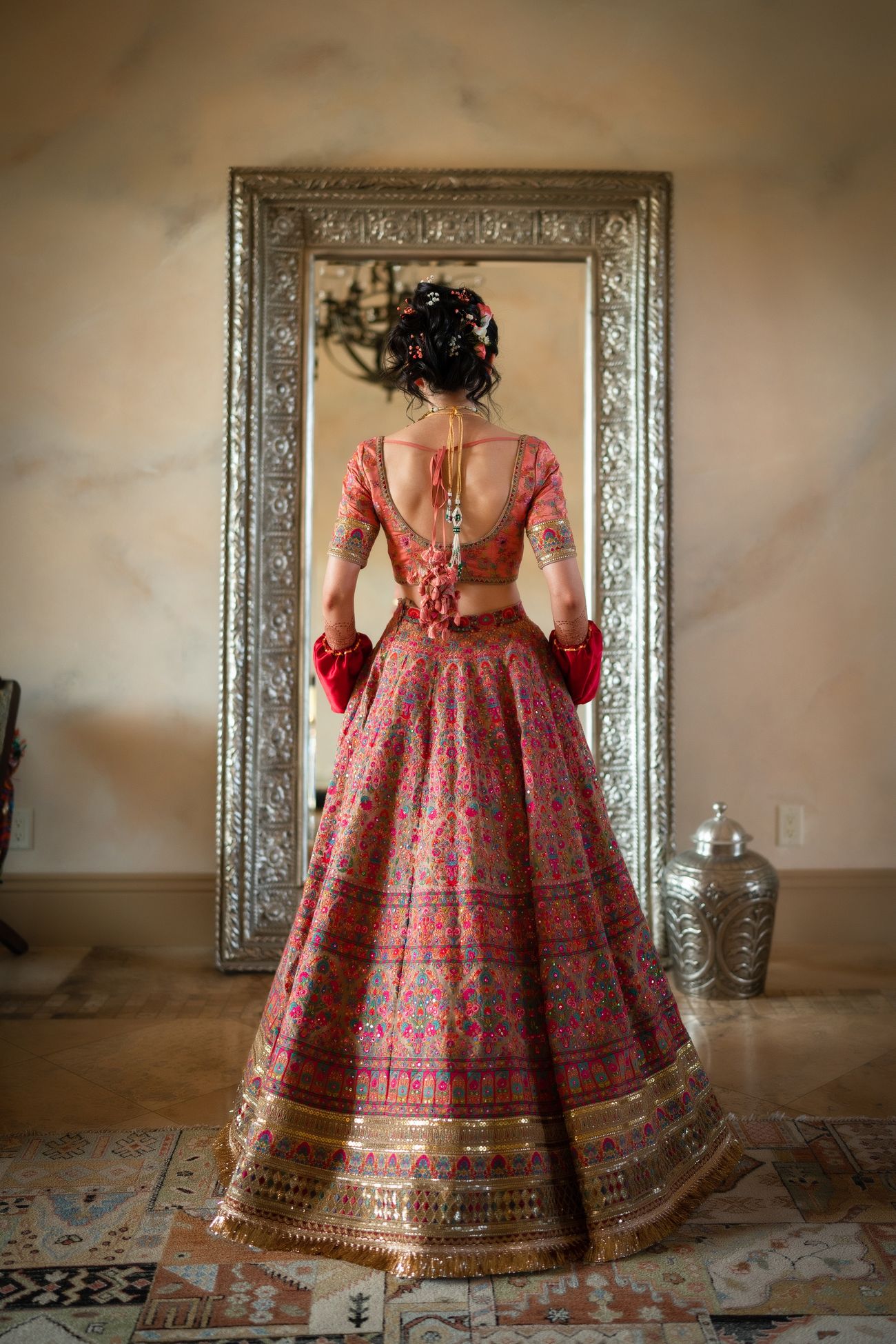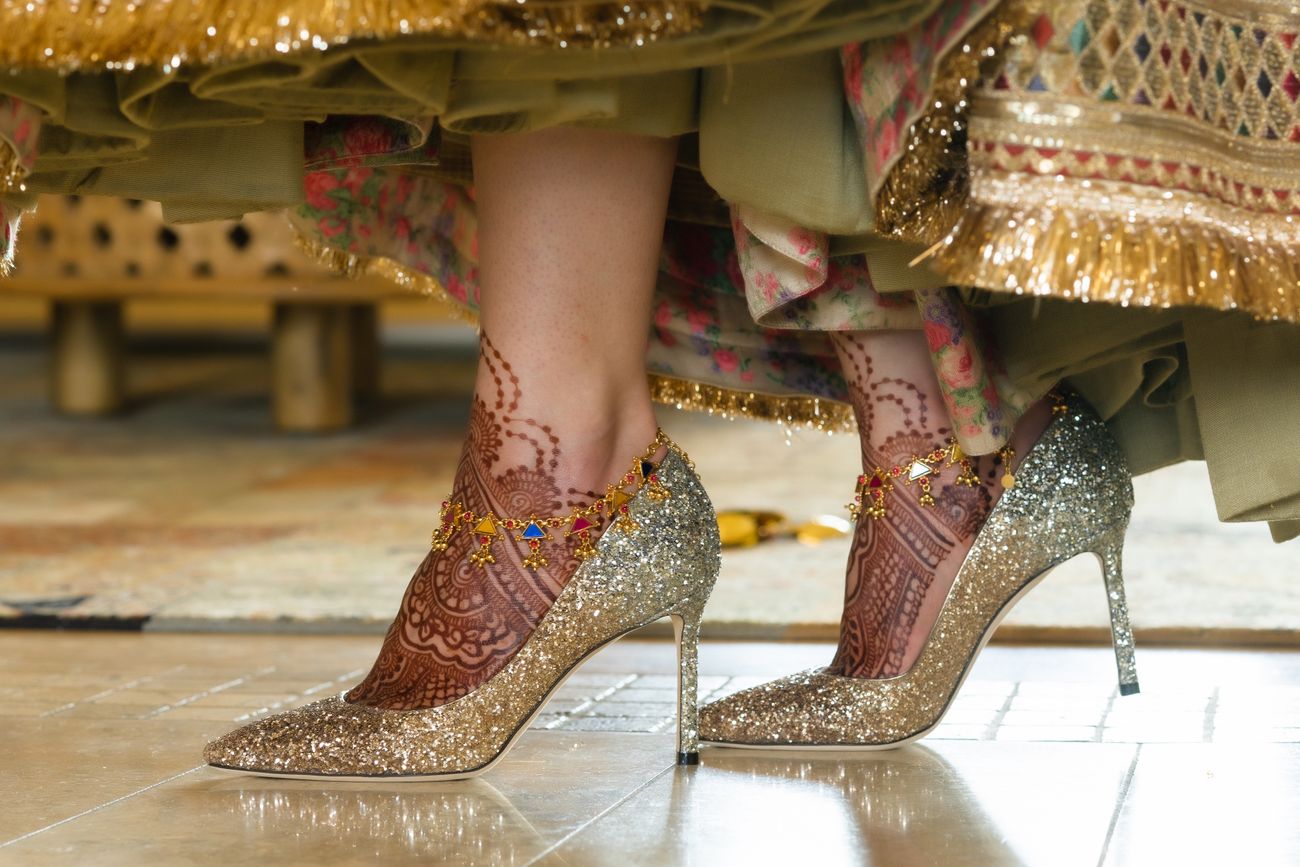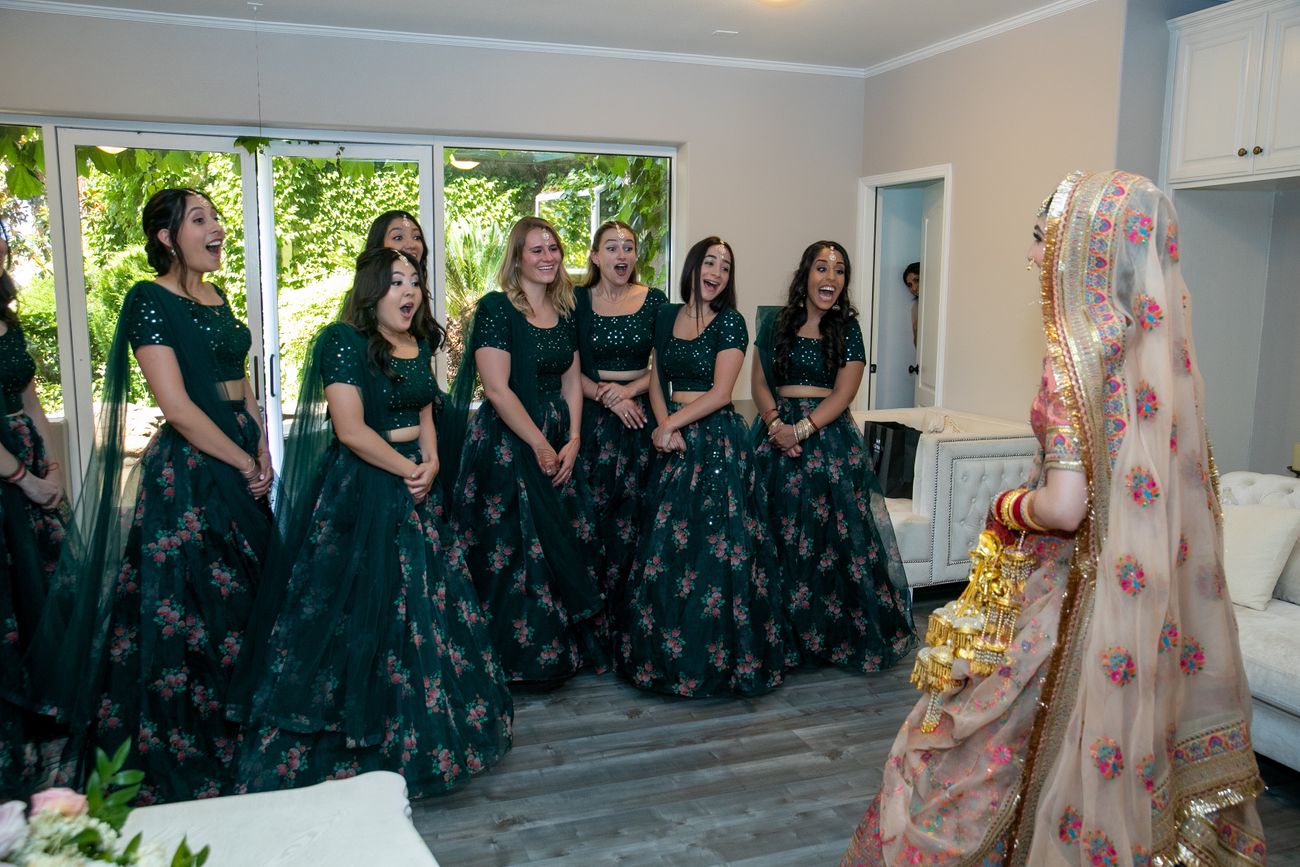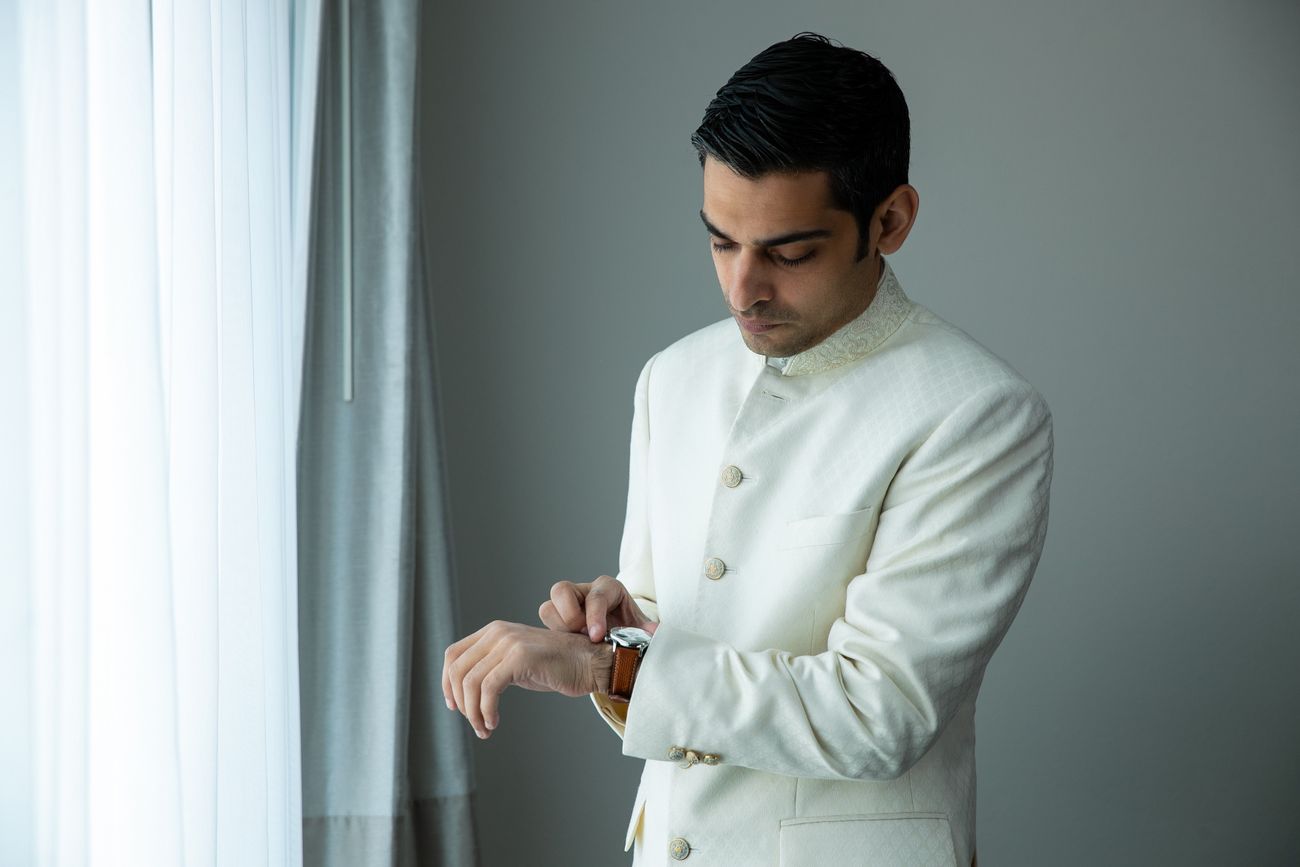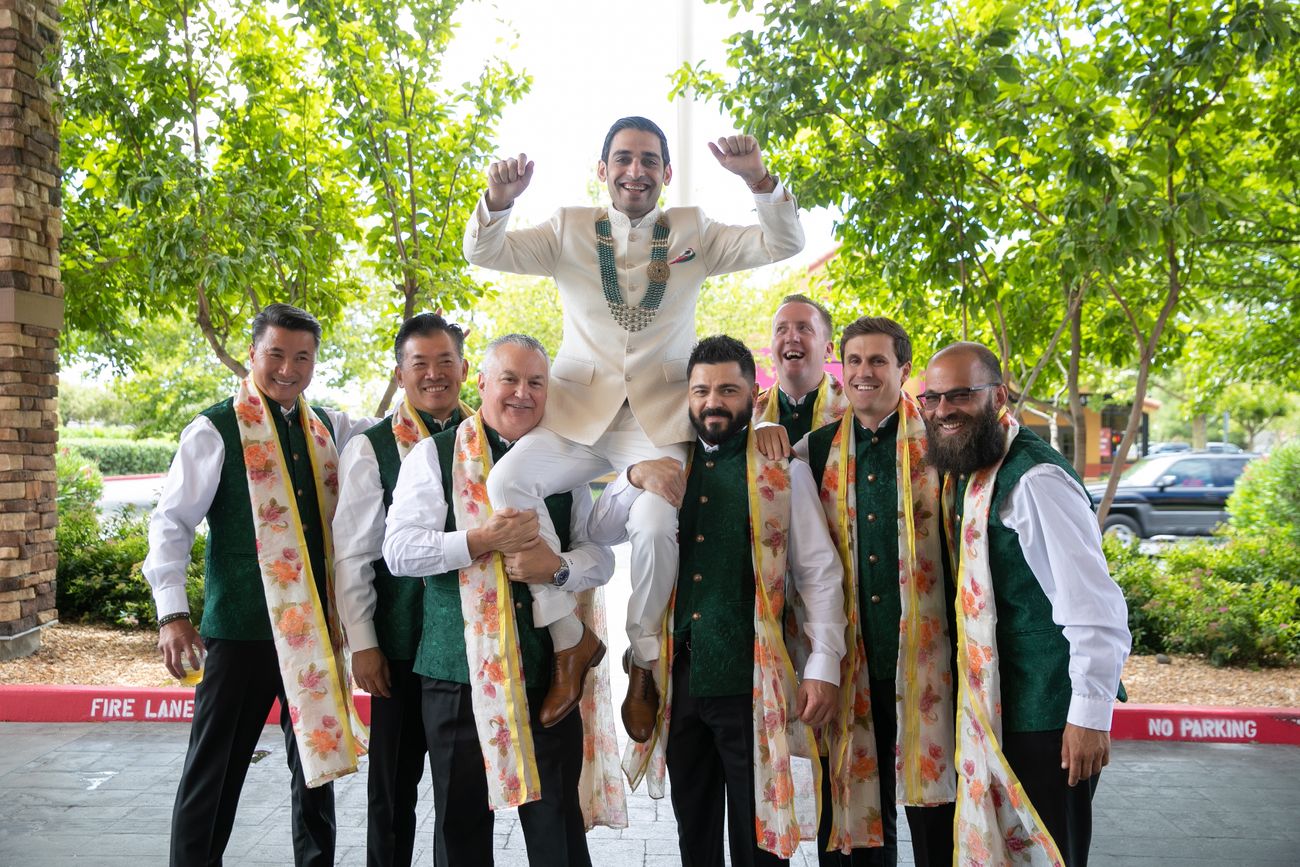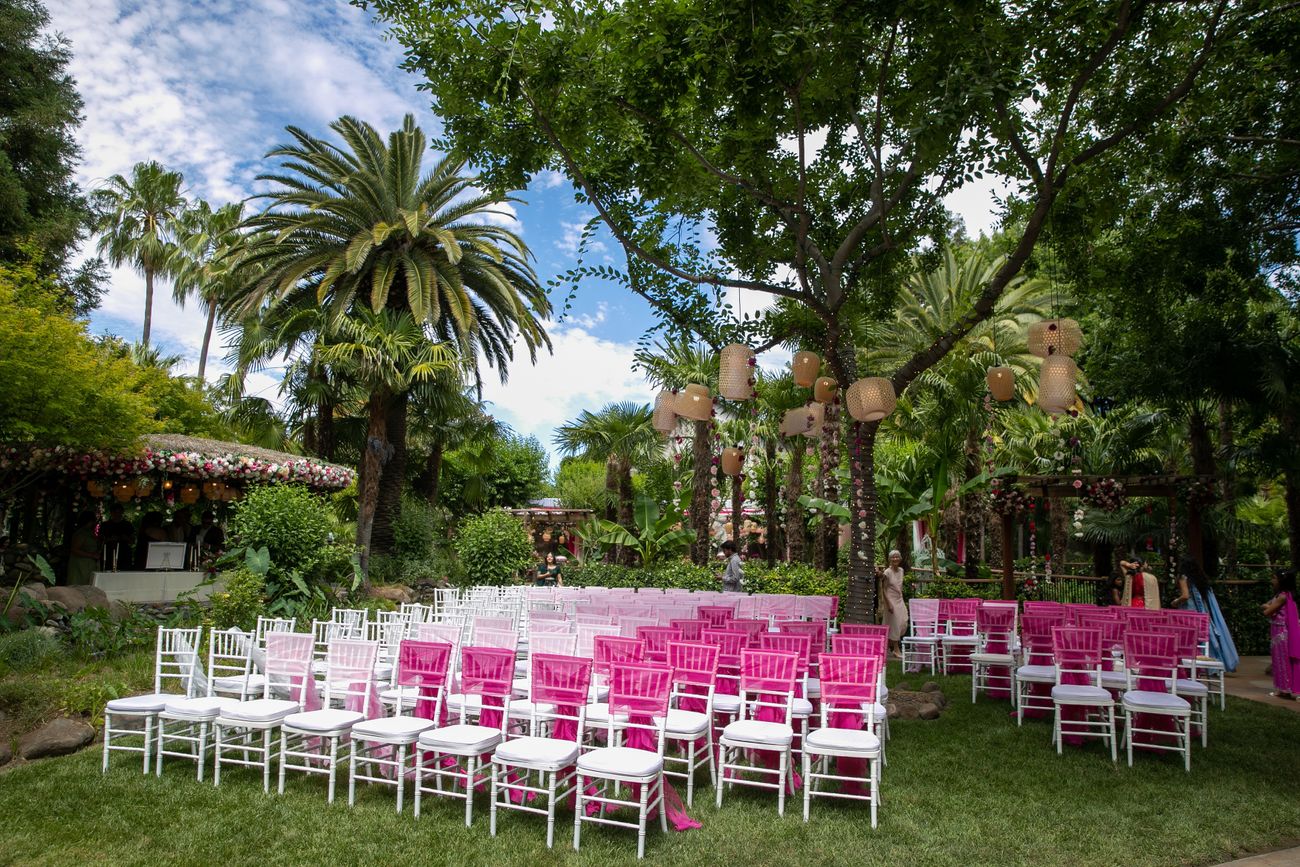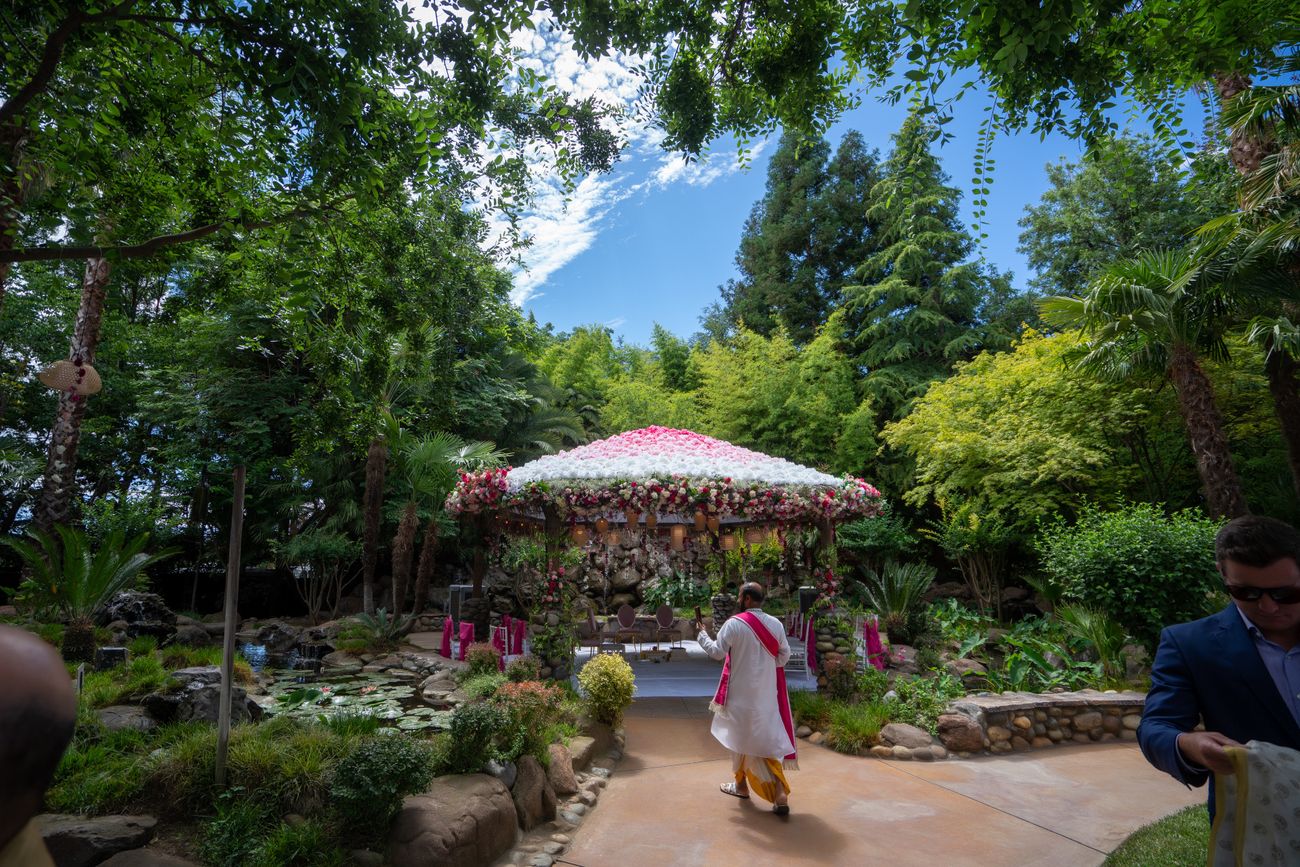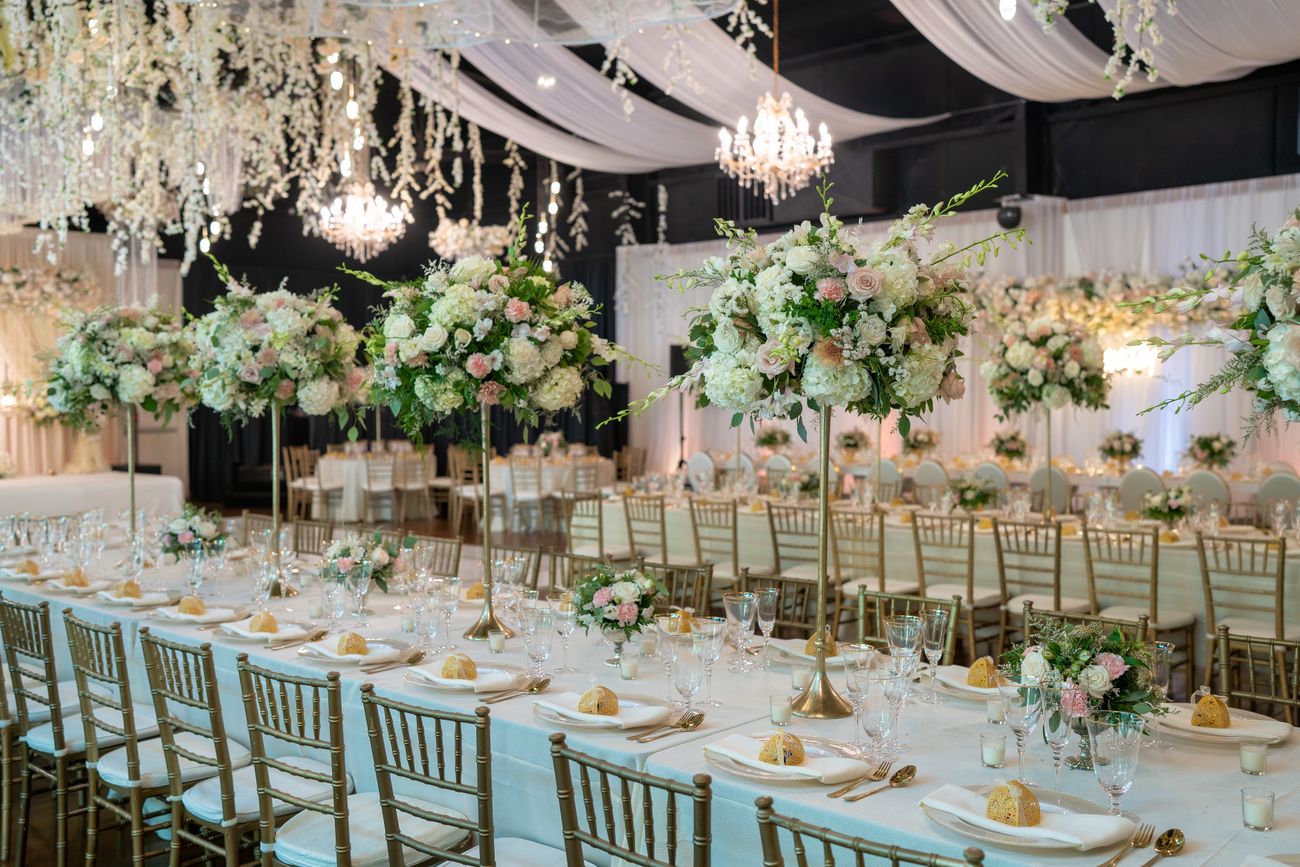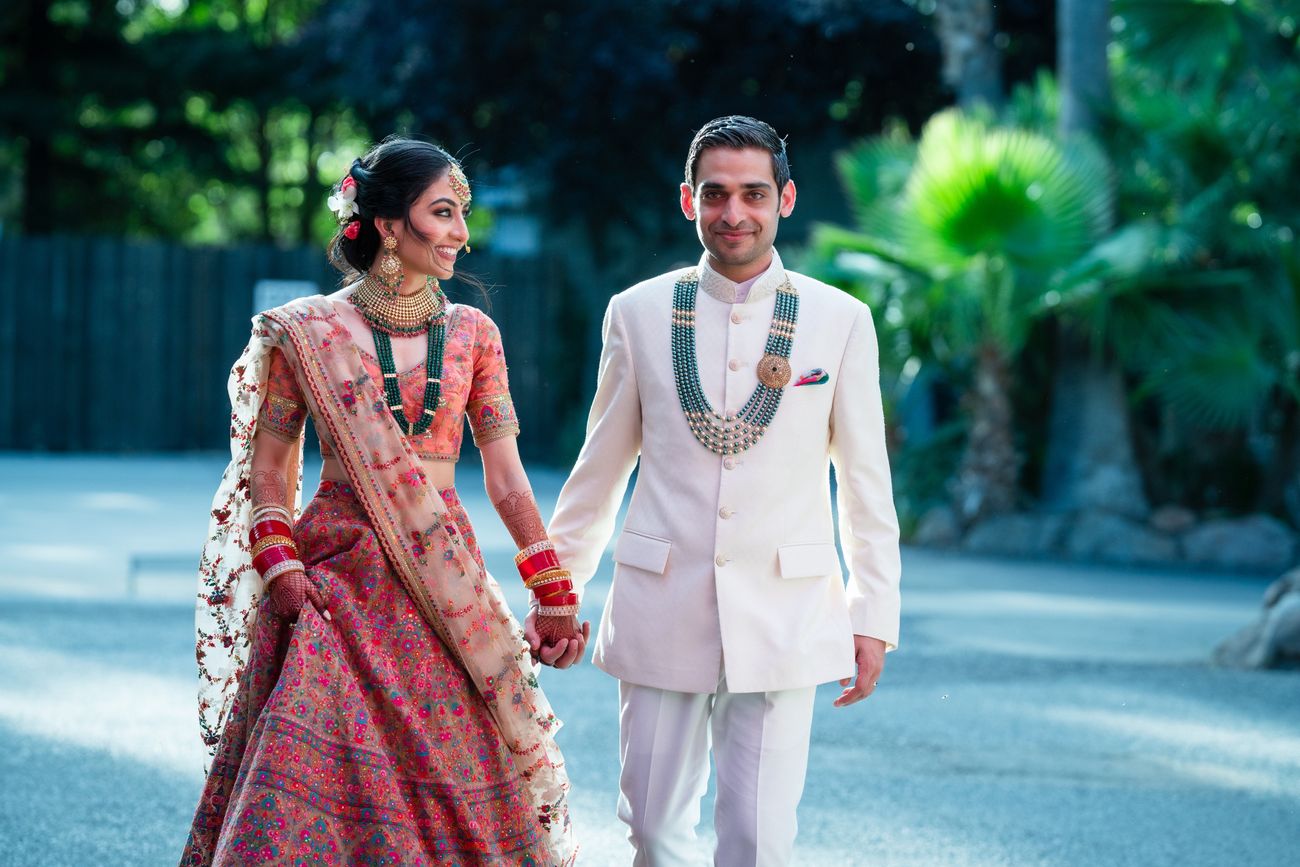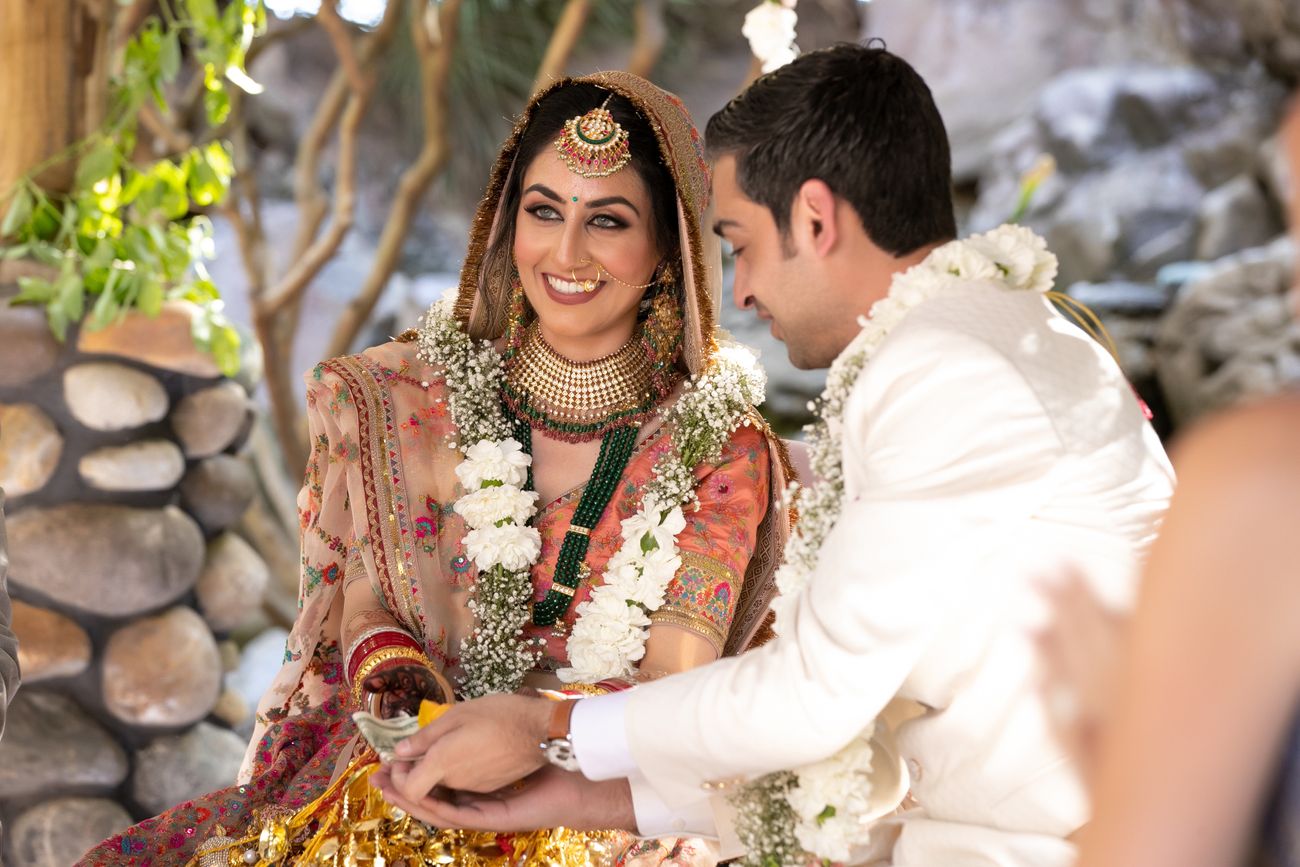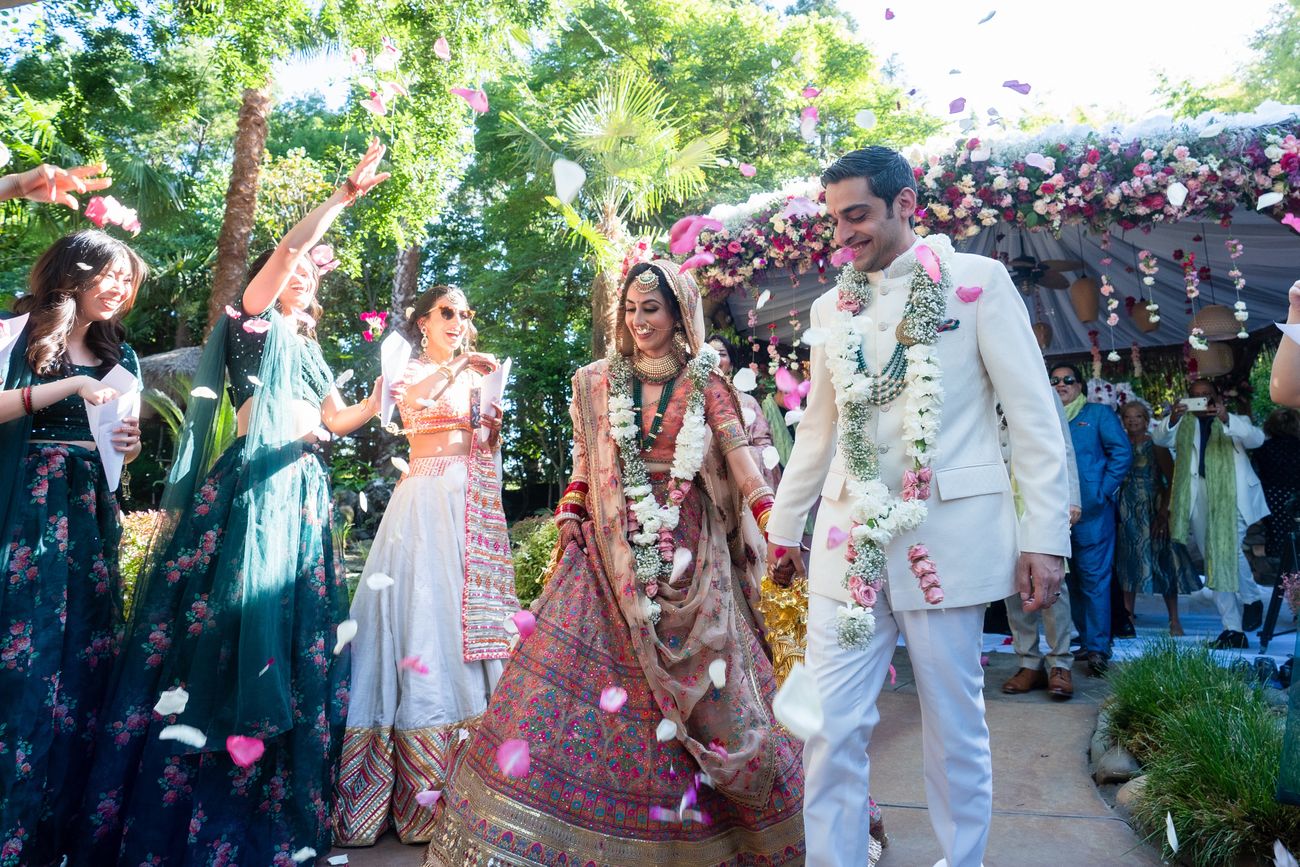 From The Bride:
We had a regal wedding in June in 2022 in my hometown - Chico, California. This was a fusion wedding: I am Hindu and born and raised in California while my husband, Aaron, is Jewish and born and raised in New York.  Since we had many out-of-town guests, this turned into somewhat of a destination wedding. The inspiration behind the wedding was modern elegance - We wanted each day to feel distinct and modern yet preserve the traditions they were based on. We also wanted the wedding to reflect the fusion of two cultures - Indian and American, Hindu and Jewish, etc. For that reason, we planned one completely Western event (the Cocktail), one completely Indian event (the Sangeet), and one fusion event (the Wedding).
Photography: Jagdeep Dhadiala, VisionOne Studios)
Jagdeep and his team are amazing to work with - They are extremely friendly, patient, and communicative! The VisionOne team did my engagement photoshoots as well as wedding photography and videography. Their easy going demeanor put everybody in the wedding party at ease, including those not as comfortable in front of the camera. Throughout the events, Jagdeep utilized a combination of an editorial + candid photography style to capture the true essence of the wedding. When we received the wedding teaser video, we were blown away with the shots the VisionOne team captured as well as the creativity with which they edited the clips together. I highly recommend VisionOne to anybody looking for a high quality, detail-oriented photography/videography experience!
Bridal Mehendi: Neeta Sharma, Mehndi Designer
Neeta Aunty is a true artist with mehendi - She is communicative, creative, and intentional with her work. It was my dream to have Neeta Aunty do my bridal mehendi after seeing her do my sister's mehendi several years ago. A few months before my wedding, Neeta Aunty reached out to ask if I had any special requests for my bridal mehendi. She was able to accommodate all my requests while putting her signature creative twist on it. Her pleasant, calm demeanor made sitting in a chair for six hours easy. Neeta Aunty's art shows how invested she is in each of her brides in addition to her passion for her profession. I LOVED how my mehendi turned out and am so grateful to Neeta Aunty for all her hard work. I highly recommend Neeta Aunty to anybody looking for beautiful, detailed mehendi. I hope to work with Neeta Aunty again in the future! 
Bridal Hair & Makeup: Makeup by Abhilasha Singh
Abhilasha is a wonderwoman and a jack of all trades - She is communicative, detail-oriented, hardworking, visionary, and super fun to be around! She did my bridal hair and makeup for all my pre-wedding and wedding events as well as makeup for my mother and sister. Abhilasha makes sitting in a makeup chair for hours on end several days in a row extremely fun thanks to her positive, upbeat personality. What sets Abhilasha apart from others is her creative eye - She invests the time to not only understand her client's style but also envision a personalized, distinct look for each event (hair, makeup, jewelry placement, draping style) well before each event. This level of preparation and attention to detail as well as her constant emotional support is extremely helpful during busy wedding event days. In addition, she has an extensive knowledge of all things haircare and skincare, which is tremendously valuable in preparing for big events (like your wedding!) and is always available to discuss any concerns and brainstorm solutions. On each day of my wedding, Abhilasha made me look and feel like royalty while staying true to my personality and style. She turned my bridal vision into a reality - I cannot thank Abhilasha enough for her support of my family and I before, during, and after my wedding. I highly recommend Abhilasha and her team to anybody looking for a truly personalized hair and makeup experience for their wedding day. I hope to work with Abhilasha again in the future! 
Vendors: Photographer: Visionone Studios; Bridal Mehendi: Neeta Sharma from Mehndi Designer; Bridal Hair & Makeup: Makeup by Abhilasha Singh; Bridal Outfits: Mehendi - Payal Singhal★ 5 , Sangeet - Abhinav Mishra★ 5 , Cocktail: Nadine Merabi, Wedding - Sabyasachi Mukherjee★ 4.9 ; Décor: We Do Designs; Flowers: Strelitzia Flower Co; DJ + Lighting: Wicked Entertainment