A Destination wedding in Neemrana Palace that gives back to Society!
BY The WMG Bride | 01 Sep, 2014 | 264 views | 5 min read
When we heard that this couple decided to donate all their wedding gifts to a girls education charity, they had already reached up there in our list of most awesome couples on WMG. But when none of the charities replied to their request, and the bride decided to do the next best thing- tie up with an NGO to hire girls to do her makeup , she just achieved superstar bride status in our eyes. Photographed by
Ravneet Puri
, and with decor as well as invited done by the bride herself this one exudes an  understated , evergreen elegance.
Meet Samudrika and Karan
Karan is Samudrika's brothers friend and also a neighbour.  She says "Technically he has always been around but we never really interacted during our childhood. He moved away to live and work in New York for the last nine years while I moved to Paris. In the summer of 2012, I found myself in "his city" on a film project having no basic knowledge of even the easiest to get to streets or avenues in NYC! Of course, my brother casually advised I meet the best tour guide around. Several sunny walks, drives, mimosas (you know where things are headed, right?) dinners, flea markets, art galleries, ferry rides, beach trips and dance floors later, we decided we could together get used to all this for rest of our lives !"
The Mehendi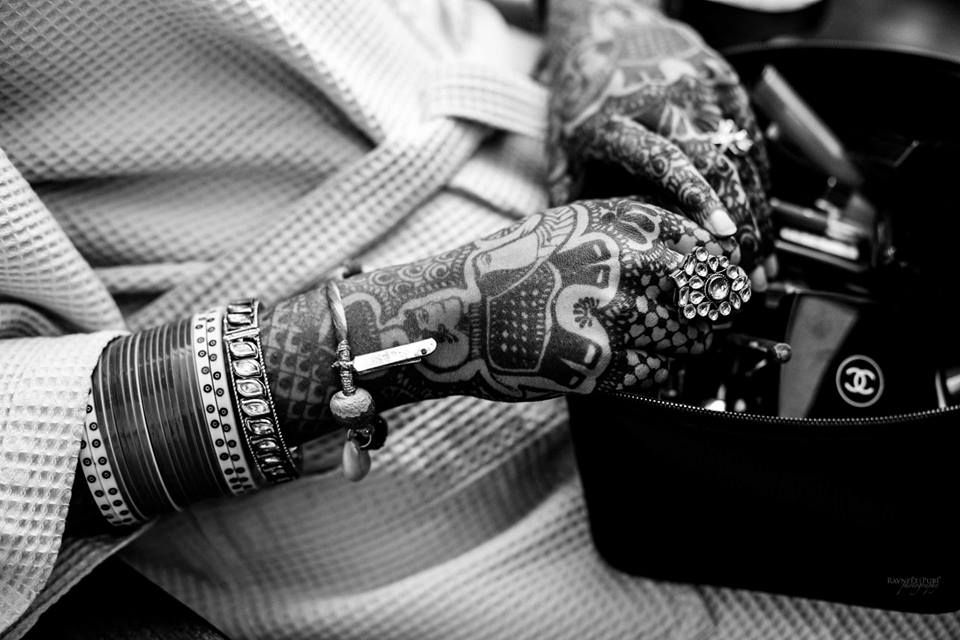 The wedding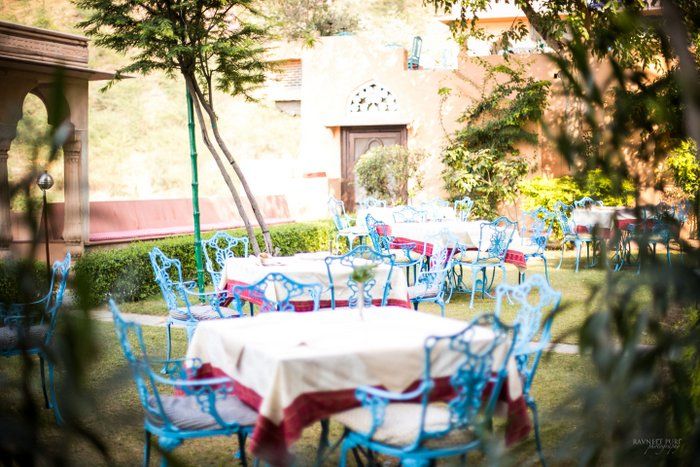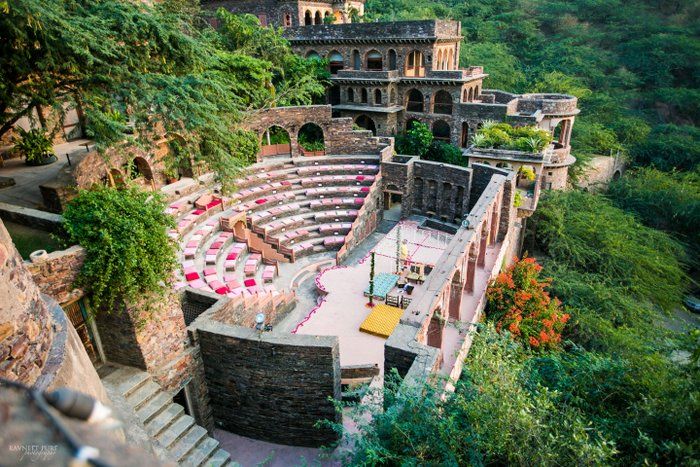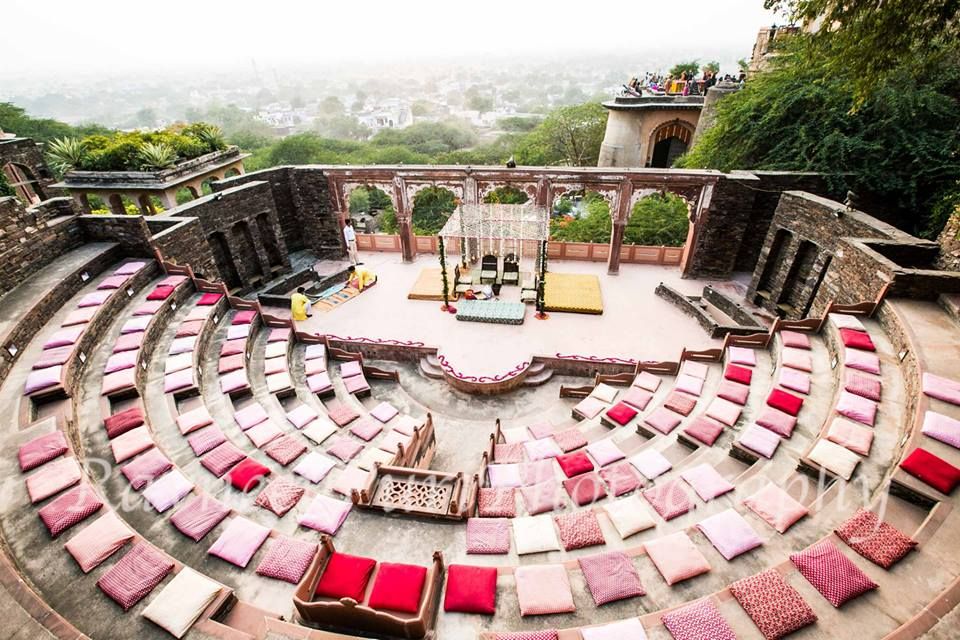 Neemrana is SUCH a stunning property, you need minimal decor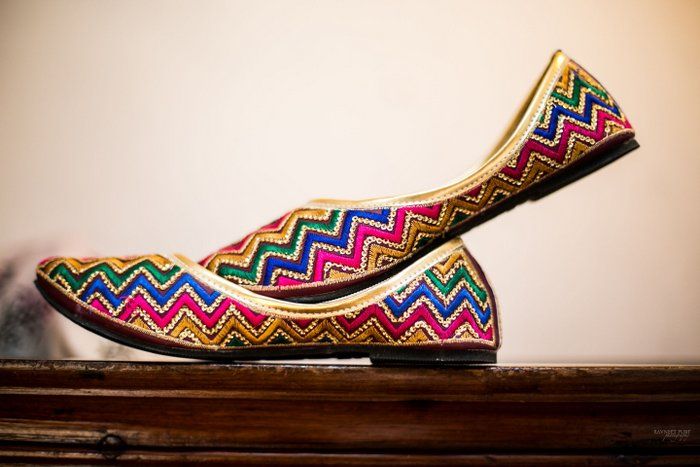 Those mojris are stunning!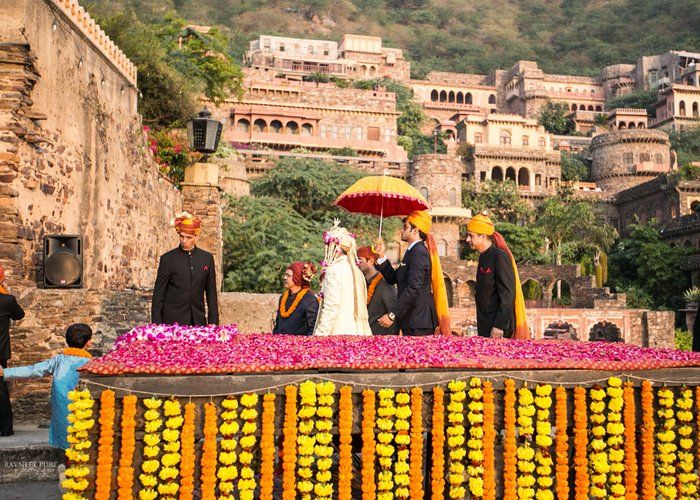 The groom enters..with  a royal umbrella.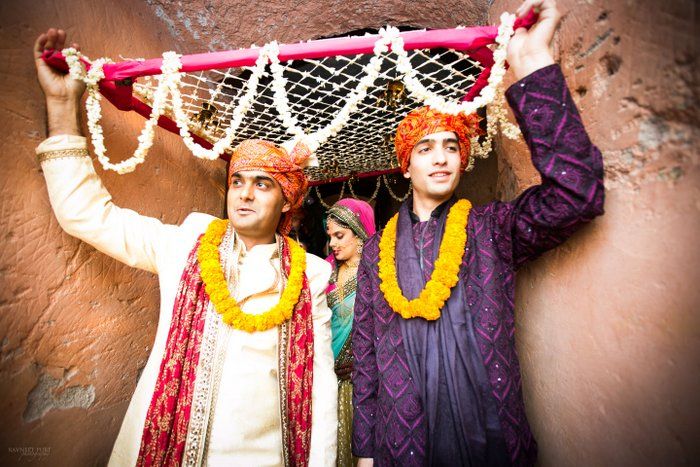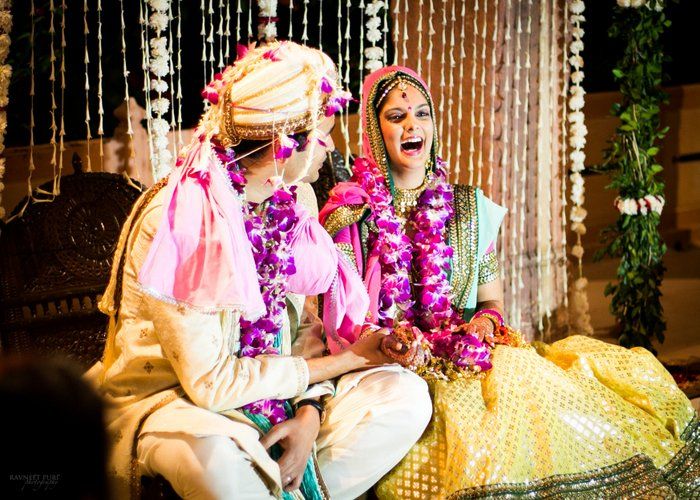 From the bride:   I have known where and what my wedding would look like since I was fourteen! Being  in the same field,  I now have a very strong eye and mind for details -The flowers, fabrics, colours and looks were all hand-picked by us and my husband always had an opinion or contribution to throw in which made the entire process extremely thrilling!  We were certain to revolve everything around our personal style rather than go with pre-cut templates from another wedding.
I'm a very pro-girls' education person and insisted that I have even a tiny part of my wedding dedicated to the cause. Both my husband and I had wished to donate our gifts towards girls' education but unfortunately still haven't found an organisation that would respond back, to date.  There is an NGO in Delhi that has has tie-ups with a famous hair&make-up artist who trains these hardworking girls to utmost finesse! I ended up hiring some of these lovely girls to blush those cheeks without overdoing it! They were SO good that husbands of our friends who otherwise couldn't care for a world beyond Manchester United noticed how perfect and natural it all was!
One of the most unique details was the fact that I chose to hand-write our invites - Of course, I hand-lettered one sample that was then printed in several copies in gold on fine silk but the idea was to make our guests re-live an era when invitations were personalised and hand-scripted  We have a long standing culture of hand-delivering invites to our closest and most cherished guests to express care, so why not go one step further and have the host family write them personally as well?
 The
1464-built Neemrana Fort-Palace
is a unique and inspiring heritage property with an overpowering aura of it's own - any modern elements (coloured lighting/modern materials) would hold no respectable place in it. It commands a magnificent natural environment that soon took over as the theme of our wedding - simple, elegant and royal. Our choice of outfits and jewellery matched the same tones of modesty (no bling, please) and calm colours. Nothing loud, nothing visually heavy. Having a sundown wedding made it relatively easy to choose a sunset palette from Sabyasachi's vast collection of perfect wedding outfits! Perfect being an understatement. By the time the wedding was over, we had probably earned ourselves the reputation of being extremely meticulous and painful about the tiniest of decisions, visual details and technicalities.  After the
pheras
and five hours of drinking and dancing, when my husband adjusted his clothes to sit next to me for our first dinner as a married couple, the Neemrana crew turned ALL lights off!!! It was pitch black both in and around the fort and no one had any clue what was going on! They switched everything back a very loooong minute later, with the manager standing at a comfortable yet audible distance from us, pronouncing the words "Jusssst. Kidding!" We caught him teary-eyed as I sat in my traditional
palki
the next morning.
We got extremely lucky in finding both our photographers - Sharik Verma and Ravneet Puri, both deeply passionate and talented photographers and truly wonderful people at heart. Ravneet shares my eye for detail and having been on the bride-boat herself, holds a holistic understanding of emotion, excitement and chaos! In terms in colour and mood, she captured my idea of vintage without me ever having mentioned it -- I only realised how synchronised her work was with my mental references and designs when I saw the pictures a month later! Each and every photograph makes me nostalgic today because they were all taken with so much love and care for details. They're more than just wedding photos -  they are stories!
Venues
: All events in Neemrana Fort Palace
| 
 Invitations:
Handwritten by bride and then printed
 |  
Makeup
: 

 Hired from an NGO

|   Pre wedding outfit by Ritu Kumar |  Bridal Lehenga by Sabyasachi 
|Decorator: Done by bride herself
|
 Photography
 by Ravneet Puri (photos displayed  above) and Sharik verma 
|
[handbook]
 Ravneet Puri Photography  is a member of the
 Wed Me Good Handbook . 
To know how members are chosen, please read our 
FAQ.
[vendor]