Cool New Ideas to Shoot Your Couple Portraits After the Wedding!
BY Sakshi | 06 Oct, 2016 | 5941 views | 3 min read
Trust us, this is something that needs to be decided in advance- because when you're all overwhelmed and tired after the wedding is over, this is something that will not strike you as super important! Discuss with your photographer and keep time and energy in hand- 'cz you're gonna need it for these refreshing new couple portrait ideas!
Lying down top shot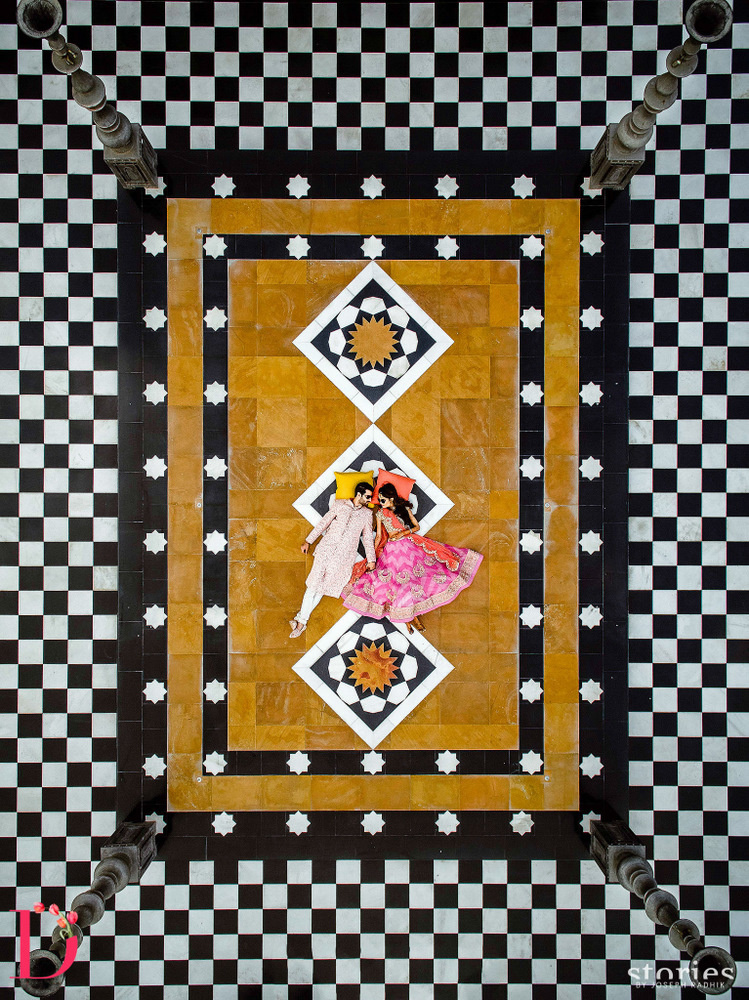 Photos Courtesy: Stories by Joseph Radhik and Anup J Kat Photography★ 3
Shots like these where the couple lie down and are clicked from above look so refreshingly new! You can have whatever theme you want or make the most of a pretty hotel lobby.
With frames or photobooth
Photo Courtesy: Tuhina Chopra Photoworks★ 5
Don't forget to get a fun couple portrait at the photobooth AFTER the wedding as well!
On the beach
Photo Courtesy:Pooja Joseph Photography★ 5
If you have a beach wedding or a beach nearby, then why not?
With sparklers
Photo Courtesy: Neil D'Souza★ 5
Don't worry about how this is pulled off.. all you need to do is inform your photographer well in advance, and he/she/they will make it happen!
Rose petal shower
Photo Courtesy: Pixelstory.in★ 5
Didn't they just add so much more magic to the photo? Rose petals can make any couple portrait way more romantic!
With cute hand signs
Photo Courtesy: Manoj Kagra Photography
Did you just say "awwww" like we did?
With the guests doing something
Photos Courtesy: Nilofer and Jacques' Real Wedding, Jazzi Photography
Of course, you will be getting a lot of photos with friends and family, but how about you just let them do something on the side for your perfect portrait? Whether that means going crazy with petals or holding sparklers!
With fun props
Photo Courtesy: Artcapture Productions★ 4.5 and Camera Waale Baraati
Fun props like these are so in these days for cute post-wedding photos. You could even get message boards and write cute things!
Unconventional simple pose
Photo Courtesy: A Fist Full of Bolts
This gorgeous photo proves that you don't have to always be in a romantic pose for a couple portrait at the wedding. Unconventional ones work too!
With an umbrella
Photos Courtesy: Chitrayatra★ 4.7 and Girl in Pink Photography★ 5
Umbrellas add so much vibrancy and colour to photos! You could hide behind them with a typical romantic pose or use it as an accessory!
Groom carrying bride
Photo Courtesy: Happy Flashbacks★ 5
Yes, has become pretty common, but make it as fun or romantic as you want! This is one shot that should be taken!
With a twirling bride
Photo Courtesy: Dhoom Dhaam Weddings
Again, has become very common, but a must-have couple shot! Looks romantic AND gets you to show off the beauty of your lehenga!
Hotel room fun
Photo Courtesy: Shutterdown - Lakshya Chawla★ 4.9
After the wedding, just kick back and have some fun by jumping on the bed! Makes for such a memorable moment!
And finally... in the pool!
Photo Courtesy: Picture Together★ 4.7
Another super cute idea! After you're done with everything, just jump into the pool and go crazy!
Any more ideas?