Braided Hairstyles For Your Engagement/Sangeet/Mehendi
BY Garvita | 03 May, 2019 | 1583 views | 3 min read
One cannot deny that braids have always been brides' favourite hairstyle for any one of their wedding nuptials! Be it a fishtail braid or an entwined one, one with fresh flowers or embellishments, the styles may change, but a braided hairstyle won't leave. We're sure if you're getting married soon, you must have kept this hairdo for either your engagement, mehendi or sangeet! *winks* 
However, if you're still skeptical about which braided hairstyle to go ahead with, fret not, we've got your back! We've scouted some of the freshest braided hairstyle that you'll definitely fall in love with. They're trendy, they're Insta-worthy, and you'd fall in love with them.
Messy entwined braid with a pearl string adornment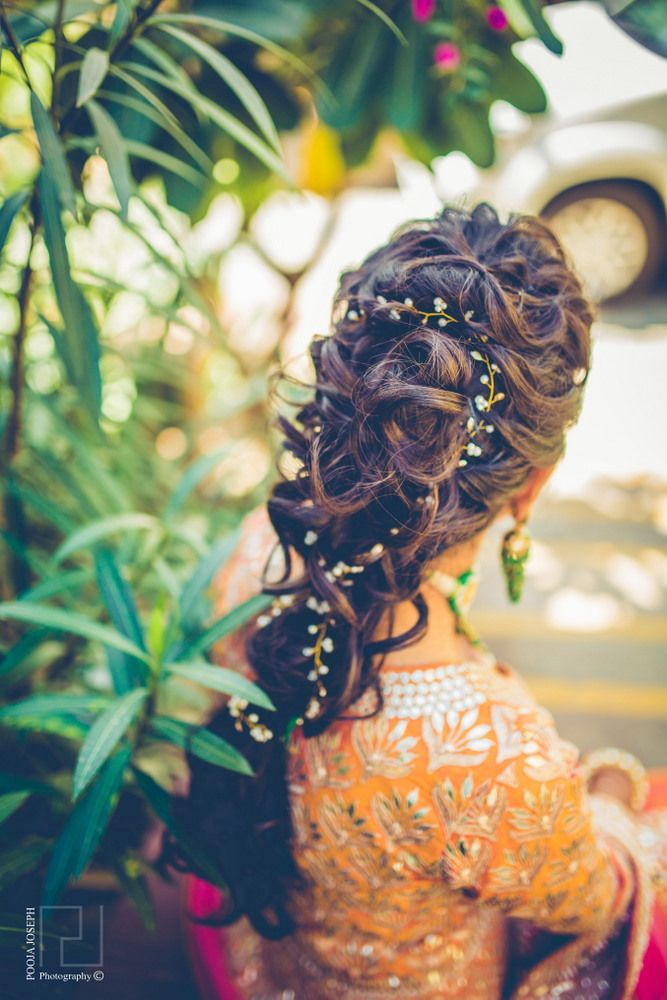 Image via Pooja Joseph Photography 
This braided hairstyle is simply stunning, and would be perfect an engagement in case you're wearing an elaborated lehenga! It'll strike a perfect balance. 
Disney princess braided hairstyle with tiny carnations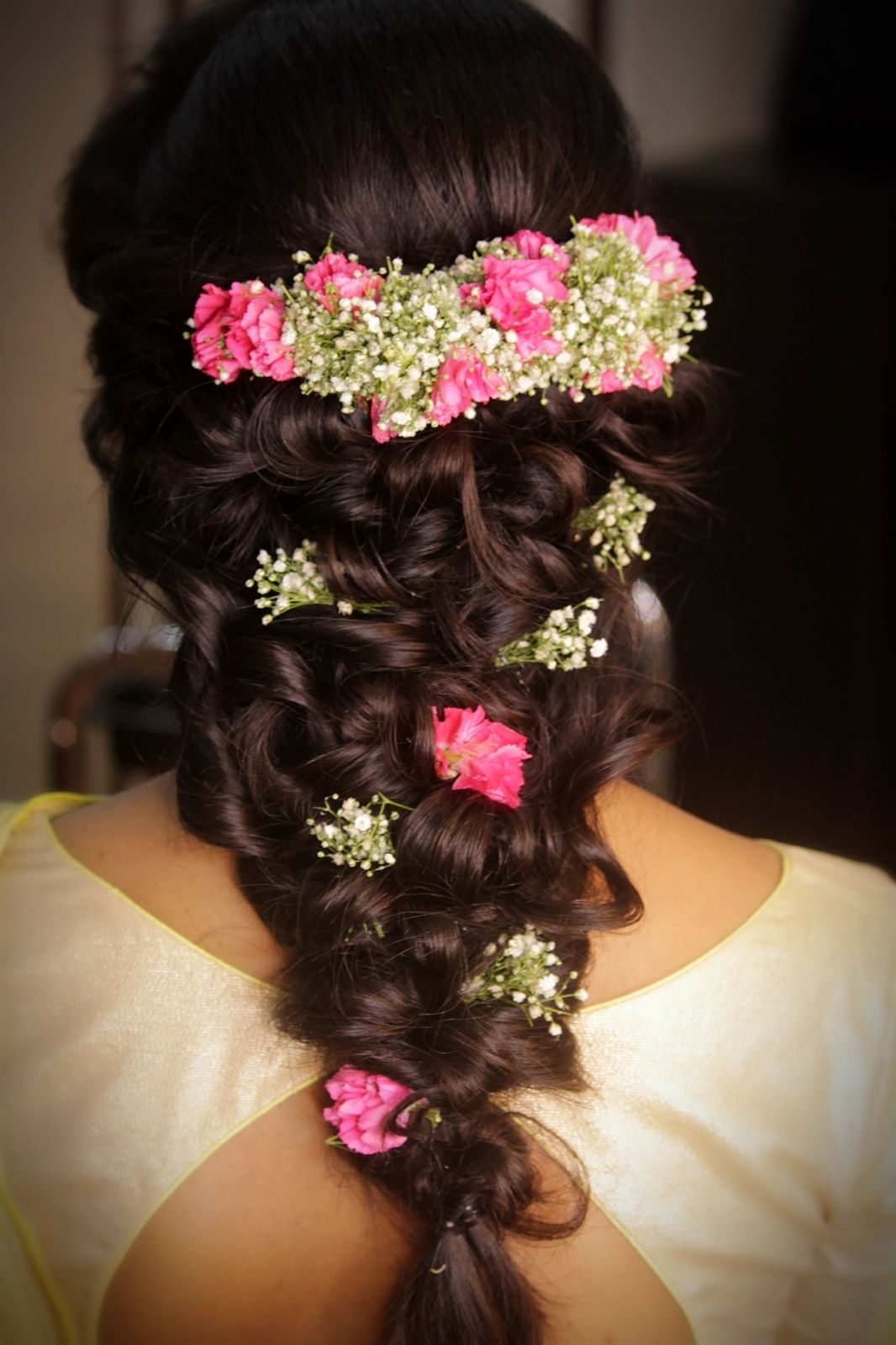 Image via Make-up by Afsha Rangila
Planning a fun day mehendi ceremony? Well, we've got your hairstyle sorted with this one. Like, how ethereal is that!
Bubble ponytail braid with matching flowers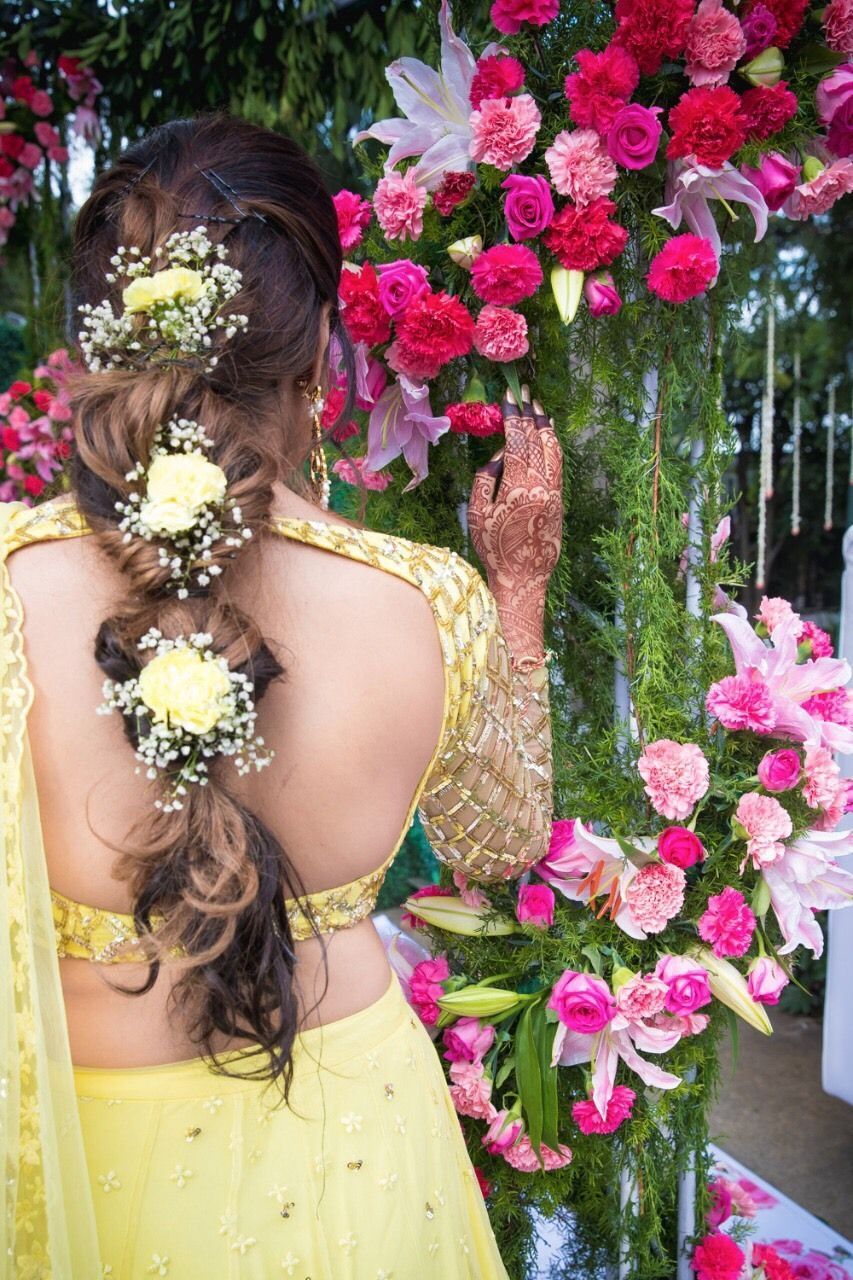 Image via Makeup by Anurita Chandrappa
Absolutely loved how this bride carried this simple yet pretty hairdo! Definitely worth a screenshot, if you're getting married soon. 
A neat fishtail side braid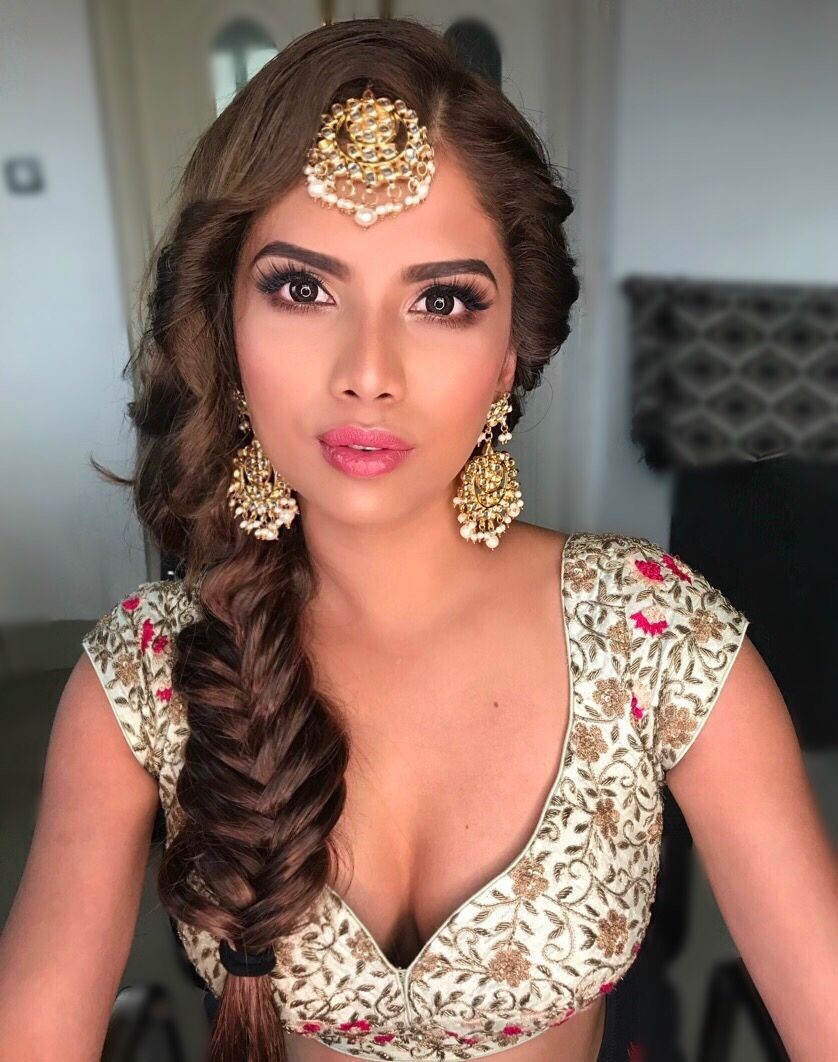 Image via Makeup by Annalia 
Not a fan of messy hairdos? Then, how about getting something like this done for your Engagement! Loving the minimal vibe , eh?
An offbeat braided hairstyle with dry flowers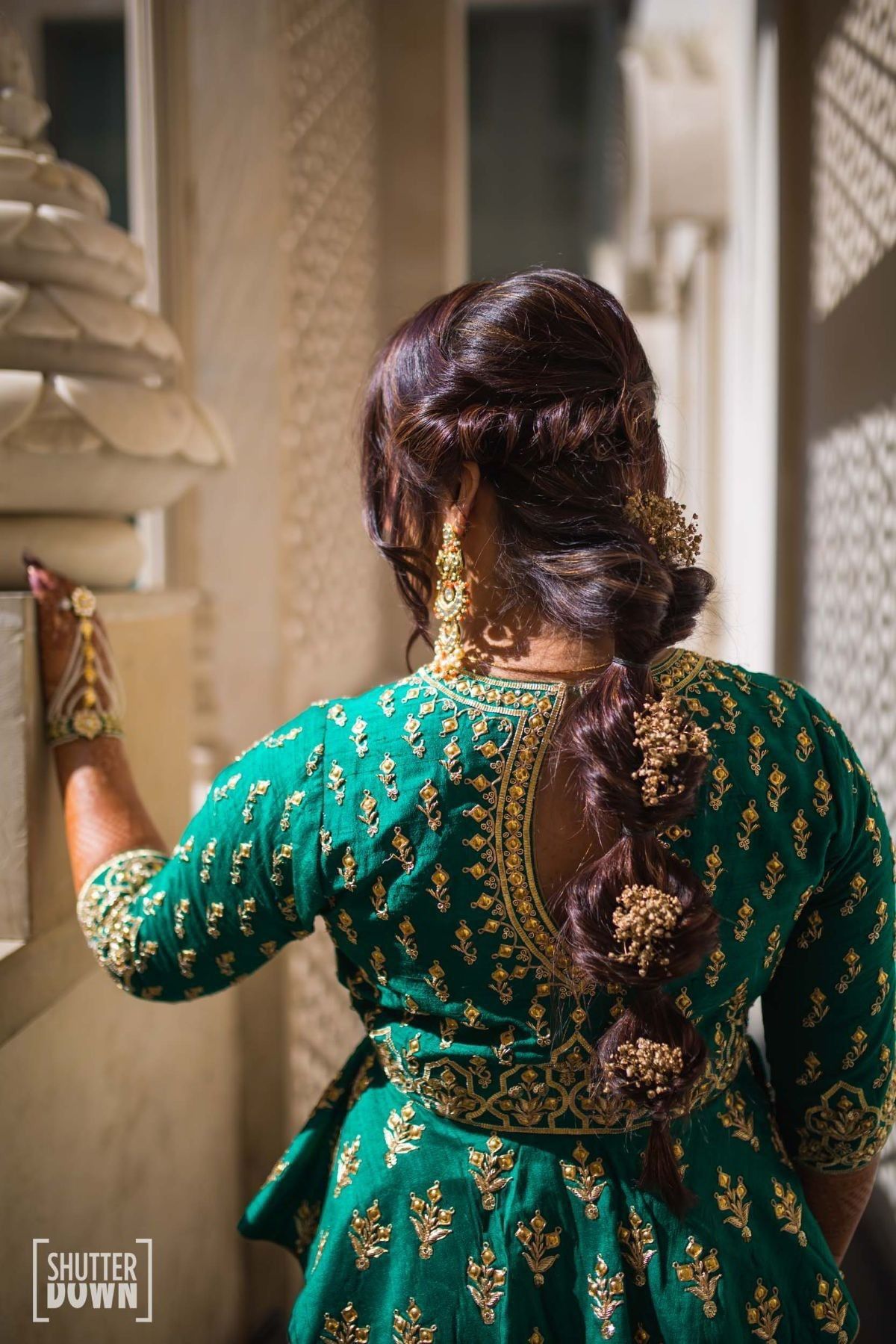 Image via Glam by Deepal Haria 
We all know how every second bride-to-be wears fresh flowers in her wedding hairstyles, however, this bride opted for dry flowers instead. Quite unique! This hairdo is perfect for a Sangeet ceremony!
Twisted side braid with tiny flowers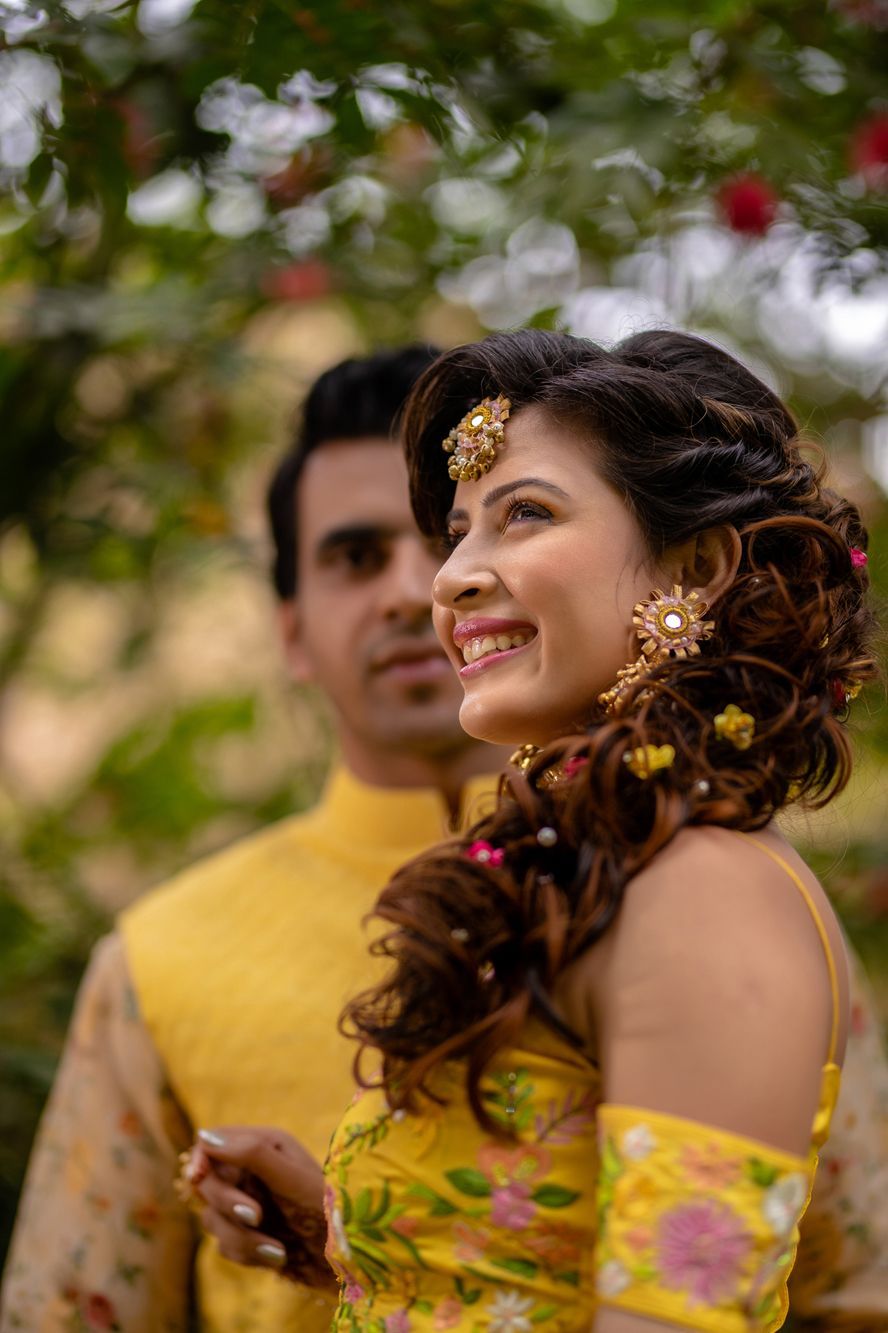 Image via Priyam Parikh Pictures
Looking for an out-of-the-box mehendi hairstyle? Take the cue out of this bride's look and get a twisted side braid with tiny flowers!
An elegant pulled-back, voluminous braid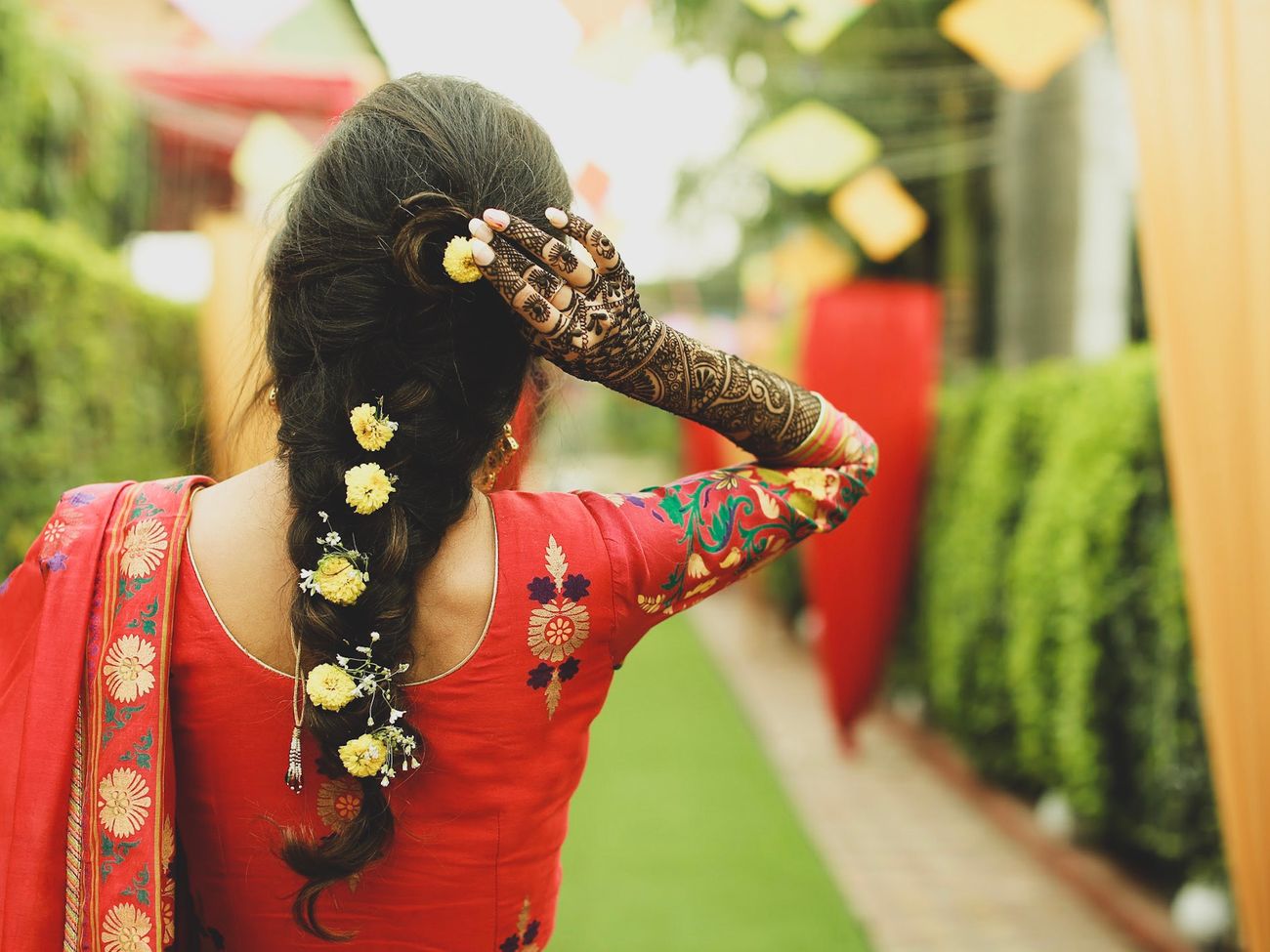 Image via Instagram
Such a gorgeous hairdo! That braided hairstyle looks so lovely. Definitely a refreshing change for the mehendi hairstyles!
Side-swept, wavy braid with a statement head accessory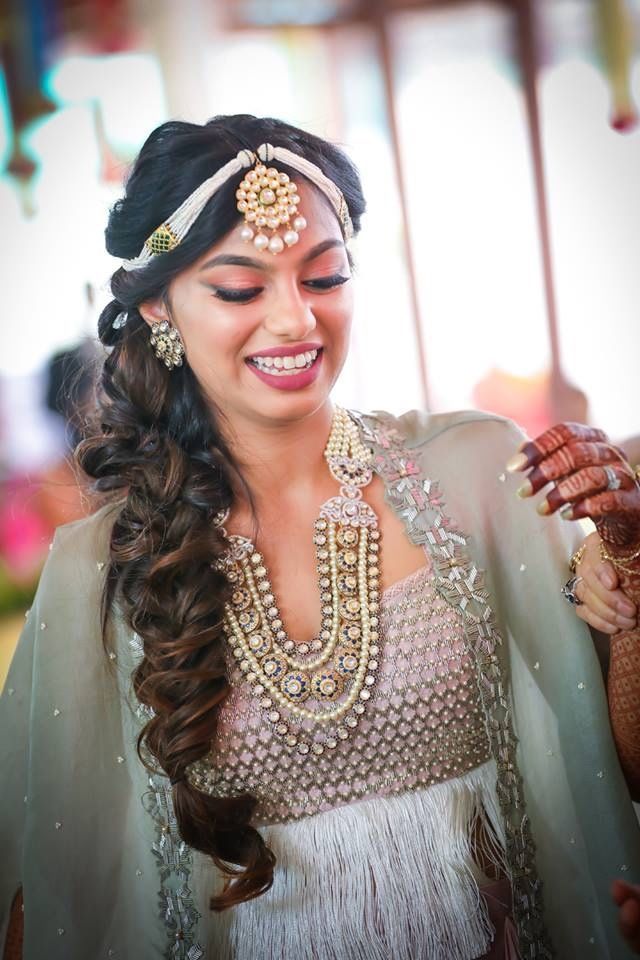 Image via CineStori - The Wedding Pullav
Looking for an amalgamation of modern and traditional? Then this hairstyle is what you need for your engagement! Such a visually appealing hairdo with an exquisite head accessory, like that one.
Braids with baby breath and boho-chic vibes!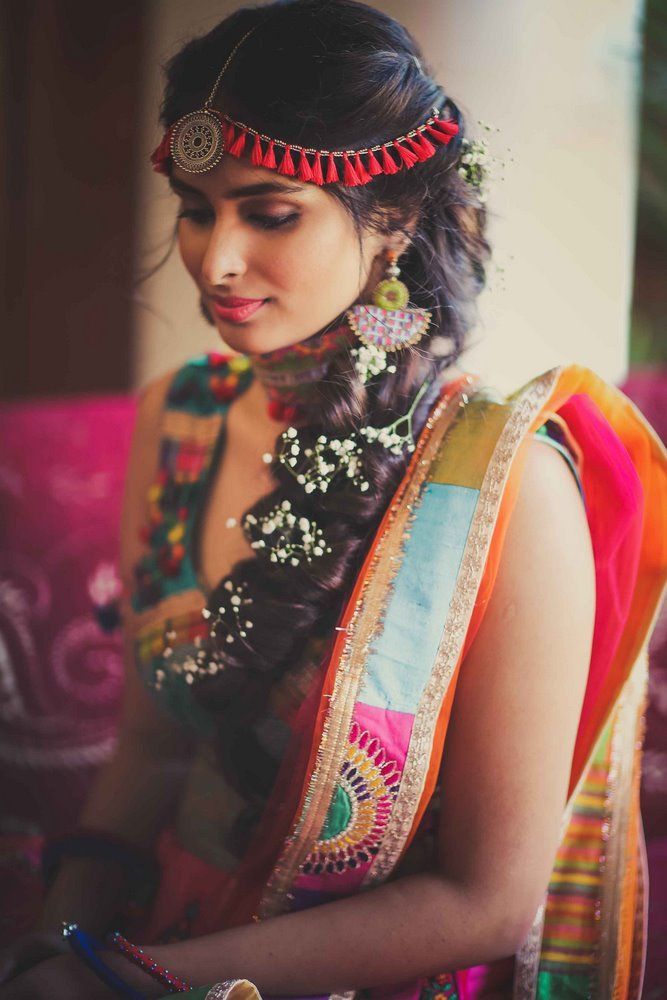 Image via Morvi Images Photography
Remember how this braided hairstyle broke the internet, sometime back? Minimal details of baby breath and a quirky mathapatti makes it super apt for a mehendi ceremony!
Curled and coiled braided hairdo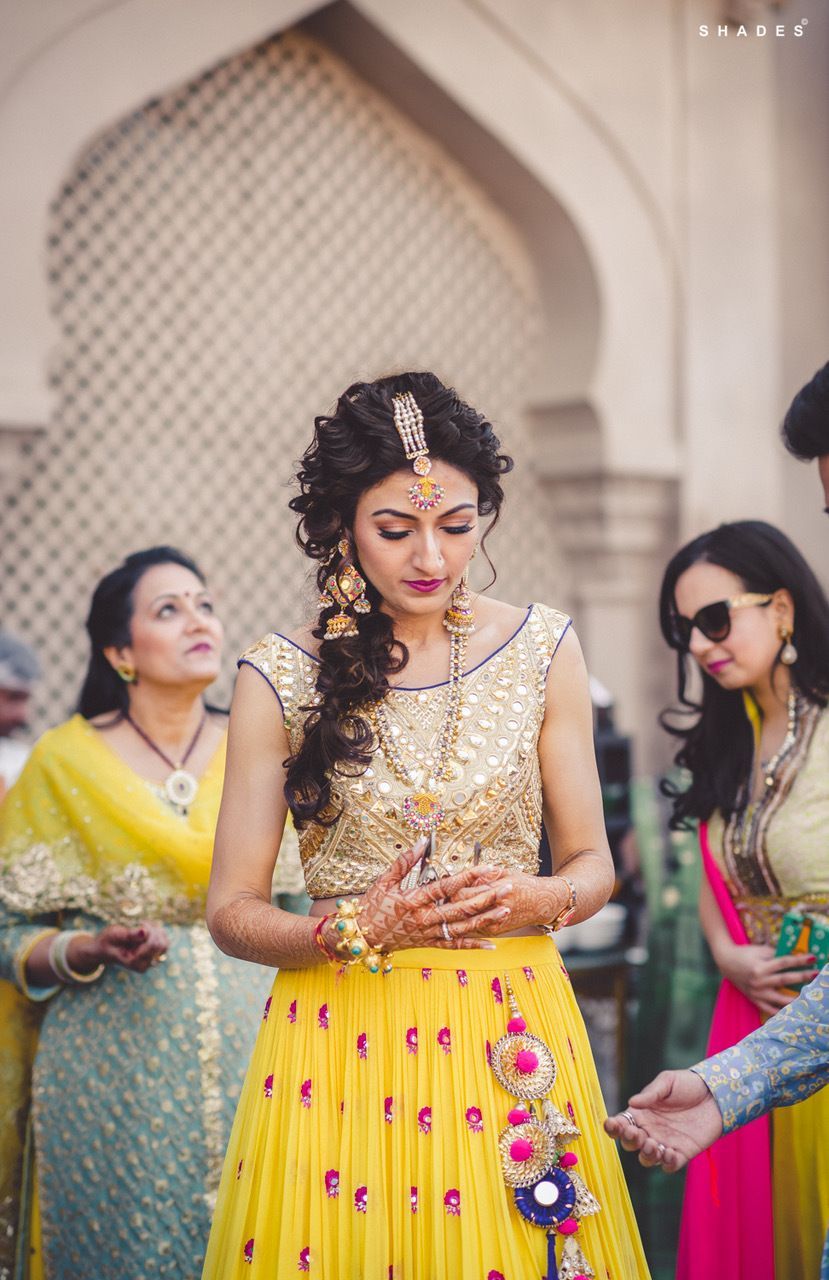 Image via Sakshi Malik Studio
This hairstyle is definitely not an easy to pull off, as some may consider it OTT! But if you plan to wear a gown on your engagement or sangeet, then it'll be a really fresh addition to your look.
Zig-zag braids with loose ends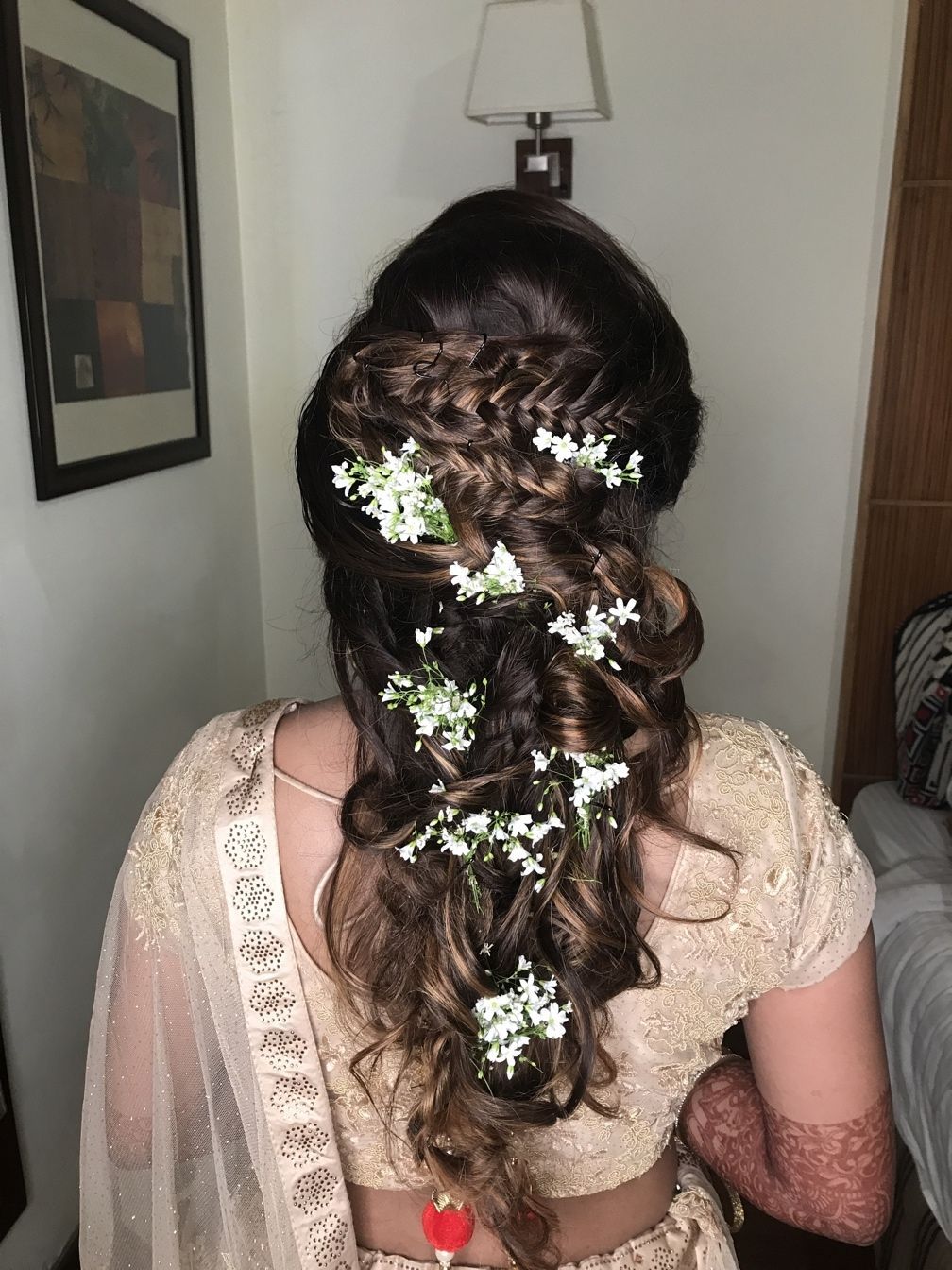 Image via Shaifali Nagpal MUA 
If you don't like braids too much, but still want to experiment it, then something like this would accentuate your look. Skip the baby breath and add tiny roses instead, if you wish to sport this for your engagement! 
Puffed braided hairstyle with vivid flowers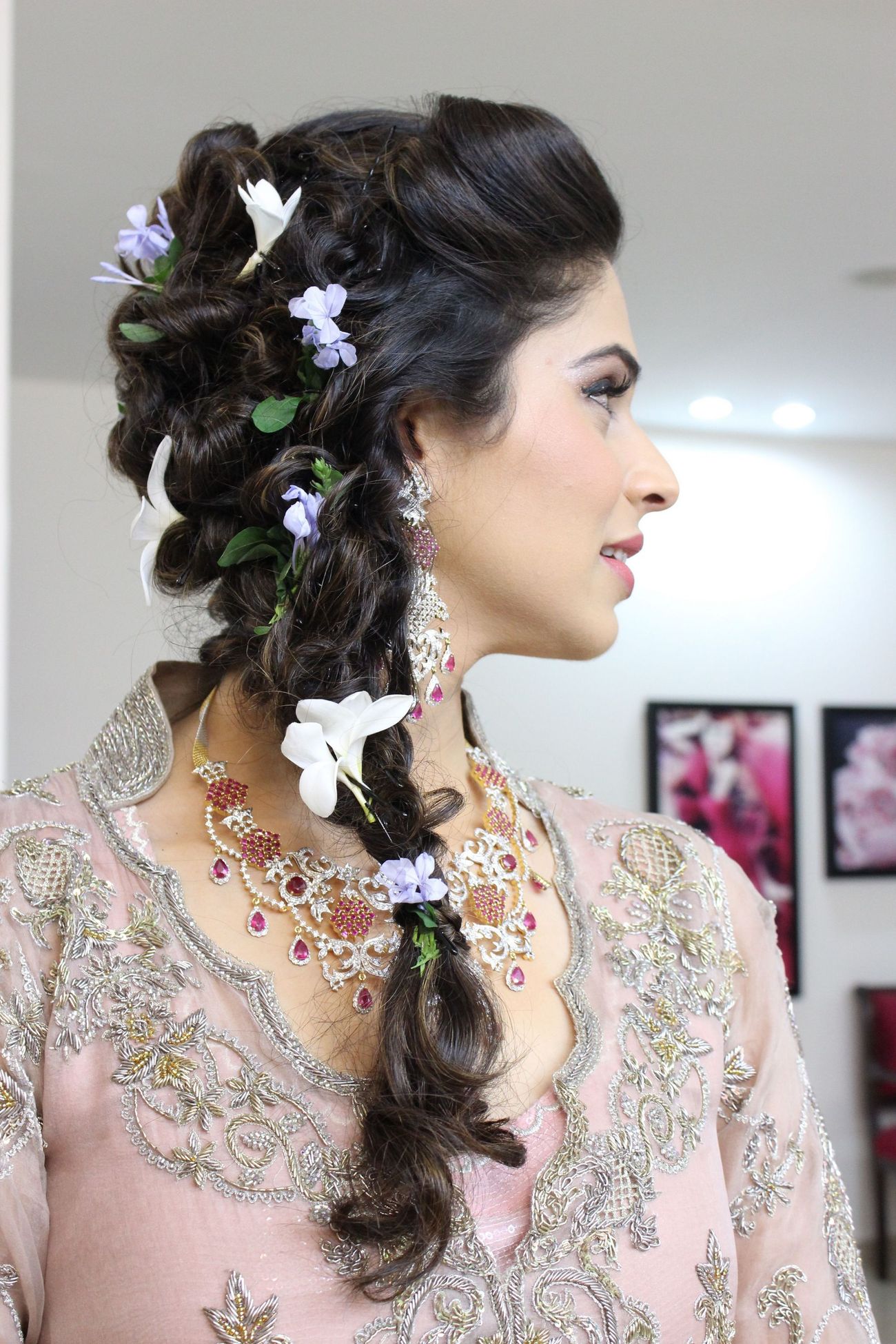 Image via Rabia Makeup Artist 
Absolutely ideal for a mehendi ceremony, where you would want to be at ease while being trendy, at the same time! You can either go for pastel hued flowers or vibrant ones, based upon your attire! 
Aren't all these too pretty to leave you in a dilemma? Now that you have enough options for a braided hairstyle, tell us your favourite in the comments below! And with this, you must also check out 50 Bridal Hairstyles For Every Single Function At Your Wedding!